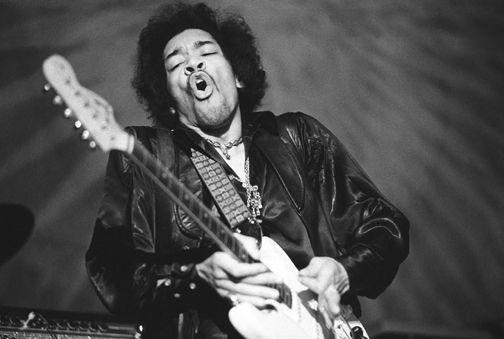 Hendrix looks enraptured.
On the broadside for "The Music Seen: Beyond the Stage," a photographic exhibition opening in just a week, Hendrix – Jimi, of course, perhaps the quintessential rock 'n' roll guitarist of the '60s – leans slightly backward, shredding his Stratocaster, his eyes clamped closed in concentration, his mouth, bracketed by his trademark Fu Manchu, describing a rhapsodic O.
Images like that should electrify the exhibition in question, which self-described "photography addict" Jeff Appel will curate and which will run at the Bullivant Gallery from June 9 to July 14.
A bipartite reception will launch "The Music Seen" from 6 to 9 p.m. on its first day and from 11 a.m. to 3 p.m. on its second, after which photo devotees can view the exhibition by appointment "as long as there's somebody at the gallery," Appel says.
The exhibition will comprise roughly 25 photos, Appel notes, most of them measuring 11 by 14 inches and appearing in black and white. ("When you see them," he teases about the inclusion of a pair of color photos, "you'll see why [those two were chosen].")
"This show was an idea that I had almost a year ago," Appel continues regarding "The Music Seen," a fiendish pun on the phrase music scene. "I've loved music for as long as I've loved photography. I approached [owner] Robert Bullivant last October and asked if this sounded like a good concept for our next collaboration – we've had two fine-art photography shows together in the past at his gallery."
Bullivant, who did indeed like the idea, calls the exhibition "a unique opportunity to show some of the best-known musical artists in both their onstage as well as offstage moments, as captured in a documentative style by some very talented photographers – a combination of performance art and visual art, if you will, but also considering the human side, meaning sure, these were famous musicians, but they're people, too."
With "The Music Seen," Appel says he's seeking "a vibe of the love of music versus a gallery stuffiness for this. I want to encourage guests to wear a favorite concert shirt to the opening. We'll not only have great photographs but also a limited number of signed books by some of the artists."
The execution of the exhibition, Appel relates, sometimes took a circuitous course.
"I'd already tracked down some of the most amazing photographers of the musical genres that I love," he says, "and then it was a matter of getting them to commit to the show. In the six years or so that I've been a photography dealer, I'm very proud of the network that I've built, so reaching out to one photographer that I work with, like Richard Sandler in New York, got me to David Godlis in New York, and after a few conversations, he was as excited to show his punk rock photographs in this show as I am to have him involved. All have been great to work with in my effort to get great images …
"This show has been my biggest undertaking yet, usually working with three photographers per exhibition and this time upping that number to seven, but to do this theme justice, it's what I had to do. Photographs have been shipping in from New York, Washington, New Mexico, Tennessee and Texas."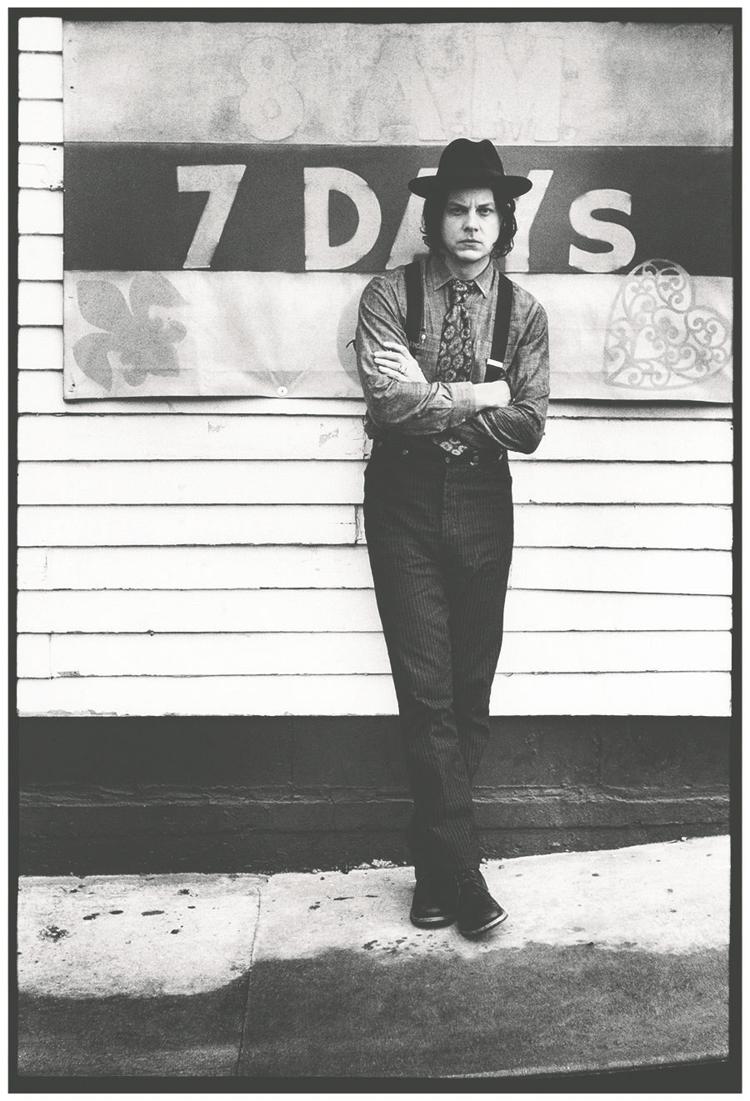 The gallerist echoes Appel's enthusiasm.
"I think there are many people out there, like myself, who appreciate a wide variety of artistic talents, and when you combine two different aspects of artistry to create a third – the exhibit – that can be something special, too," says Bullivant. "The exhibit is also an important timeline of pop and rock music trends, how it evolved, and features the talented musicians who made that happen."
Bullivant's use of the term timeline prefigures Appel's expanded description of the exhibition.
"'The Music Seen: Beyond the Stage' is being hung in the order of the time period," Appel says. "I can't say it's the 'history of rock' since some great musicians aren't in the exhibition, but I'm proud of how much history we're putting on the walls of Bullivant Gallery.
"We start with the glowing color of the Southern juke joints, where I feel it all began, by the legendary Michael Eastman, who I am proud to have gotten to know and respect greatly. The music begins in Memphis with blues, rock and soul by the late Dr. Ernest Withers – I'm proud to be working with his daughter on this project.
"From there, we go to the Woodstock/San Francisco '60s by the first Rolling Stone photographer, Baron Wolman. Then we head to the late '70s in New York, where we go to [infamous New York nightclub] CBGB with the amazing David Godlis. He spent his nights documenting the birth of punk rock.
"Next we go to Seattle with the Sub Pop Records label's photographer, Charles Peterson, who documented the grunge movement. We end with a couple images of contemporary icons by a local photographer, Dave Rocco, as well as one by the actor Jason Lee, who I've gotten to know well as a talented photographer."
Between them, Appel and Bullivant praise support for the reception in specific and the exhibition in general from local radio oasis KDHX and its folk music school for promotion and performance, the Culinary Institute of St. Louis at Hickey College for light appetizers and Urban Chestnut Brewing Co. for beer.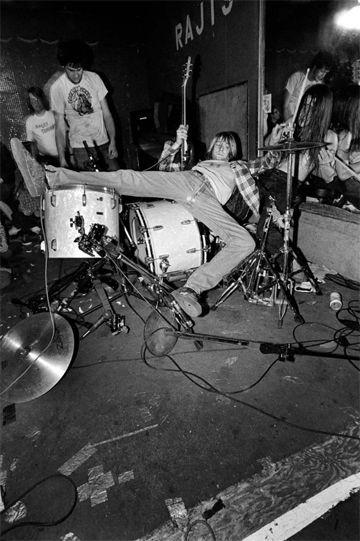 Attendees at the reception, Appel adds, can purchase chances to win various photos, with proceeds going to Memphis' Ernest C. Withers Sr. Historical Foundation, named after the famed African-American photographer. Similarly, a photo by Eastman will sell at silent auction to benefit KDHX, with a second silent auction offering – a 1969 Rolling Stone portrait by Wolman of St. Louis' own Chuck Berry – benefiting the Withers foundation.
Ultimately, as a prelude to the exhibition, one can't help returning to the broadside mentioned earlier, whose puissant images (six in all) pose more questions than they answer – tantalizingly so.
Is Hendrix crunching chords on "Purple Haze," for instance? "Voodoo Child (Slight Return)," perhaps? What? Does the (very!) young proto-punk queen Patti Smith, her left hand splayed contemplatively on her jaw, apprehend how simultaneously fawnlike yet ferocious she looks?
And in a third image portending the exhibition's content, poor, doomed Cobain of grunge icons Nirvana – as he leans beatifically into what looks like a classic Telefunken microphone, has he any inkling at all how dreadfully little time remains before his every thought turns unthinkable?
Bullivant Gallery, Grand Center for the Arts, 3321 Washington Ave., St. Louis, 314-865-0077, bullivantgallery.com