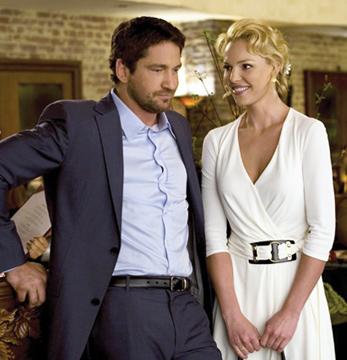 Here we have a classic study in contrast: the independent romantic comedy (500 Days of Summer) versus the mainstream Hollywood juggernaut romantic comedy. The indie features talented but less well-known actors. This film starts A-listers Katherine Heigl and Gerard Butler. The indie veers from formula and tells a quirky tale of flawed romance. This one is right out of the rom-com playbook, boy meets girl, something keeps boy and girl apart and…*spoiler alert* if you guessed boy gets girl, give yourself a gold star.
Abby (Heigl) is a tightly wound television news producer looking for love, well, she's looking for a man who meets all the criteria on her check list. Mike (Butler) is the newly hired 'relationship expert' on the show. He is a vulgar, sardonic misogynist who believes love is a myth and that male-female interaction is about one thing, and one thing only. Abby is repulsed by Mike, but when a few of his perverse suggestions help her catch the eye of an attractive doctor, she decides to take his advice on how to land a man. It's all very Henry Higgins and Eliza Doolittle meet soft-core porn: He puts the 'pig' in Pygmalion. I know you'll be shocked to learn how this one turns out.
Every point I am giving this film is because of Gerard Butler. He's not only extremely easy on the eyes, but he is a wonderful actor. He gives great edge and intense vulnerability to a role he could have easily phoned in. Katherine Heigl annoys me. I don't know why, exactly. It could be that she is the same in every role or that her face is a strange shape or that she seems to be cornering the market on the 'high- strung control freak who just needs a good man to mellow her out' character, but I've seen enough of her for a while. Butler, on the other hand, well, we're going to be seeing a lot of him, and I can't wait. It's a 6.