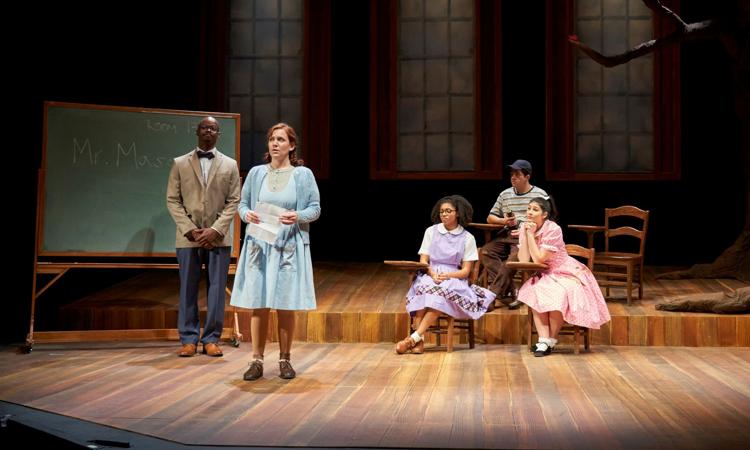 Story: Wanda Pretonski is the new kid in Room 13. She has a funny-sounding last name, and she always wears the same faded blue dress to school, so those are two strikes against her in the mind of "cool kid" Peggy.
While teacher Mr. Mason welcomes Wanda to his classroom and encourages his students to do the same, Peggy holds a mystical power over Maddie and Tommy. So it seems, anyway, because while the latter two seem inclined to be friends with Wanda, Peggy's coercive ways of persuasion intimidate her classmates into complying with her opinions.
When Peggy ostracizes Wanda once again about Wanda's sparse wardrobe, the aspiring young artist blurts out in response that she owns "a hundred dresses," which she says are located in her closet. While no one really believes her, Mr. Mason, Maddie and Tommy and even Peggy experience overtures of kindness by the new girl, so all but Peggy let the comment slide.
One day, Mr. Mason announces an art contest for the class. Peggy, who proclaims that she'll be a commercial artist when she's an adult, is anxious to participate, as are the other kids. Wanda, however, mysteriously disappears from class for several days.
Then, a letter from Wanda's father to Mr. Mason informs the teacher that, unhappy with the way his daughter has been treated, Mr. Pretonski has transferred Wanda to another school. The saddened Mr. Mason informs his class, though, that Wanda did enter the art contest.
Her beautiful work clearly captures the award. But will it win the hearts and minds of her former teacher and classmates in absentia?
Highlights: Metro Theater Company artistic director Julia Flood and her acting quintet do poetic justice to this sweet, affecting story by Eleanor Estes in a production tailored to children but with a message of tolerance and understanding important for all.
Other Info: Estes, whose story won a Newbery Honor in 1944, was a school librarian who based her tale on her experience as one of the kids who silently stood by and did nothing when a classmate was belittled by a more forceful child. That decision haunted her into adulthood. The Hundred Dresses resulted as a form of therapy as well as a cautionary tale for children at any time.
Her work has been adapted several times through the years, and Metro Theater Company utilizes William Kent Williams' adaptation. It's a tidy little piece, just an hour long, which is a good length of time to hold a child's attention. Director Flood maintains a steady, sure pace to tell this warm tale effectively, with especially fine performances by her cast members.
Philip C. Dixon shows the compassion and wisdom of the kindly Mr. Mason, who even picks up a fishing tip from Wanda that upgrades his success at a local pond. Alecia Reve Like serves well as the genial Maddie, who likes Wanda just fine but doesn't have the courage to challenge Peggy's authoritarian sway over her classmates. She's also the grown-up narrator, as Maddie reflects on those long-ago days of her childhood.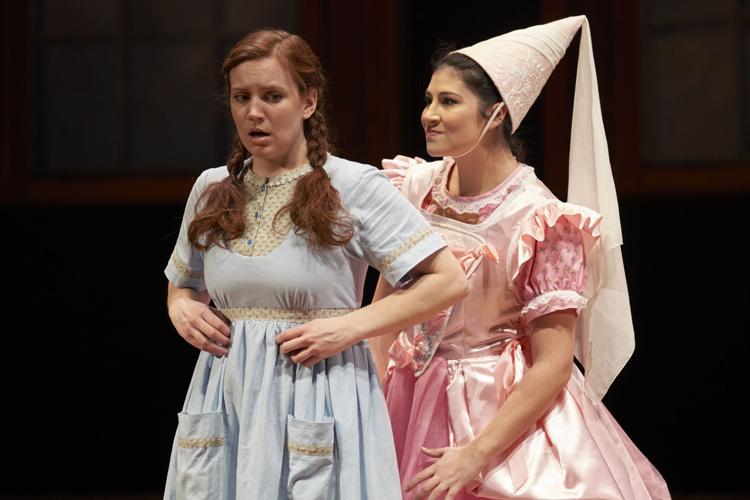 Jacob Cange nicely plays the well-meaning but easily manipulated Tommy, who demonstrates his own mindless form of cruelty after Wanda gives him a pitching tip. He also assumes the role of the foreboding Mr. Svenson, a reclusive neighbor of Wanda's who doubtless served as the inspiration of Kevin's 'crotchety' old neighbor in the original Home Alone movie.
Hailey Medrano conveys the often subtle but sometimes blunt bullying of Wanda as Peggy, the self-appointed leader of the students in Room13, but with enough room for growth to show that Peggy isn't beyond redemption. As Wanda, Sophie Murk shines as she conveys the new kid's innate goodness while also clearly demonstrating the hurt afflicting Wanda by the callous or indifferent treatment by others.
Scenic designer David Blake sets the action on a simple set including a blackboard at stage right, four student desks on two levels in the middle and a bare tree at stage left to symbolize Wanda's poor neighborhood. Most importantly positioned are three large windows in the back which are crucial to the story's climactic scene.
Rusty Wandall's sound design and original music includes several familiar tunes which accentuate various times in the school year as well as his own affecting piano contributions, with additional music by Lee Ahlin, and John Wylie's perceptive lighting casts a wistful glow on the proceedings throughout. Lou Bird's costumes underscore the personalities of the respective kids as well as that signature dress worn by Wanda and the teacher's wardrobe of Mr. Mason in the World War II era.
Metro Theater Company is performing The Hundred Dresses for numerous student matinees throughout the month. There are weekend evening presentations as well, ideal for parents to bring their kids to a show that is entertaining and educational for everyone.
Play: The Hundred Dresses
Company: Metro Theater Company
Venue: Grandel Theatre, 3610 Grandel Square
Dates: February 10, 15, 17, 22, 23, 24
Tickets: $14-$20; contact 534-1111 or metrotix.com
Rating: A 4 on a scale of 1-to-5.