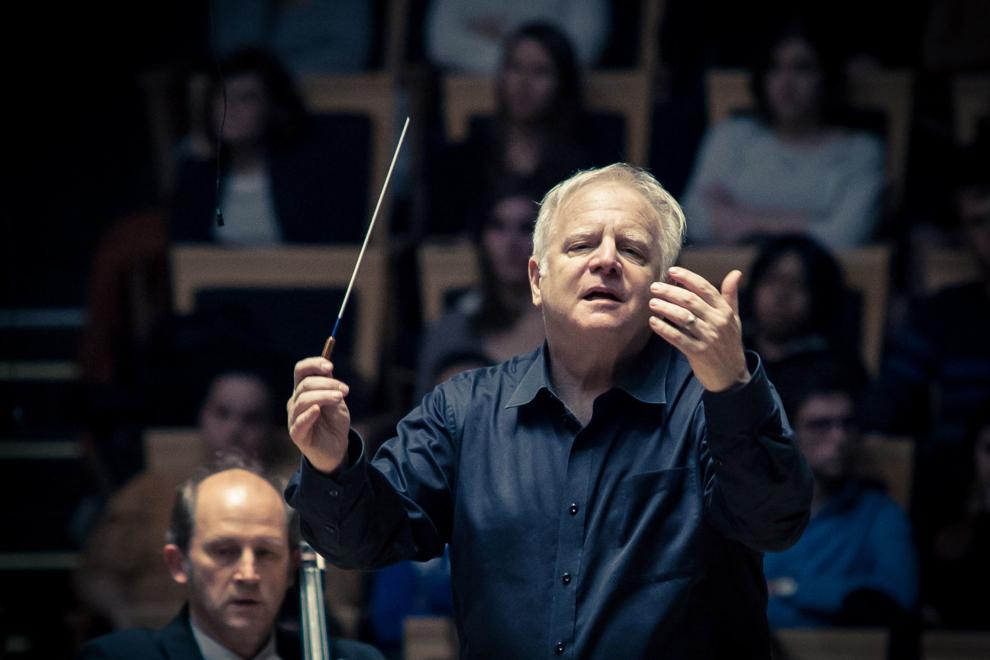 Maestro Leonard Slatkin's career has come full circle: After decades of distinguished performances around the world, the six-time Grammy-winning conductor and renowned former St. Louis Symphony Orchestra (SLSO) music director has returned to reside in the Gateway City for his 50th-anniversary year of conducting. "It all started here," Slatkin says.
During his lauded 17-year-run leading the SLSO from 1979 to 1996, Slatkin recalls countless highlights, from the acclaimed group's annual appearances in New York City to tours in Europe and Asia, as well as helping shape the future of classical music through creating the now nearly 50-year-old St. Louis Symphony Youth Orchestra. "But perhaps most important was the building of trust between the orchestra and the community," he says.
Earlier this year, when Slatkin and his wife, award-winning composer Cindy McTee, were making the decision on where to live out their music careers during their golden years, the maestro recalls: "It was love at first left turn … St. Louis seemed to have everything we needed. So we built a house in Clayton and have spent most of the summer here."
The move back to St. Louis comes on the heels of Slatkin's most recent role as music director of the Detroit Symphony Orchestra (DSO). After taking the DSO to new heights through reconnecting the group with its city, the maestro ended his decade-long Michigan stay in June, after he underwent a successful heart surgery in May. "As with St. Louis, there were so many [DSO] moments that were memorable, but none more than at the final concert, where I was being honored," Slatkin says. "My son, Daniel, surprised me with a piece of music, In Fields, that he had written for the occasion. But even more astounding was that he walked onstage and conducted it!"
As an LA native, Slatkin has enjoyed a lifelong love affair with music begun in early childhood – his parents' musical work in the film industry led his family to relationships with some of the most beloved composers and performers of Hollywood's Golden Age, such as Frank Sinatra.
Ever enthralled by song, Slatkin went on to graduate from music school at New York City's nonpareil Juilliard School and to lead a flourishing conducting career that included significant stints as music director at the SLSO, the DSO, London's BBC Symphony Orchestra and the former New Orleans Symphony Orchestra, as well as a 12-year run helming the National Symphony Orchestra in Washington, D.C., which yielded both performances for and friendships with political leadership, from former President Bill Clinton to former U.S. Secretary of State Colin Powell.
Among awards, Slatkin's outstanding lifetime career in music has garnered half a dozen Grammy wins and 33 nominations, as well as the prestigious National Medal of Arts, the highest award given to artists by the U.S. government.
And Slatkin has shared his conducting talents with younger generations, founding the St. Louis Symphony Youth Orchestra and National Conducting Institute in Washington, D.C., and serving as a music educator at institutions such as Juilliard, the Manhattan School of Music, the Aspen Music School in Colorado and the Jacobs School of Music at Indiana University.
Now back in St. Louis with an accomplished music career in tow, Slatkin will continue to conduct the world's top orchestras about 30 weeks a year and serve in three roles: as honorary music director of the Orchestre National de Lyon in France, as well as music director laureate of the DSO and conductor laureate of the SLSO, including leading the SLSO in performances across two weeks this spring at Powell Hall.
On April 27 and 28, Slatkin will conduct the SLSO through Leonard Bernstein's emotional Symphony No. 3, Kaddish (a word meaning "sanctification," a hymn of praise in Jewish prayer services), which was written for late President John F. Kennedy. And on May 3 and 4, celebratory performances in honor of Slatkin's 50 years of working with the SLSO will include the maestro leading Tchaikovsky's passionate Sixth Symphony, and the world premiere of a special commissioned piece by composer Jeff Beal, the musical mastermind behind the score of the popular Netflix series House of Cards. "We will be playing a few of my favorites, as well as some new pieces," Slatkin says, noting, "Jeff Beal is writing a song cycle for my good friend soprano Hila Plitmann."
Beyond the baton, the maestro notes that he'll take a beat for a little rest and relaxation: "It is also time to just enjoy myself and do some traveling with my wife, Cindy." Bravo, indeed!