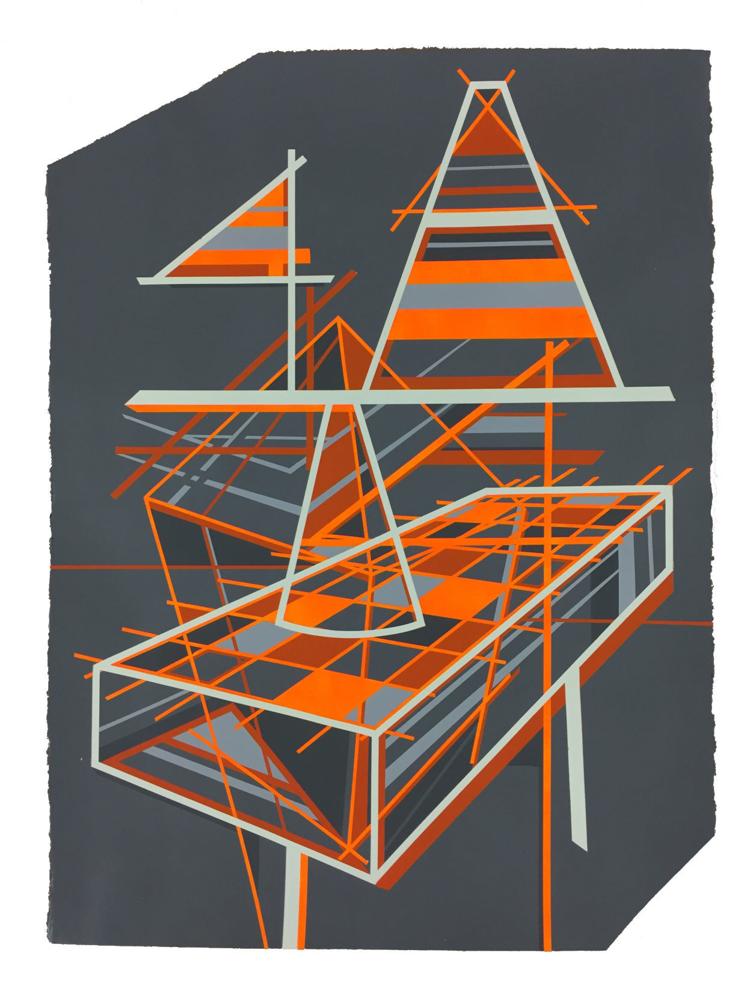 Triskaidekaphobia be damned, fear of the number following 12 apparently has clouded in no way the opening of the latest season of Bruno L. David's namesake Clayton art showcase.
Last Friday, Bruno David Gallery commenced its 13th season with a quartet of solo exhibitions running until Sept. 29, and both the gallerist and the artists involved all seem enthused about that turn of events.
The season's opening comprises "Concrete Tapestry" from E.R.O. (Experimental Research Office), "Hustle and Glo" from Justin Henry Miller, "Who Discovers the Discoverer?" from Yvonne Osei and "Third Post" from Jon Howard Young.
Amid installing those four exhibitions, David reflects briefly on the art of the art gallerist, starting with mulling the precepts, aesthetic or otherwise, that customarily guide him in presenting work in his Forsyth Boulevard showcase. "When deciding on the exhibitions at the gallery, which are usually scheduled 12 months ahead, I think about the connections between the artists," he says.
"For example, a group of artists might be working on texture, so I would try to show them separately but together at the gallery, and show the viewer the development of their works and the connections between each other – as recently, with Carmon Colangelo, James Austin Murray, Bunny Burson and Laura Beard.
"[A given roster] can be about texture, subject, message, global events, philosophy. Other times, an artist will have every room in the gallery, like the upcoming show by plein-air artist Ralph Nagel in October, because each room will present a different location within his practice and travels around the world. Sometimes there might be no connection – just good artists making interesting art."
He also succinctly defines what led him to assemble E.R.O., Miller, Osei and Young: "The connection between these four artists is about demonstrating their thoughtfulness within their practice and who they are as an artist."
David likewise addresses the factors guiding him in physically situating any individual artist's works within the gallery's various rooms – whether, say, placement derives from solely spatial considerations or from a desire for something like a visual crescendo by sequencing various artists throughout the gallery in toto.
"In most cases, it will be a combination of the visual and spatial," David says. "Curating exhibitions that flow well is almost always about the space and the traveling experience between the artworks and the rooms. It's the most challenging part of a curator's job – the flow versus the counterflow experience for the visitor."
Finally and enthusiastically, David reveals what about the individual works of E.R.O., Miller, Osei and Young most intrigues him as an art devotee, citing their fervor for self-expression "in a world without parameters" and their "firm belief in the power of art to change lives and impact people": "The passions of these artists shine through in their work. It matters! They matter!"
Bruno David Gallery, 7513 Forsyth Blvd., Clayton, 314-696-2377, brunodavidgallery.com
---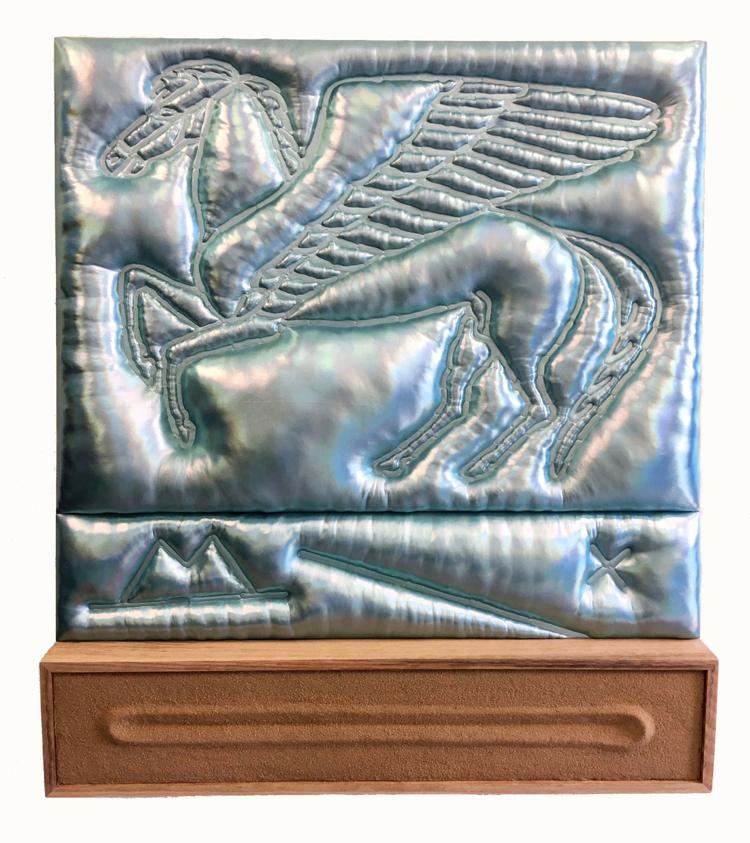 "Third Post"
"Third Post" from multidisciplinary artist Jon Howard Young, fabric-based sculptures designed to deceive the eye. Young leads with a spooky, apocalyptic question regarding his own exhibition: "Have you ever been driving alone or along with someone at night on a long stretch of dark road, and it dawns on you that if the world were to end behind or before you, you wouldn't know? Road signs and objects in this space illuminated by the headlights of your car can become significant markers of orientation and direction. To measure direction from where we have come to where we are headed can have correspondingly orienting and disorienting effects. Here symbols become waymarks through imagination and perceptions of reality."
---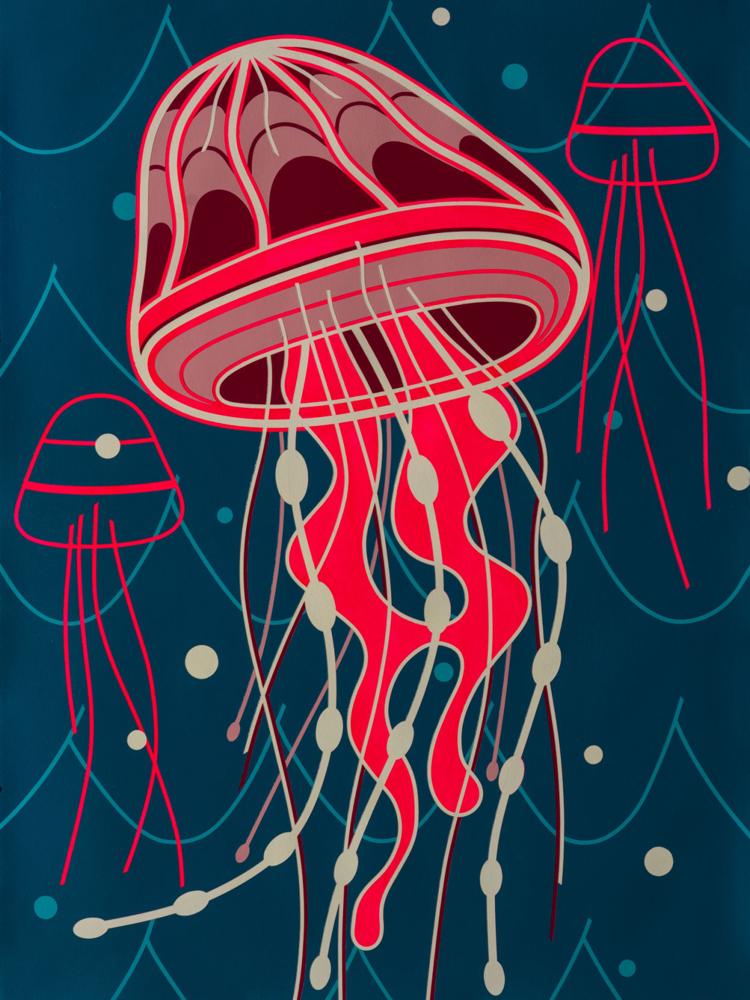 "Hustle and Glo"
"Hustle and Glo" from painter Justin Henry Miller, multiple-leveled, layered works on paper that act almost as auto-palimpsests. Miller has this to say about his own exhibition: "My intent is to cue viewers into the forced coexistence of disorder and synergy in the pieces. With their dense layering and jarring color juxtapositions, I like to think of each individual work as housing multiple paintings waiting to be ciphered. As for the images that populate these works, many are drawn from a combination of personal narratives and a whimsy nostalgia. It's my hope that viewers investigate these works multiple times and make new discoveries."
---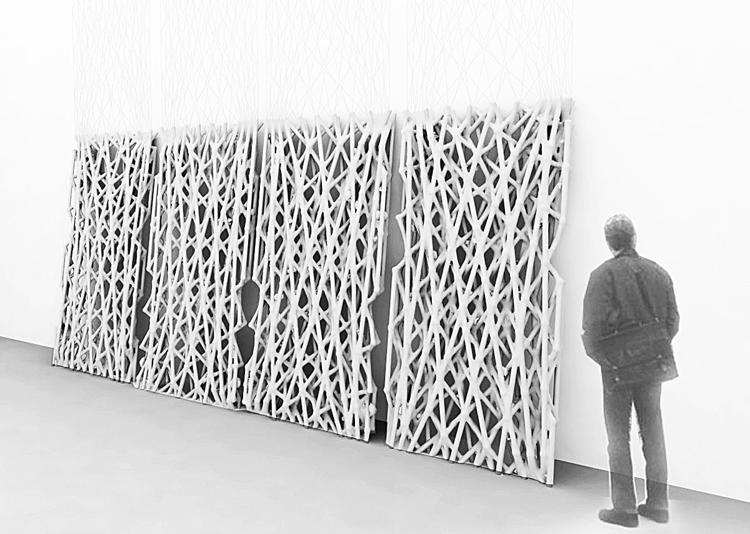 "Concrete Tapestry"
"Concrete Tapestry" from the collaborative group E.R.O. – Samuel Bell-Hart, Nathaniel Elberfeld, Lavender Tessmer and Alexandra Waller – an architecturally influenced, high-tech exercise in melding building materials and textiles. Regarding the group exhibition, Elberfeld states: "We would like to engage the public by offering a series of apparent contradictions: massiveness and delicacy, the traditional and the contemporary, and digital design and analog assembly."
---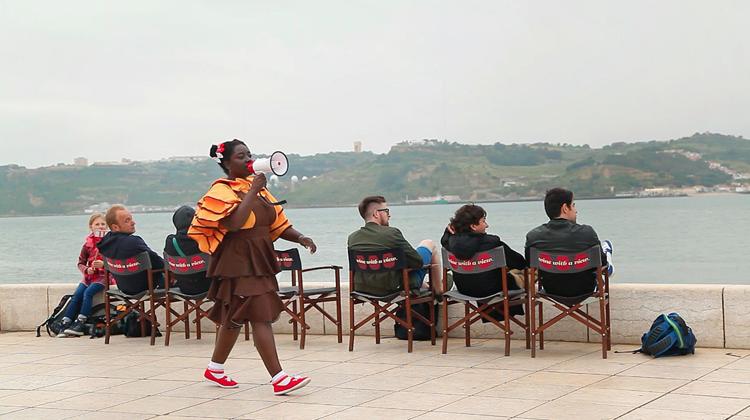 "Who Discovers the Discoverer?"
"Who Discovers the Discoverer?" from multidisciplinary artist Yvonne Osei, a collection of photos and videos exploring the world of today in various ways. "My hope is for viewers to approach the exhibition with open-mindedness and to receive my work with a level of vulnerability," Osei says of her work. "I want people to walk away in a healthy state of perplexity because it's in this very state that normalcy is assessed in a different light. The core of the exhibition rests on challenging fragmented historical and colonial narratives, and breaking normalcies: breaking the normalcy of the aesthetics of beauty, hierarchical orders of power, inclusion and exclusion, self-identity, ownership of historical narrative and, most importantly, the normalcy of the discoverer and the discovered."