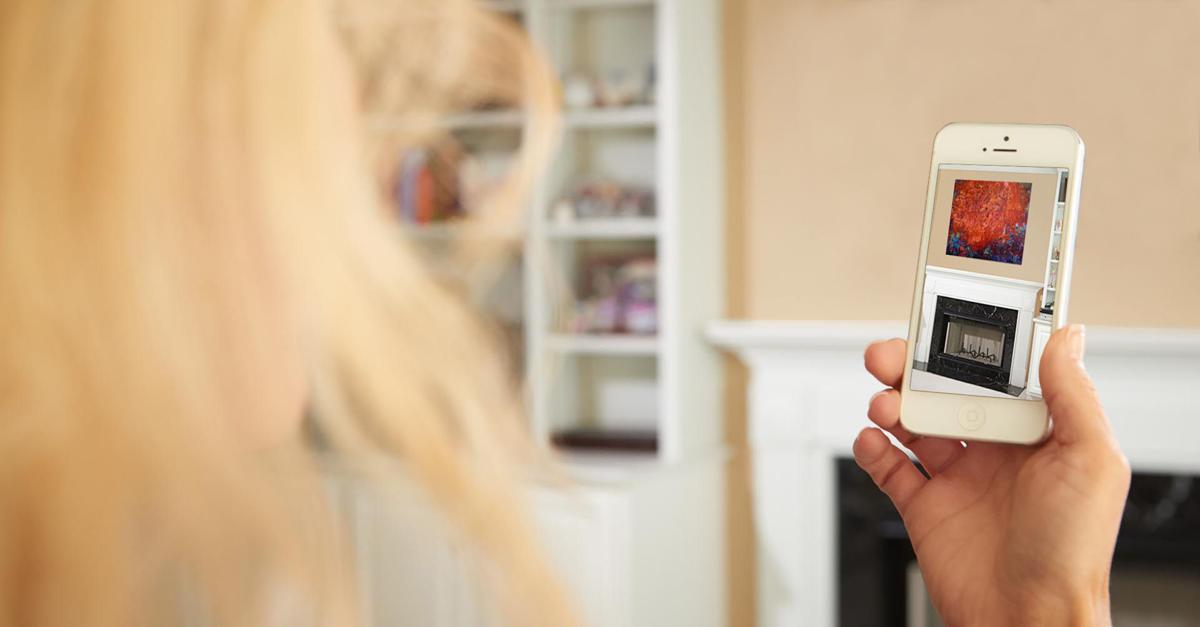 As with so many other aspects of contemporary existence, the smartphone has infiltrated art galleries with the recent relaunch of ArtLoupe.
That free app – whose second syllable derives from the jewelry industry, where loupe means "any of various types of small, high-powered magnifying lens held or worn close to the eye" – comes from the local nonprofit Art Saint Louis.
The first incarnation of ArtLoupe, which can run on either the Apple or Android operating systems, appeared in 2011. The app characterizes itself as "a mobile-to-mobile publishing, discovery and sales tool for creators and consumers of visual art."
ArtLoupe's website lists fully three dozen two- and three-dimensional forms, media and techniques displayed on the app, ranging from ceramics and fiber through metal and pastel to sculpture and watercolor, all amenable to being labeled with 10 preset digital tags (everything from "ABSTRACT" to "PLEIN AIR") or custom tags.
Two works recently showcased on ArtLoupe's Instagram site, if not through the app proper, testify to its delightful variety:
Heat, a 36- by- 24-inch abstract acrylic by Ballwin's Natalie Avondet, feels almost like a latter-day color field piece, with an explosion of sizzling crimson and tangerine at left transitioning past the work's vertical midpoint to muted blue, yellow and green at right.
Untitled Collage #3, a 6-inch-square black-and-white photo assemblage by visual artist/photographer Brandon De Sha of St. Louis, depicts a burly older man in a dark shirt and glen plaid jacket, his eyes concealed by an angled oval of other eyes – perhaps those of an early-'60s horror flick villain, staring with lunatic intensity.
Chandler Branch, the executive director of Art Saint Louis, relates that ArtLoupe has been settling quite nicely into its digital niche. "The app is attracting new users on a daily basis," he says. "It has been downloaded over 13,000 times and has attracted over 7,000 registered users – one can download the app and browse the art without setting up a registered account, so the number of nonregistered users is unknown – and it now hosts over 6,000 artworks."
Moreover, reviews of ArtLoupe in the Apple and Google app stores alike have trended favorably, Branch relates.
"I'm grateful for the Art Saint Louis artists and fans who weighed in early in that regard, commending the app's functions and ease of use," he says. "But especially given that the latest version of the app, which boasts an entirely redesigned interface, has only been out for a month or two, I think it's fair to say that the verdict of the art-loving world at large is still out."
Beyond any particular "lightbulb moment," Branch calls ArtLoupe "mostly the result of steady counsel and support from board members and others," although he does cite "key sign posts along the way."
Among those sign posts, he mentions "a 2012 article in The Wall Street Journal noting the ways that digital tools were reshaping the visual art industry, including the ubiquity of tablets at art auctions, the capacity of galleries to showcase more artworks via digital and a general trend toward buying art based on digital views.
"At that time … , the visual art industry was about 20 years behind the music industry in terms of the paradigm shift affected by the digital revolution, through which iTunes and other online music portals had all but completely displaced brick-and-mortar record stores – think art galleries.
"Works of visual art hadn't been tagged like text and documents had by Google, and there hadn't evolved a service for visual art – like Pandora for music – for tracking a user's selected tastes and linking them to a discovery of local artists they would enjoy. Combined with the broadly held expectation that mobile devices would supplant the PC as the primary means of web access, all of this suggested an opportunity to capture market share."
Branch credits the Regional Arts Commission of St. Louis as "a significant influence," as well, citing a 2012 report from that organization "revealing that artists spend up to 50 percent of their time marketing their work. Spending so much time promoting and marketing one's art meant having less time available for actually making art.
"We saw this as validation of our concept for an app that would save artists time by helping them syndicate their content to an array of other e-commerce and social media sites, and remove the learning curve for becoming an expert in marketing and technology."
In that light, ought local gallerists be fretting that ArtLoupe will supplant gallery viewing and purchasing? Scarcely, Branch replies. "Without question, the growth of the online art trade is something of significance to art galleries, auction houses, art fairs and the like," he says.
"But while unavoidably disruptive – even transformative, perhaps – I don't think the long-term impact will ultimately be subversive. Performance art and other ephemeral forms notwithstanding, visual art is and will remain a quintessentially physical embodiment of human expression, captured, preserved and enjoyed through material elements, occupying physical space."
Branch continues in a fashion suggesting considerable fondness for the sorts of venues mentioned earlier: "There's something irreplaceable, too, about being in the physical presence of a work of art, viewing art with a sense of scale as it relates to our own physicality – being drawn to the intimacy of a small charcoal drawing, for example, or feeling immersed and overwhelmed by a large mural or sculpture that fills our view or towers over us.
"So I think art galleries and other spaces will more than survive these changes, just as concert halls have survived the proliferation of recorded music, whatever adaptations may be required by the economics of it all."
Branch also clarifies a few details from the app's website that might confuse potential users. "ArtLoupe's stated focus on 'physical media' is meant to distinguish it from websites or services that sell and deliver images via digital download," he says. "When you purchase art through ArtLoupe, a physical package containing your art is shipped to you."
For providing intermediary services like packing and shipping artwork, ArtLoupe collects nominal fees from the seller and the buyer alike. "Revenue generated by the app helps support [Art Saint Louis'] work creating and presenting original exhibitions, educational programming and support services aimed at cultivating and celebrating the art of our region," Branch says.
Finally, Branch addresses a perceived incongruity among the three dozen categories of ArtLoupe offerings, which include installation, performance art and street art.
"We want ArtLoupe to be a place for artists of all stripes to connect with viewers of all tastes and not be limited by the platform's e-commerce underpinnings, a place for discovery and artistic expression, not just business," he says.
"So in addition to including these less shopping-friendly art forms, the app also allows artists to upload artworks and mark them not for sale, and we've made provision for artists and viewers to connect and communicate directly through the app's messaging feature, for commissions, collaborations or whatever interests may follow."
Art Saint Louis, 1223 Pine St., St. Louis,
314-241-4810, artstlouis.org, artloupe.org
"ArtLoupe's stated focus on 'physical media' is meant to distinguish it from websites or services that sell and deliver images via digital download. When you purchase art through ArtLoupe, a physical package containing your art is shipped to you." – Chandler Branch, executive director of Art Saint Louis
Photo by Greg Barth
Be the first to know
Get local news delivered to your inbox!