With four other exhibitions and an installation in its Window on Forsyth space, local sculptor Frank Schwaiger's "SYZYGY-when heavenly bodies align" has occupied Clayton's Bruno David Gallery since Feb. 29, with a planned run until April 18.
For art devotees intrigued by his work, Schwaiger's return to David's gallery – the sculptor's fourth appearance there, according to a press release on "SYZYGY" – was news to be celebrated.
However, much like most other springtime schedules this year, due to COVID-19, plans had to change. At press time, a note on the gallery's website reveals it as "currently closed to the public in following the recommendations of the [federal Centers for Disease Control and Prevention] and local officials."
Still, life absolutely, positively, categorically will continue, and not only do online options exist for viewing Schwaiger's work and that of his fellow artists now in David's gallery – Richard Hull, James Austin Murray, Patricia Olynyk, Tom Reed and Christina Shmigel (the installation) – but also, the sculptor, properly socially distanced, happily discusses his work.
First, he responds to an inquiry into what specifically inspired the current exhibition. "The making of art with your hands is an ever-changing mixture of unknowns," Schwaiger says. "These include discovering the possibilities offered by the materials, the limitations of your tools and work ethic, the accidents that always occur – discoveries – your shifting goals, the intuition of your hands and the keenness of your learned vision.
"If and when these occur in some orderly fashion, this miracle is like the unlikely alignment of the planets. And syzygy is the last 'S' [entry] in most dictionaries."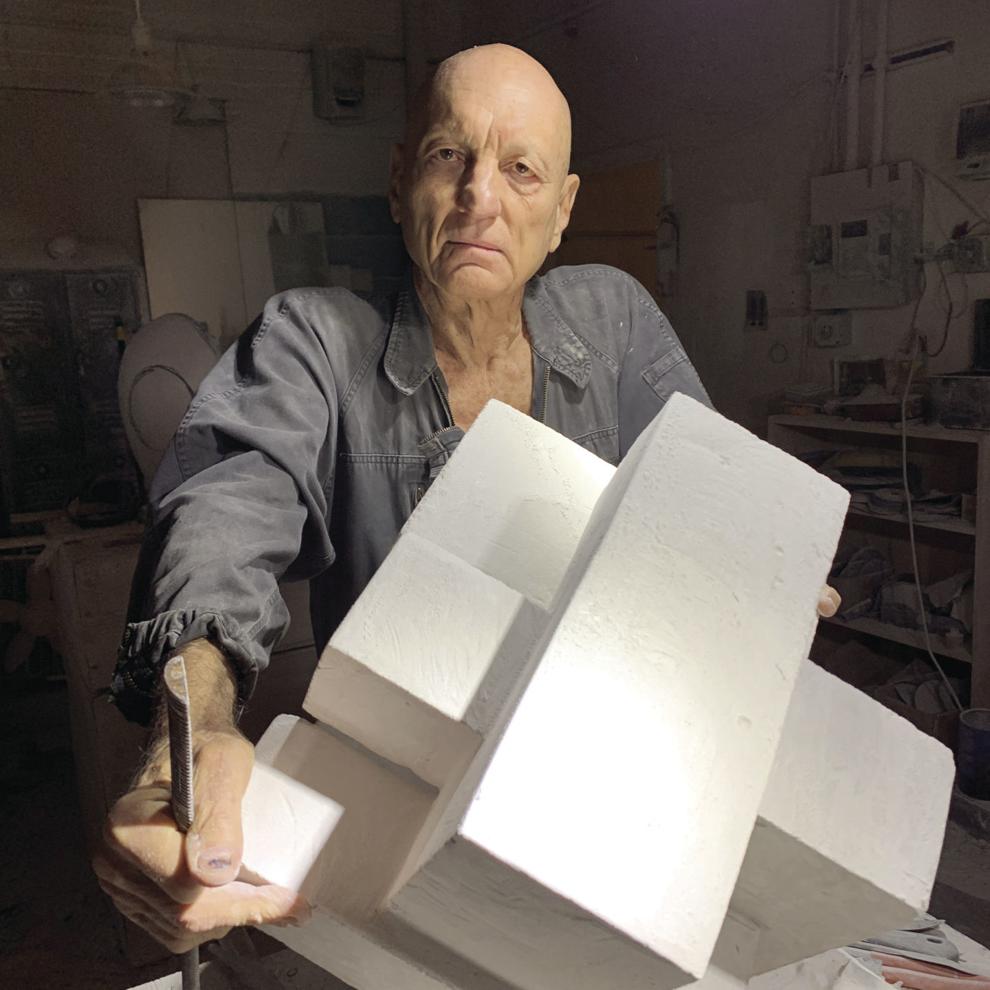 Schwaiger also gamely assesses what aesthetic commonalities – whether "macro" or "micro" – unite the works in the new exhibition. "An artist strives for a consistency of purpose – each form must be true to itself," he says. "Everything else is a distraction from the purity of the idea.
"While this makes each piece unique – you don't want to make anything that has been made before, even by yourself – your intuition ensures some kind of commonality."
Next, just as gamely, Schwaiger mulls how the works now occupying the gallery relate to those previously on display in Bruno David Projects. "The point of making art is to challenge yourself, to learn something each time," he says. "Over the years, this erratic path of learning hopefully leads you to new places in your pursuit of clarity of expression. That's the relationship. If it's recognizable, I'm not the person to say, but I know I did them."
Amusingly, almost as an afterthought, the sculptor adds: "This answer is a little wonky, as the question involves the evaluation of 'relationships,' a very complicated terrain."
Schwaiger's exhibition at David's gallery comprises eight works: the polished bronzes Blades, the impishly titled P, Pistoletta, Snail and Star; the solid polished bronzes Man and Meteor; and the imposing, marmoreal Crux I. All date from 2019 except the last, a 2020 (final) creation.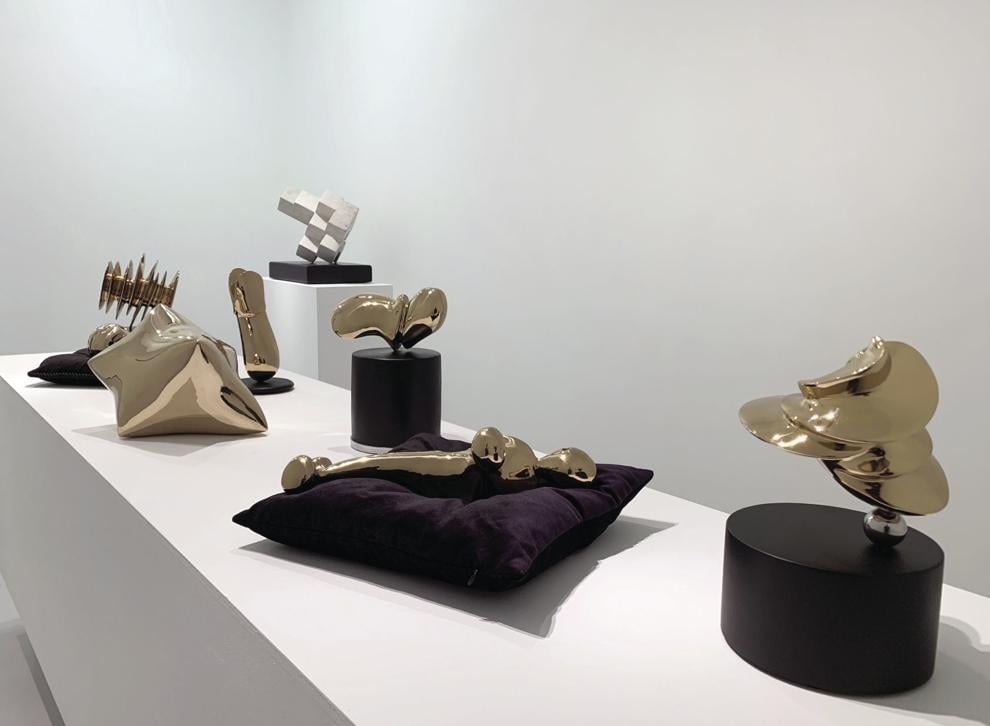 "All the pieces were cut from stone originally," he relates of the works' creation. "Like people, every stone is different and needs to be understood. This is a long and unpredictable process and can take years. Blades took 10 years to envision and execute. I just couldn't 'see' it until I did.
"Others took years also because of the difficulty in working the granite and perfectly executing the moves I feel required to complete the true form inside. Finding an idea and bringing it forth is really an old man's art. You cannot be in a hurry."
The Mentor
Schwaiger reflects on his time "back in the day" at Southern Illinois University Carbondale with the late, great R. Buckminster Fuller.
To anyone with a scientific background, Fuller's moniker should instantly ring a bell as the polymath who popularized the geodesic dome – a modern thinker of such towering significance that an entire family of carbon molecules now bears his name.
"Bucky was the last great intellect of our time," Schwaiger says. "He sucked everyone into his world and changed you forever. The two years I spent at SIU working for him – one never worked with Bucky – was like living with Leonardo da Vinci.
"Bucky did everything, all at the same time, and I don't think he ever slept – but could nap standing up. The first day of 'class,' we – there were two of us then – were put to work on Bucky's latest project: to inventory the world's resources so that necessary trade of everything could be freely exchanged, the usual utopian idea."
At this point, collegians everywhere may well be muttering, "Yeah, just another first day."
Schwaiger continues: "We did this and spent our days in his domes, eating with his family and being a part of the constantly revolving scene of international visitors, all involved in Bucky's emotional sphere.
"What was it like? Ultimately, one had to escape the mesmerizing atmosphere or be consumed by it. Two years and a master's degree was enough, but the experience was wonderful."
Bruno David Gallery, 7513 Forsyth Blvd., Clayton, 314-696-2377, brunodavidgallery.com
Editor's Note: Works from Schwaiger's exhibition and the other exhibitions now at Bruno David Gallery appear on Artsy, the online platform for discovering, buying and selling fine art, according to the gallery's website, which also cites the availability there of additional resources. Also, the gallery promises to publish a catalog of Schwaiger's current works with an exhibition history and bibliography.