Slightly more than a week before the official arrival of autumn, Clayton's venerable Bruno David Gallery started its own latest season, the 14th, in characteristically high style.
Opening Saturday, Sept. 14, were exhibitions of new works (all running till Oct. 26) from this quartet of visual artists: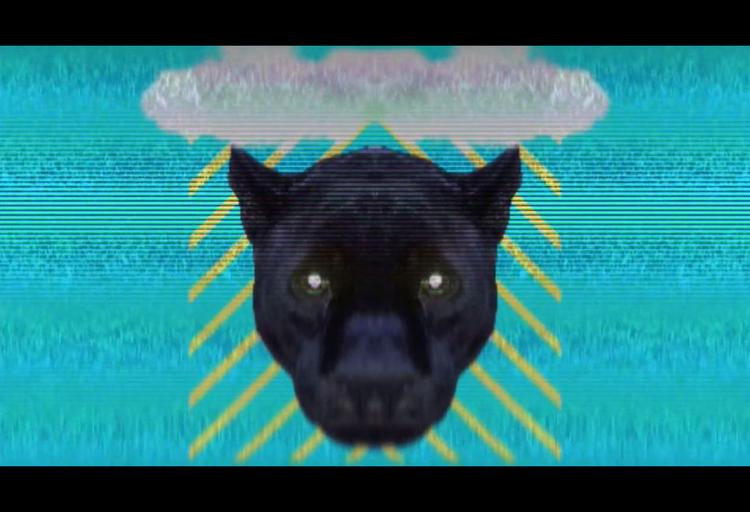 Damon Davis with Sad Panther, a video in the New Media Room.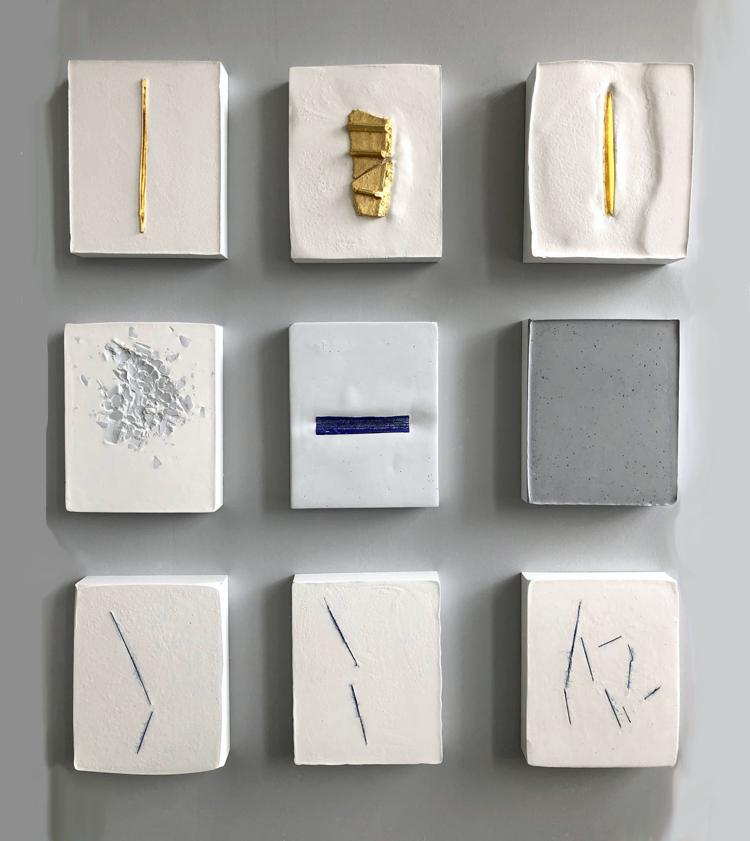 Jill Downen with "Here all is distance, there it was Breath," small plaster drawings in Gallery 2.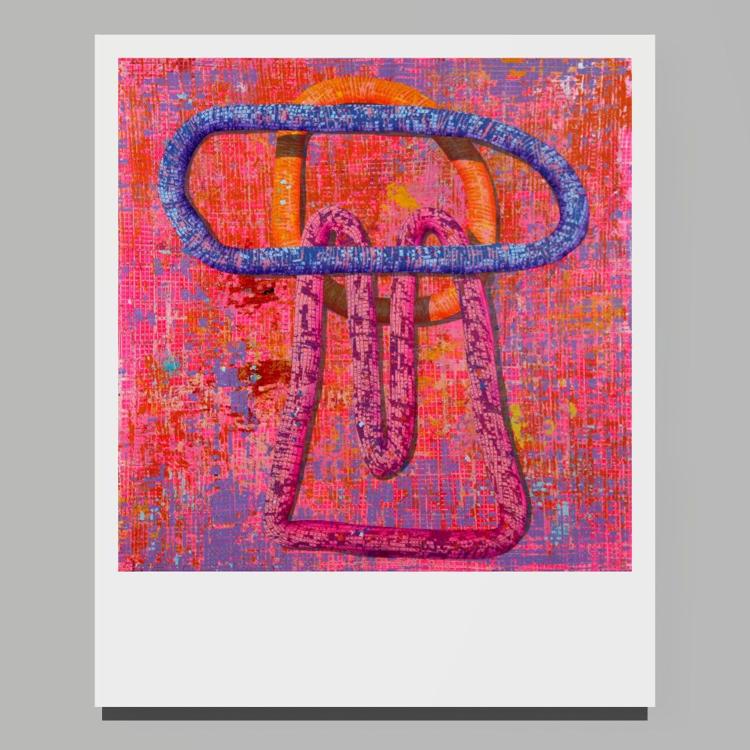 Daniel Raedeke with "Adventure," paintings in Gallery 3.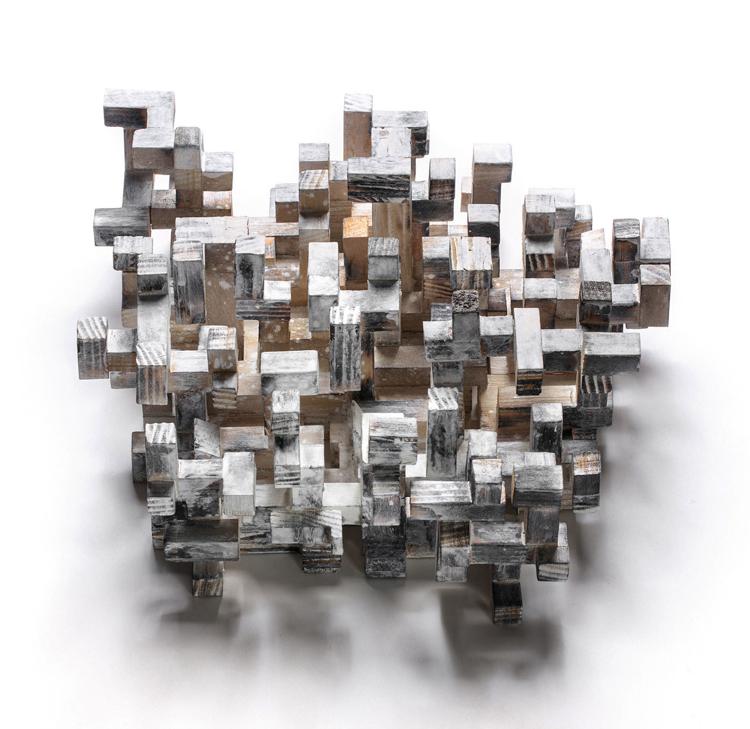 Thomas Sleet with "Integration: Sacred Space," sculptures in Gallery 1.
"For my 14th season opener, I chose these four artists for their aesthetic similarities," Bruno David, the gallery's namesake, relates. "All four artists utilize fragments and individual pieces to present work that emphasizes the importance of parts of the whole in the production of one artwork.
"The September show includes a sculptor who makes details of potential large works, a painter who explores new methods of mark-making, a new-media artist who plays with concepts of humility and power, and a sculptor who experiments with the process of making a sculpture through 3D drawings."
The season opener notably includes a newbie among three gallery veterans. That is, Sad Panther marks Damon Davis' first exhibition there and belongs to a series titled Darker Gods. The 3:09-minute one-channel animated music video by Davis – characterized in a press release from the gallery as a "postdisciplinary" artist – forms a visual counterpart to his song of the same title.
"Sad Panther is about self-awareness," Davis relates. "It's the story of a god that wakes up to realize there's a power even greater than him. It's about realizing limitations and humility. It's about a creation become greater than its creation. Those are some interpretations – I want the viewer to find their own as well."
In his work, according to the release, Davis seeks to provide "a symbiosis of therapy and social commentary" and to challenge "the devaluing nature of Western representations of blackness in the media and popular culture, … through a black aesthetic for the black community to see themselves in all of their grace and complexity."
Meanwhile, in her fifth solo exhibition with the gallery, Jill Downen welcomes art aficionados to "Here all is distance, there it was Breath," nearly 40 drawings each measuring 8 by 10 inches.
"Art viewers who are interested in quiet works that invite contemplation, slowness and a poetic visual language that is open to interpretation may discover rich layers of meaning in my new drawings," says Downen.
According to the gallery's release, Downen's exhibition explores "human spatial experience and the contemplative value of architectural form" by leveraging "decades of work with large-scale sculptural installations" to produce "gold-leafed glyphs that emerge from snowlike ground, contours of poured or chiseled plaster, or deep, scriptural lines of lapis lazuli inlay."
"Adventure" constitutes Daniel Raedeke's third solo exhibition with David's showcase. "Gallery hoppers will see color, vibrancy, texture and fun – a new sense of adventure," Raedeke assures potential visitors.
Raedeke's latest exhibition, the gallery release notes, "continues his exploration of the converging boundaries of our physical and digital worlds. Just as natural objects and scenes are photographed, organized, downloaded and shared through various user interfaces, 'Adventure' merges experiential and improvisational processes of painting and design."
Raedeke's "layered, textured and organic surfaces, framed by graphically inspired color panels" produce an intriguing juxtaposition wherein sculptural elements join "with painting and computer rendering to combine in works that are both object and image," yielding a seemingly animated process of media integration that "conjures a unique, nonlinear portal for the viewer."
"My new sculptural works are a dance between light and shadow, surface and material, solid and void," states Thomas Sleet. "Quiet yet powerful, they command an intimate space and invite the viewer to enter and explore." "Integration: Sacred Space," the exhibition comprising those sculptures, marks his third solo exhibition with the gallery.
Nature has fascinated Sleet since his youth in Kirkwood in the '60s, according to the gallery release. That fascination has continued into his adulthood and surfaced not only in his sculpture but also in paintings, prints and other media.
"Integration: Sacred Space" furthers Sleet's investigation of the intersections of "the natural and the manufactured," the release states, adding: "His new wall-mounted pieces highlight his carefully designed experiments with light, space, thoughtful arrangement and placement, and the theory of the individual intersecting with the collective."
Sleet's sculptures focus not on any single specific meaning but on a given work's construction – the harmonious combination of the materials forming it. According to the release, Sleet calls one shape primary to his work the "I" beam, quoting him as stating that it offers "the [most] amount of strength with the least amount of material."
The release puckishly continues: "When asked if one should look for the individual in his pieces, specifically the 'I' beam, Sleet explained the beam as a dual entity, an 'individual object that also represents inanimate and animate things, be it people, structures or materials.'"
On Oct. 5, to supplement each of the preceding new exhibitions in its 14th season opener, the gallery will host a talk with Davis, Downen, Raedeke and Sleet starting at 4 p.m. Further views of all but Davis' work appear on the gallery's website.
Also, to accompany the Downen, Raedeke and Sleet exhibitions, the gallery will publish individual catalogues raisonnés featuring each exhibition's history and a bibliography – suggesting once more why David's showcase has earned the veneration of local art aficionados.
Bruno David Gallery, 7513 Forsyth Blvd., Clayton, 314-696-2377, brunodavidgallery.com
Be the first to know
Get local news delivered to your inbox!