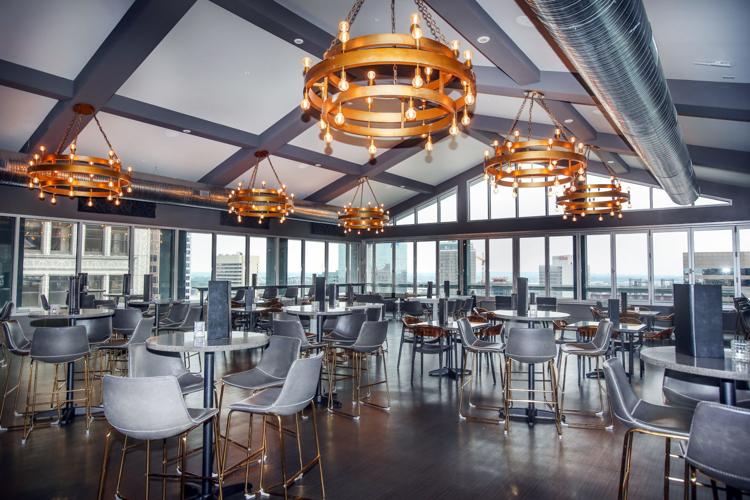 Sunshine and shareables brighten a new rooftop bar and restaurant in downtown St. Louis.
Arcing rays of light shower the 16th floor of Hotel Saint Louis with radiant warmth. Small plates and cocktails crowd tables full of family, friends and co-workers (or some combination of the three). This is Form Skybar, a modern reinvention of the hotel watering hole that prizes function and detail above all else – to stunning success.
There's plenty to be impressed with on entering the establishment, including a fully retractable, glass-paneled wall that offers unbeatable skyline views and is sure to be open during sun-soaked afternoons. But as its name implies, the space's most eye-catching component is the handmade skylight – one of many details both major and minor involved in the property's renovation.
"A $65 million gut rehab brought this amazing building back to life," says Hotel Saint Louis executive chef Matthew Birkenmeier, a born-and-raised St. Louisan who touts more than 25 years of kitchen experience. "It is such an amazing place that I wanted to ensure that my creative touches for the food follow the function of the hotel."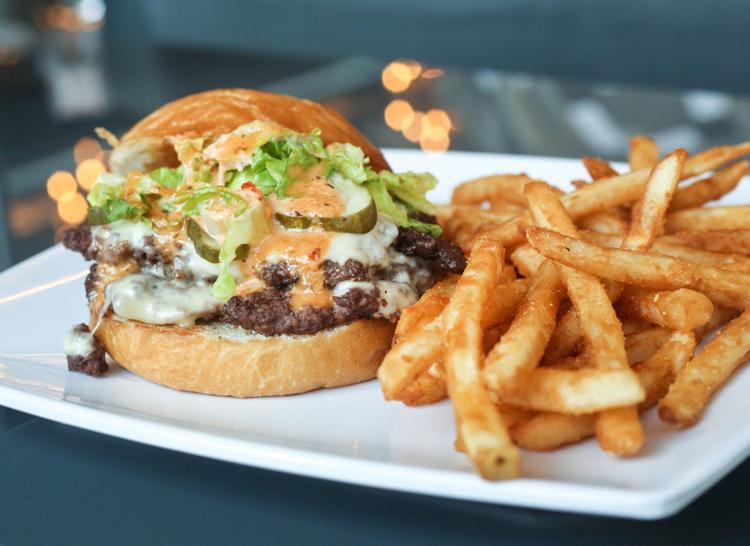 Once the sun sets and daytime hangouts subside, ornate, layered chandeliers illuminate low-lit evenings at Form Skybar. Meanwhile, a backlit onyx bar frames the open-floor dining area, which features tall and short chairs and tables for groups of any size. All together, the restaurant suggests even a packed house might belie an intimate evening, regardless of what comes next.
"It falls back to function – with Form Skybar, we looked at a casual go-to-the-game or night-out-on-the-town quick bites [concept]," Birkenmeier says.
The building itself has an illustrious history. Constructed in 1893, it was initially home to the St. Louis Union Trust Co., which operated there for decades. The space eventually became a city landmark in 1971, suffered from vacancy starting in 2013 and was renovated by Restoration St. Louis – culminating in a 2018 reopening as the Hotel Saint Louis, which operates as part of the Marriott Autograph Collection.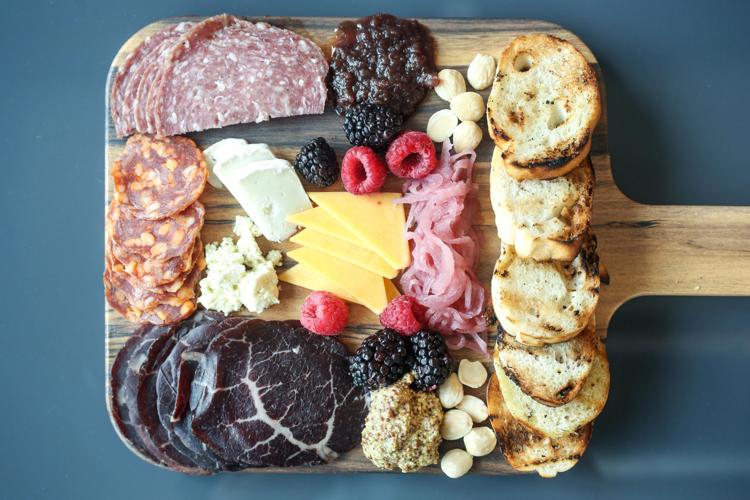 Form Skybar draws inspiration (and its name) from Louis Sullivan, a modernist architect who designed both the building where the Hotel Saint Louis now operates and the famous Wainwright Building, another local icon that acted as a sort of forebear to early skyscrapers – that's best known as a prime example of Sullivan's "form follows function" approach.
The menu is inspired by this mentality. A St. Louis-centric offering of shareables, small plates and flatbreads means visitors can swing by to mingle before a concert, Blues game or Cards game without the pressures of a full dining experience.
Yet there's still plenty to be had at Form Skybar, as guests can enjoy everything from locally sourced charcuterie and high-stacked smashburgers to vegetarian flatbread and crawfish nachos that, somehow fittingly, arrive in a can.
"I knew we did not want to be a stuffy white-tablecloth restaurant," Birkenmeier says. "We wanted to have a fun, functional, creative and detailed menu that fit the beautiful hotel. Simply put, we are striving to be the nonhotel hotel restaurant."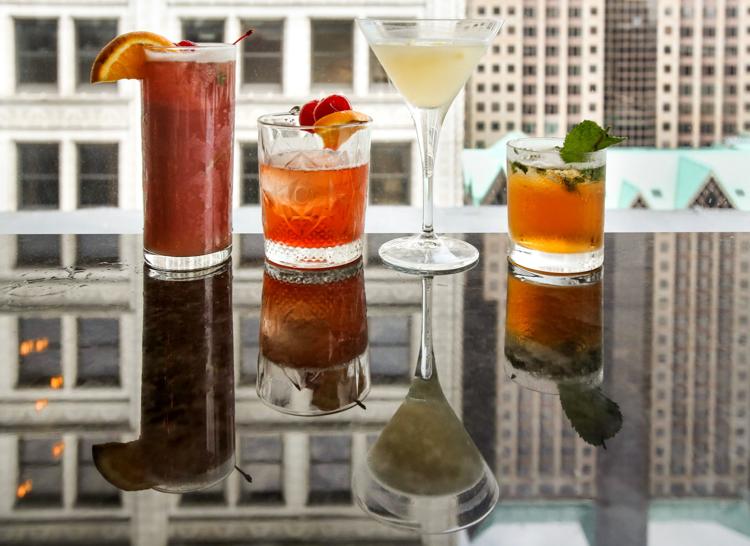 There is a bourgeoning movement in the culinary world to breathe new life into traditional "hotel restaurants." Chefs are flocking to refurbished and renovated new concepts, due in part to the flexibility that working in a hotel offers: less worry over the day-to-day travails of running a business and more focus on the restaurant's food and spirits programs.
Speaking of which, Form Skybar's cocktail offerings were designed by restaurant director Barry Strange and include both signature drinks and house-made iterations on classic standbys. Current favorites include the Mississippi Mojito – a Jamaican rum drink with watermelon syrup, muddled cucumber and mint, and a splash of club soda – and Aviation, which combines local 1220 Artisan Spirits Origin Gin, Luxardo Maraschino liqueur, crème de violette and fresh lime juice.
"It was a form of passion for him, and he put together a fantastic menu," Birkenmeier says.
Hotel Saint Louis and Form Skybar symbolize the recent trend of regrowth and revival in downtown St. Louis. Slowly but surely, residents and businesses are returning to the city's central core, meaning new opportunities to define (and, possibly more important, redefine) downtown experiences. Form Skybar does just that.
"I have seen a lot of growth in the city in my time away, and I am truly blessed to be a part of the next renaissance of the downtown scene," Birkenmeier says. "We have hundreds of surrounding apartments and condos, and all those guests are so happy that there is a new place to wine and dine in the neighborhood."
Form Skybar at the Hotel St. Louis, 705 Olive St., 16th Floor, St. Louis, 314-241-4300, hotelsaintlouis.com/form
Be the first to know
Get local news delivered to your inbox!