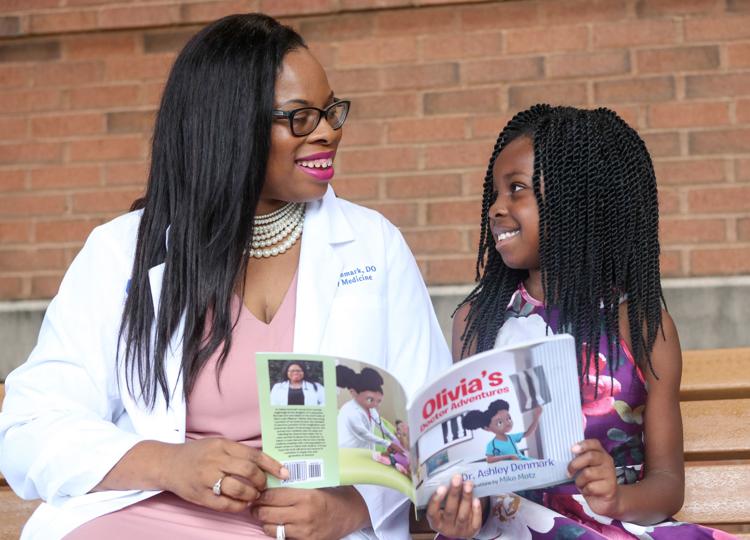 Dr. Ashley Denmark, a family physician with BJC Medical Group, is a shining example of overcoming obstacles. A doctor, wife, mother and, now, children's author and philanthropist, Denmark is showing minority children living in impoverished communities that they can be and do more than what their surroundings and society expect from them.
Born and raised in Jennings, Denmark knew from an early age that she wanted to be a doctor. Growing up with asthma and not having immediate access to her physician, Denmark, when she was in fourth and fifth grade, regularly made the 30-minute trek to Ladue for medical attention, all while being in distress from her condition. She was fascinated by her doctor and became inspired by his diligent care and genuine interest.
"I didn't realize me becoming a doctor would become a huge thing," Denmark says. "The fact [that] I was a black female and that there was an absence of minorities in the field – at the time, I didn't think anything of it. I wanted to take care of people in their time of need."
However, as one so young at that point, Denmark commonly had her aspirations brushed aside as childish dreams.
"When you're a kid, it's like, 'Oh that's cute,'" Denmark says.
Her only support came from her parents. Her mom was a "rah-rah" cheerleader type, while her dad took a stoic approach. Both parents supported her dreams, though, when many others didn't.
More specifically, living in a low-income community that lacked proper resources made it feel as if the odds were stacked against her. School counselors, teachers and others who were supposed to help all children achieve their dreams regularly told Denmark her dreams were unattainable.
Denmark explains: "When I was in high school and told people I was serious about becoming a doctor, they would often say, 'You're from Jennings,' as if that meant I shouldn't pursue that career."
Within the community where she grew up, Denmark says, attending more than a community or local college – or even going to college at all – was rare.
"This is why I work hard to change the narrative, because there is so much talent in Jennings and other communities that mirror it," Denmark says. "We have to tap into those communities and give them the resources and access so that they can manifest their potential and not just assume, 'Well, this is now your life's destiny because you're from this ZIP code.'"
Determined to forge her own destiny, Denmark moved to Atlanta to attend Spelman College, the famed historically black women's college, and earned her undergraduate degree before taking part in postgraduate programs at Harvard University, the University of Massachusetts, Tulane University and Edward Via College of Osteopathic Medicine (colloquially, VCOM).
By the time Denmark completed medical school and her residency, she was married and had three kids. Even though she had succeeded in attaining her childhood aspirations, being a minority in the field had its challenges.
"In residency, I didn't see anyone who looked like me," Denmark says. And even after residency, when Denmark was working in rural South Carolina, she found it difficult to build trust, and her credentials were constantly called into question because of her appearance.
Experiences like those made Denmark strive to show children that they can follow their dreams, no matter their socioeconomic status. Plus, when her own daughter, Olivia, was experiencing medical complications, their time in doctors' offices had a huge impact. Not only did Olivia learn a wide variety of doctors serve patients, but also it was the first time she realized her mom was one of their peers. During that period, Olivia kept a journal of the different doctors she encountered and what their primary roles were.
Subsequently, at her daughter's suggestion and with the journal as a guide, Denmark wrote Olivia's Doctor Adventures last year to show children the wide variety of doctor roles and the limitless possibilities for future careers. Olivia's Doctor Adventures also seeks to normalize the notion and success of minorities in the medical profession.
Denmark's community outreach and inspiration haven't stopped at the book, which has so far sold more than 10,000 copies. Not only does she continue to practice family medicine every day, but also she's helping children in underserved communities through an initiative focused on science, technology, engineering and math called Doctor Boxes. Although still in its early stages, these boxes contain Olivia's Doctor Adventures and the materials needed for a STEM learning activity correlated to a specific doctor in the book. Denmark visited St. Louis' City Garden Montessori School and helped second through sixth graders complete the activity component of the prototype box, which highlighted surgeons. As part of that visit, she created an activity to simulate the sterile technique surgeons use to scrub in before surgery.
"I showed how the brushes were used, the actual [scrub] count for each finger and why we do it, why we care about sterile procedures and why we are preventing infection," Denmark says, adding about the students, "Their minds absorb so much."
Although Olivia's Doctor Adventures is having an impact all its own, Denmark is doing so much more to reach out to underserved youths in the metro area and teach them their upbringing doesn't have to define their future. She is teaching them that minorities having success in their careers is a normal occurrence – not an exception – and that they, too, can achieve.
Olivia's Doctor Adventures, oliviasdoctoradventures.com