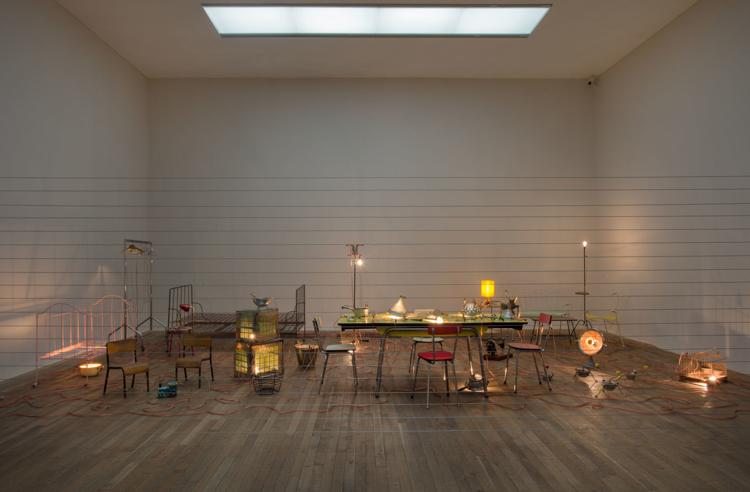 In Alice's Adventures in Wonderland – the 1865 classic by Lewis Carroll – the title character drains a bottle labeled "DRINK ME" and shrinks to just 10 inches in height, after which she eats "a very small cake, on which the words 'EAT ME' were beautifully marked in currants" and grows past 9 feet tall.
"Mona Hatoum: Terra Infirma," a free exhibition coming to the Pulitzer Arts Foundation in just two weeks, on April 6, may well inspire in visitors feelings corresponding to Alice's physical dislocation.
The artistry of Hatoum – who hails from Beirut and now lives in London, where she moved to study art in 1975 at the start of the Lebanese civil war – frequently incorporates vistas from a world where "logic and proportion / Have fallen sloppy dead," to quote from "White Rabbit," the 1967 Jefferson Airplane psychedelic rock 'n' roll salute to Carroll.
Three examples instantly present themselves. First, a 1999 piece, La Grande Broyeuse (Mouli-Julienne x 17), precisely replicates a hand-cranked cheese/vegetable grater, down to three round blades – but measures 11.3 by 18.9 by 8.6 feet. A similar, sinister-looking piece from 2002, Grater Divide, conjoins three flat graters, but at 6.7 feet tall, it could function as a room divider. Yet a third, smaller work, T42 (gold) from 1999, could easily have appeared in Carroll's infamous mad tea party, had the Hatter and the March Hare been entertaining Siamese twins: two gold-trimmed stoneware cups joined at one point on the rim and accompanied by a matching tandem saucer.
The Menil Collection in Houston originated "Mona Hatoum: Terra Infirma" under Michelle White, senior curator there, and displayed it from last October to Feb. 25. Here the exhibition runs till Aug. 11 under the organizational oversight of Pulitzer curator Tamara H. Schenkenberg.
From Houston, White explains how Hatoum's artistry inspired the exhibition, confessing to a fascination with that artistry since her own student days.
"Surrealism and psychoanalytic writings that long fascinated this avant-garde group of artists, like Freud's well-known essay on the uncanny, were deeply influential to Hatoum, who has really catapulted this historical language into contemporary and political concerns," she says. "We were therefore excited to present her work alongside our collection, a backdrop that I hoped could elucidate her approach."
She and Hatoum started the collaboration five years ago. "We wanted to make sure that we were making decisions as thoughtfully as possible," she continues. "This is her first major show in the United States in 20 years, and we knew this would be an exhibition that would introduce her work to so many new audiences."
Given the physicality and size of some of the components of "Mona Hatoum: Terra Infirma," Schenkenberg reflects on how organizing and overseeing it are differing from doing so on a more formally traditional exhibition, like her earlier "Living Proof: Drawing in 19th-Century Japan."
"The Pulitzer doesn't have a permanent collection, so each exhibition differs from the next in both content and subject matter, sometimes dramatically," she says. "While 'Terra Infirma' has some small objects and two-dimensional works like 'Living Proof' did, we're exhibiting a number of large sculptures. Thankfully, we have a talented installation team with exhibition designers, registrars and art handlers who work to develop solutions for installing different types of artworks.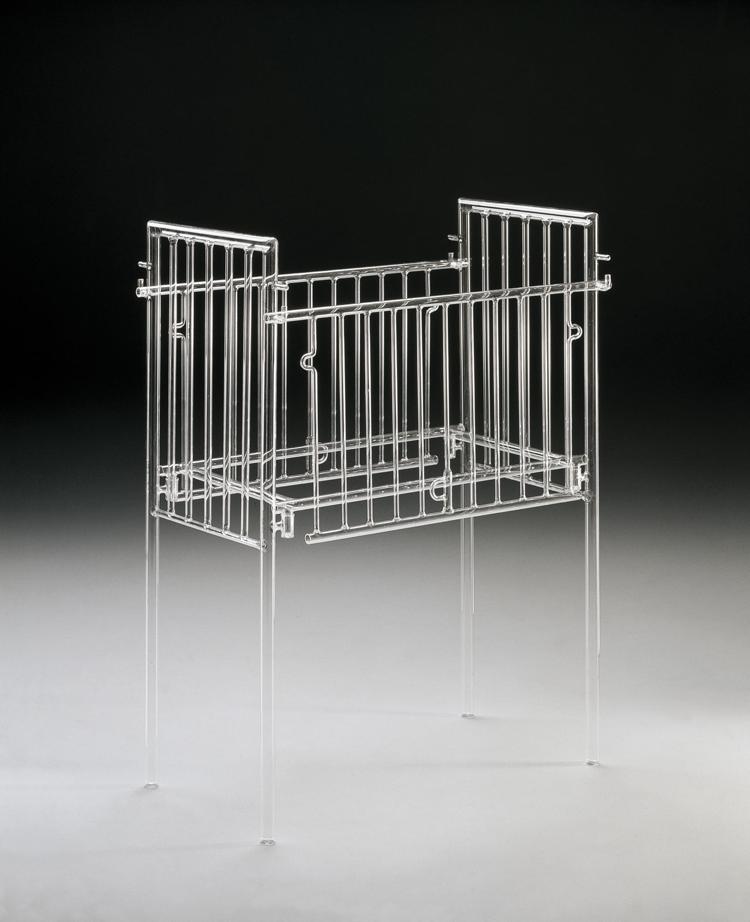 "For example, one work, titled Silence, is an infant's crib constructed of thin glass laboratory tubes, and another work, called Turbulence, is a floor piece that is about 100 inches in diameter and is constructed entirely of handmade black-glass marbles."
Gamely, each curator, both in Houston and in St. Louis, reflects on which of the 30 or so components of the exhibition most appeals to her personally.
"My favorite work in the show is Turbulence (Black)," White says. "It's a circle on the floor of irregularly sized glass marbles that create a treacherous terrain that invites you, like so many of Hatoum's works, to imagine the potential of anticipatory danger.
"What might happen if you stepped on this slippery puddle? I love that this fear is matched by such material seduction. The marbles catch the flickering light, and the field of glass sparkles. It's as beautiful as it is dangerous."
Schenkenberg, meanwhile, cites an installation impishly titled + and –, "a large circular plinth filled with a layer of sand. A rotating mechanical arm simultaneously rakes and smooths the sand, bringing to mind the concepts of creation and destruction. This work conveys some of Hatoum's key concerns, including the creation of pared-down forms, and how to simultaneously capture two opposing forces. It is mesmerizing and provides a moment for quiet contemplation that's complementary to the experience of being in the Pulitzer's Tadao Ando-designed building."
Finally, White and Schenkenberg also both speculate on the exhibition's main aesthetic or artistic "takeaway" for the average St. Louis-area viewer of it (with the former basing her speculation on observations from Houston).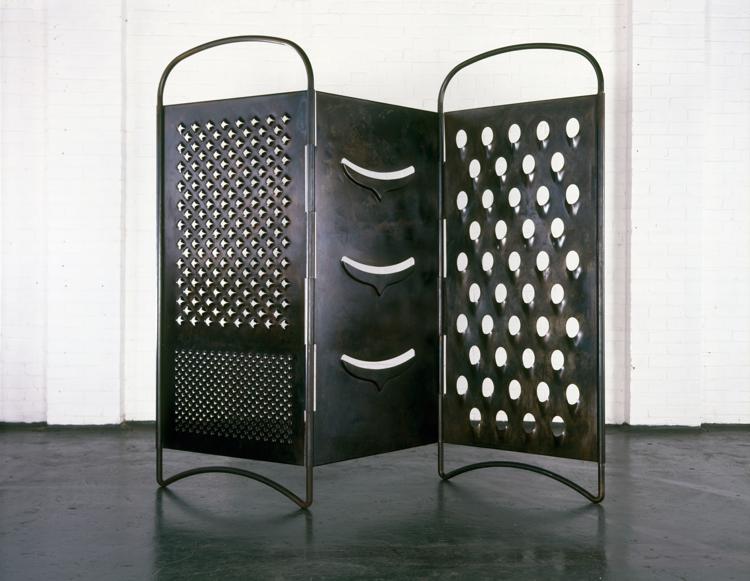 "Mona beautifully talks about wanting to create experiences for the viewer that ask them to question the solidity of the ground that they're standing on," White says. "As … her materials move and sway or as they pose real physical danger to your body, there's a very physical sense of disorientation that takes place.
"It's been fascinating to watch visitors in the museum's galleries, because they certainly are surprised and moved by these encounters, which speak to individual stories of displacement, exile or circumstances of being away from whatever 'home' might mean to them."
For her part, Schenkenberg hopes to introduce local audiences to Hatoum's artistry and to cultivate an understanding of her contributions to sculpture, "including the sheer diversity of mediums in which she works. Thematically, Hatoum's work often addresses universal experiences. These include the contradictions and uncertainties we face in an interconnected contemporary society, our relationships with the places we call home, global instability and political upheaval.
"Especially right now, I think Hatoum's work will really resonate with visitors."
Pulitzer Arts Foundation, 3716 Washington Blvd., St. Louis, 314-754-1850, pulitzerarts.org