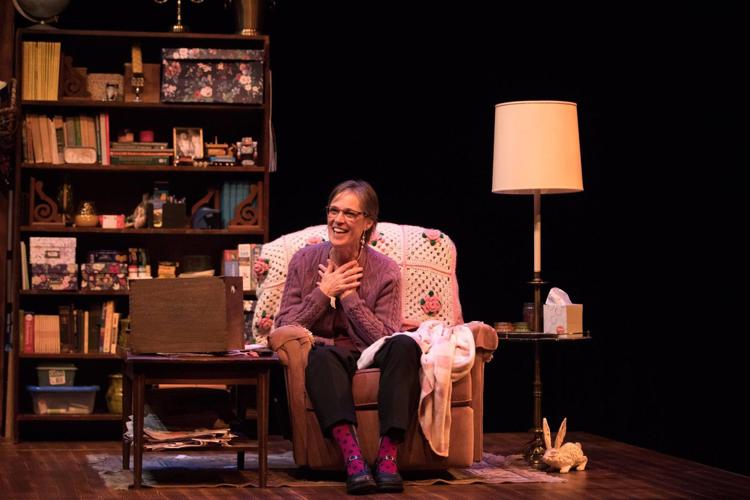 Story: While a middle-age woman relaxes in a recliner at stage right, Lisa enters the room and addresses the audience directly. She tells us that we're about to see "a multi-character theatrical exploration of issues of health and illness both in the individual and in the community."
Lisa wonders why some people such as herself can be sick and then recover while others, such as her mother Ann, remain ill for years and years and years. She's particularly puzzled how her mother could heal an entire community by addressing racial issues and as head of a neighborhood organization offer solutions with her periodic bursts of energy but cannot escape for long her own unhealthy condition.
These days Lisa ruminates that her mother might be diagnosed with chronic fatigue syndrome or fibromyalgia, but back when Lisa was a kid her mom was almost always too feeble to get out and about. Nevertheless, there was method in Ann's organizational madness. She's arranged the stuff in her living room efficiently in her own mind, pointing out which books are where and how she arranges work materials, collectibles, etc.
Lisa is a playwright who specializes in one-woman shows, but for this occasion she's asked a number of performers to act out the various scenes she's assembled for her work in progress. She insists that her story "is not about my mother and me," but it sure as heck sounds like it's exactly that.
What's even more aggravating to Lisa is that her players, who are supposed to be confined to stage left for scenes in an allergy-testing room where Lisa was examined as a teen, eventually start conversing with Ann, who wryly observes Lisa's tale from her perch in that recliner on an elevated platform.
This annoys Lisa to no end. The audience, however, is apt to be caught up in Ann's infectious good humor as well as her logical approach to solving problems small and large, including race relations in Michigan back in the day. Ann is onto something about integration, but can she get Lisa to join in the community spirit?
Highlights: Mustard Seed Theatre artistic director Deanna Jent dusts off this charming, whimsical and seriously informative 2004 piece by playwright Lisa Kron and brings it to captivating life in a wonderful adaptation currently gracing Mustard Seed's stage.
Other Info: Jent calls Well "a wild ride," and it's all of that and more. It's cleverly crafted, persuasively packaged and whimsically worked in Mustard Seed's engrossing rendition. It's a very funny comedy, a pensive drama and a thoughtful treatise on how to make the world a better place. Or, at least, your own neighborhood.
Jent's direction lovingly guides her players through some evocative performances, led by Katy Keating as the flustered Lisa and Lori Adams as Lisa's wise and witty mother. Keating once again delivers a winning interpretation, filling Lisa with more than enough angst and anxiety to fuel the show's abundant comic moments while also adding to the depth of the dramatic interludes with pathos and poignancy.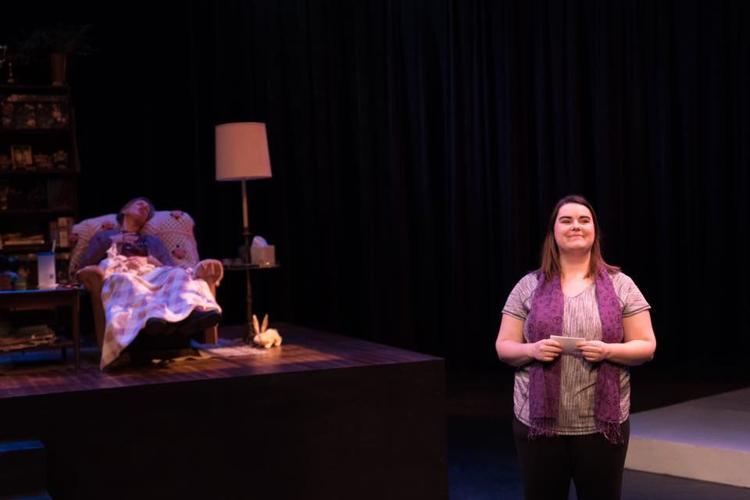 Kron's "theatrical exploration," as Lisa intermittently reminds the audience in her annoyed and less-than-convincing manner, is chockful of whimsy, never more so than when Lisa addresses the assembled players by their real names rather than those of their characters.
Its humor is heightened when the expert ensemble, comprised of Carl Overly Jr., Leslie Wobbe, Alecia Rive Like and Robert Thibaut, search for their characters' "motivation" while simultaneously finding themselves charmed with Ann's amiable, ingratiating nature. When Carl laughs and says to Ann, "You're really funny," we laugh with him while Lisa silently fumes.
Adams expertly conveys Ann's agreeable ways, so much so that Ann's sideways explanations of how she brought black and white folks together in her city in Michigan seems to make so much sense. That's in addition to the inside jokes and comments made good-naturedly by Overly and Like to Wobbe, or the intentionally stammering attempt by Thibaut to apologize to the audience for the breakdown in communications between Lisa and her cast.
Bess Moynihan's scenic design pays careful attention to Kron's description of the set for her "solo show with other people," with able assistance by prop designer Laura Skroska. Michael Sullivan's lighting adds plenty of fun, particularly with a spotlight which sometimes ignores Lisa's requests.
Jane Sullivan dresses the players in comfortable attire, with a special nod to Like's wardrobe as Suzy Jones, Lisa's 9-year-old nemesis from her childhood who shows up even though Lisa hasn't written her into the story. Zoe Sullivan's sound design incorporates plenty of background noise with people's voices as well as a charming medley of pop songs.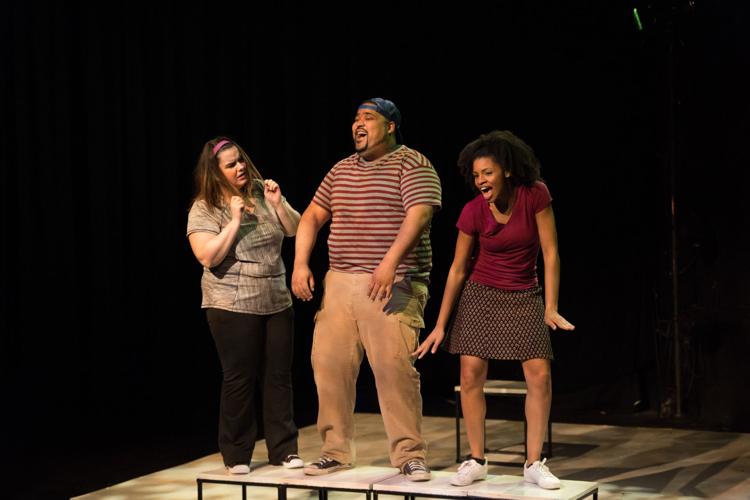 Well is tough to categorize but easy to enjoy and appreciate, especially with such a finely crafted version as Mustard Seed's.
Play: Well
Company: Mustard Seed Theatre
Venue: Fontbonne Fine Arts Theatre, Big Bend at Wydown
Dates: March 7, 8, 9, 10, 14, 15, 16, 17
Tickets: $30-$35 (or Pay with a Can/Pay What You Can on March 7, 14); contact 534-1111 or mustardseedtheatre.com
Rating: A 5 on a scale of 1-to-5.