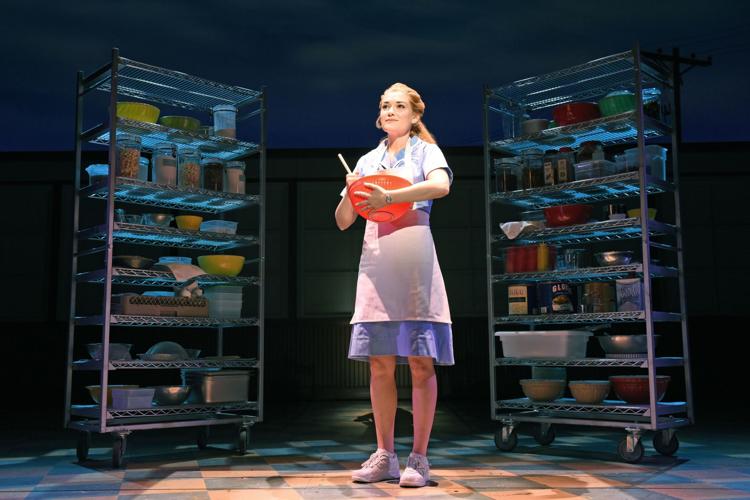 Story: Jenna's mother taught her a lot. She tutored her daughter especially well in how to escape an abusive husband by retreating to the kitchen, where Jenna helped her mom make the most delicious pies as a pressure valve to an unhappy marriage.
Years removed from those memories, Jenna graduated from high school and married her boyfriend Earl. That seemed like a good idea, but Earl is a man-child who can't handle responsibilities at his job and blames Jenna when anything goes wrong, which is often. He also has a penchant for demanding the tips Jenna makes as a waitress and expert baker at Joe's Diner.
Jenna is just treading water, but that's about to change. She reveals to her co-workers Dawn and Becky that she has an unwanted pregnancy due to relations with her layabout husband recently one night when she was drunk. She doesn't want to be pregnant, but she does want the baby and she doesn't love Earl.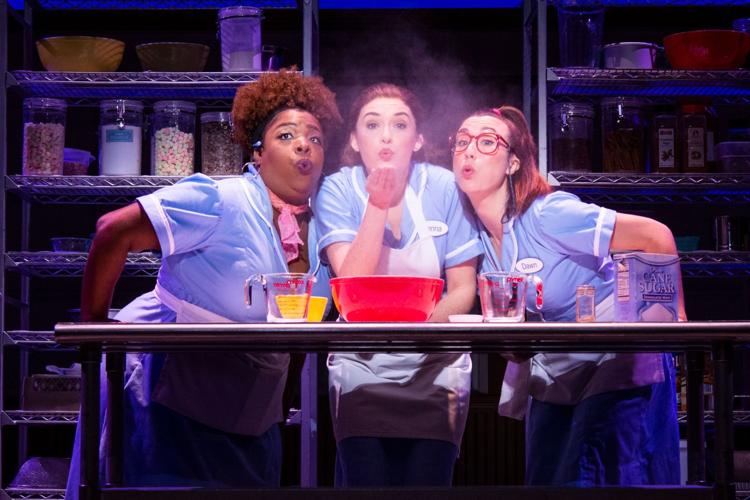 Joe, the curmudgeonly owner of the diner and many other buildings in the Southern town where Jenna resides, suggests to Jenna that she enter a pie-baking contest in a nearby city. With her delicious recipes, Joe thinks she could win the prize money and start a new life.
Meanwhile, Jenna's ob/gyn has retired and been succeeded by a handsome young physician from Connecticut. Dr. Pomatter is struck by Jenna's beauty and personality and even agrees to sample one of her pies, despite his edict against sugar. Eventually they're attracted to each other despite the fact both are married.
Can Jenna save enough money from her tips and meager salary to pay for her trip to the contest without Earl suspecting anything? Can she even survive his intimidating threats? Is she making a recipe for disaster or salvation?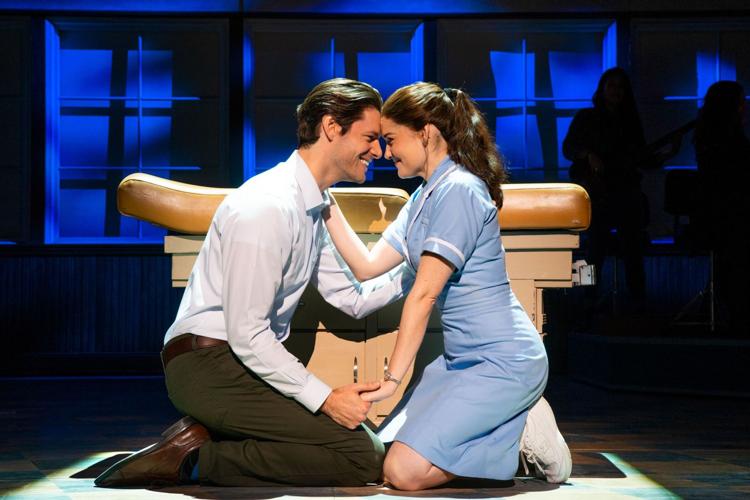 Highlights: Easy-going music and lyrics by Sara Bareilles carry this lightweight musical in the touring company production now playing at The Fox Theatre.
Other Info: Songwriter/performer Bareilles and author Jessie Nelson based their work on the 2007 movie of the same name. Their show premiered in Boston in 2015 and then moved to Broadway in 2016, where it still is running. The national touring production began in late 2017.
Waitress garnered four Tony Award nominations but won none and it's easy to understand why. The book is filled with mostly pleasant if predictable characters and seems often like a Lifetime movie because of that. While the performances are enjoyable enough, it's really the hummable, country-tinged pop tunes penned by Barreilles which make the two-act, two-and-a-half-hour show entertaining.
Barreilles's songs often bring to mind Dolly Parton in their clever simplicity. The production is buoyed by the on-stage presence and arrangements of "The Waitress Band" comprised of music director and keyboardist Robert Cookman, conductor/pianist Lilli Wosk, drummer Jeff Roberts, Lexi Bodick on bass, cellist/guitarist Nick Anton and guitarist Ed Hamilton, under John Miller's music coordination.
The show's highlight is back-to-back numbers at the end of the first act. The first, Never Ever Getting Rid of Me, showcases the exuberance and acrobatic acting ability of Jeremy Morse as Ogie, the lovestruck tax auditor who is smitten by the shy, reclusive Dawn when they meet after an internet correspondence. The number is effervescent and wildly entertaining.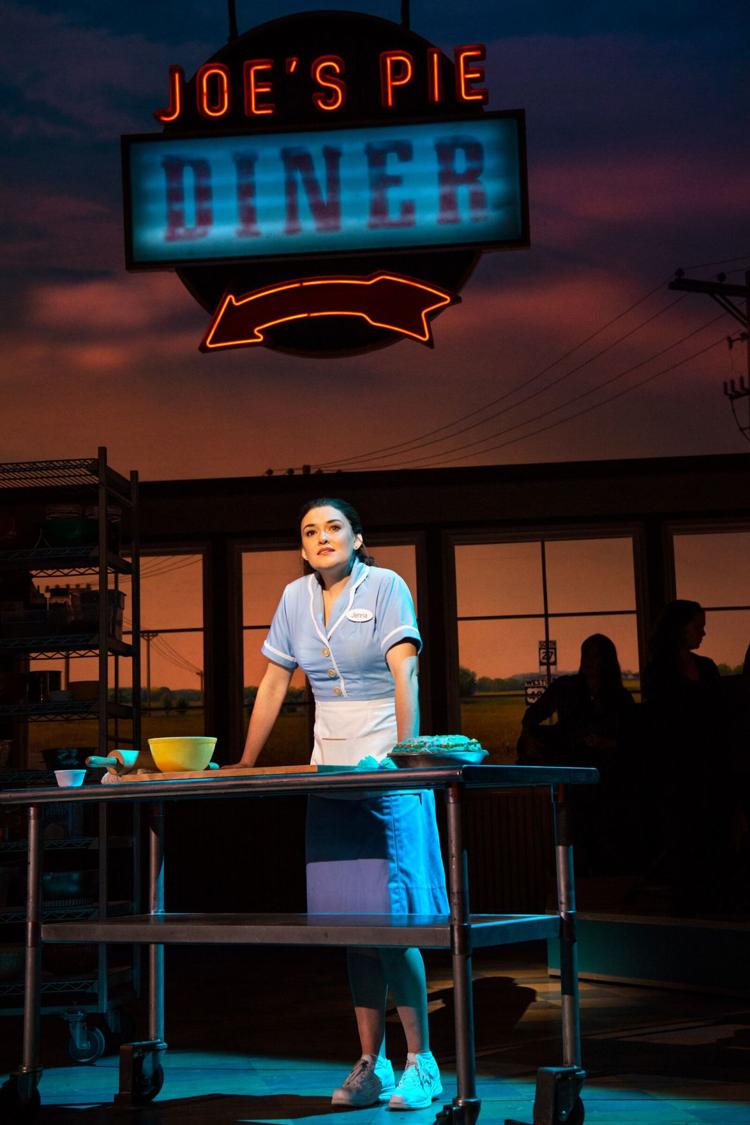 That's followed by Bad Idea, the rousing, first-act finale sung enjoyably by Christine Dwyer as Jenna and Steven Good as Dr. Pomatter as they dive headlong into their adulterous affair with reckless abandon. Those two pieces, handsomely choreographed by Lorin Lattaro, end the first act on an upswing after a rather sluggish beginning.
In addition to Bareilles, Nelson and Latarro, the ground-breaking, all-female creative team includes director Diane Paulus, who keeps the overly long story moving at a reasonable clip. The scenic design by Scott Pask is striking, with repeated depictions of telephone lines on the back screen, perhaps alluding to the backwoods lives of the show's characters. There isn't a cell phone tower in sight.
Nelson's book includes numerous references to pie-baking, which also occurs center stage as Dwyer uses actual ingredients when preparing a dessert, usually accompanying Barreilles' well-wrought lyrics. Contributing to the look and style of the piece are costume designer Suttirat Anne Larlarb, lighting designer Ken Billington, sound designer Jonathan Deanes and wig and makeup designer Richard Mawbey.
Dwyer shines in the primary role, bringing out core issues in the troubled Jenna, who yearns for a better life even if there are complications along the way. She knows her way around Bareilles' easy-going yet pensive lyrics.
The cast does a good job with their familiar characters, including Ephie Aardema and Maiesha McQueen, who extract maximum laughs as Dawn and Becky, respectively. Richard Kline has a fine time as Joe, as does Ryan G. Dunkin as the slow-thinking but decent diner boss Cal and Morse as high-octane Ogie.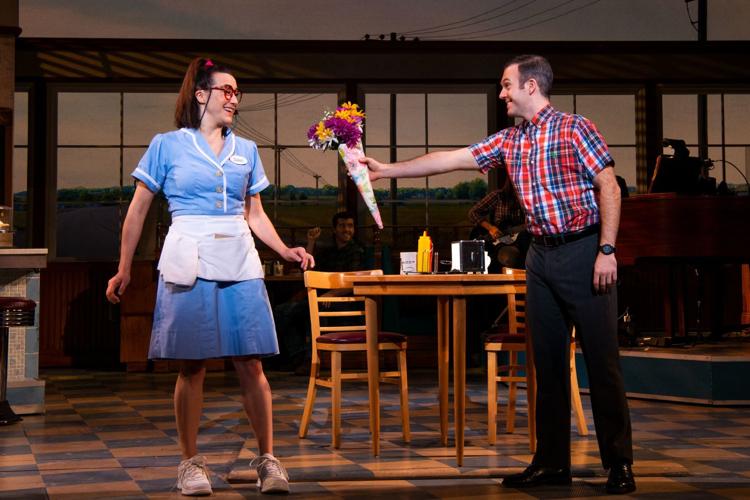 Matt DeAngelis does what he can with the thankless role of the venal Earl and Steven Good gives some complexity to the part of the married Dr. Pomatter, while Dawn Bless is a hoot as the eyebrow-raising Nurse Norma. Also contributing are Lulu Lloyd, Adam G. Levy, Alex Tripp and St. Louis lasses Penelope Garcia and Norah Morley, who alternate in performances as Jenna's daughter Lulu.
The story won't knock you out with its originality but the music is easy on the ears and serves sufficiently as the main dish offered up by Waitress.
Musical: Waitress
Company: Touring Company
Venue: Fox Theatre, 527 North Grand Blvd.
Dates: Through April 7
Tickets: $24-$104; contact 534-1111 or metrotix.com
Rating: A 4 on a scale of 1-to-5.