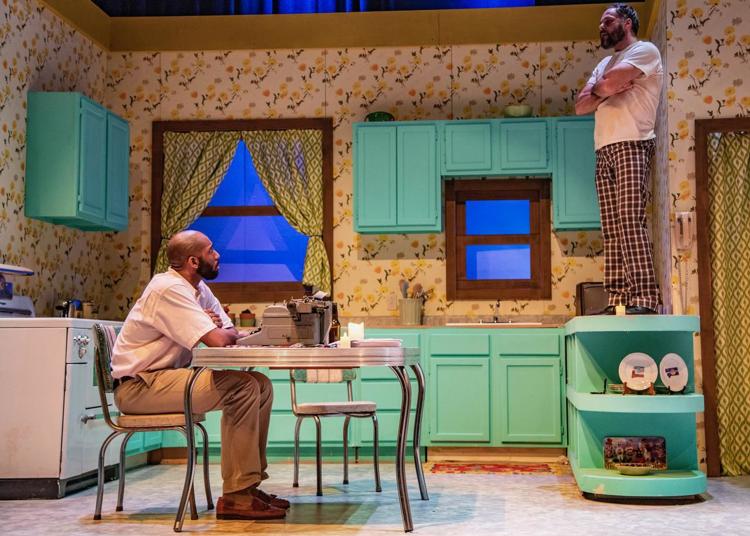 Story: Austin is writing his latest movie script while house-sitting for his mother in the southern California suburbs, about 40 miles east of Los Angeles. His wife and kids have remained behind in northern California, so Austin is using this solitude to hone his latest script for producer Saul Kimmer while his mom vacations in Alaska.
He's interrupted in his thoughts by the arrival of his intransigent older brother Lee. The latter has a knack for being annoying and quickly wears on Lee's patience with his incessant chatter and frenetic behavior.
Lee periodically heads into the desert, usually after committing some petty burglary, exchanging the heat of possible capture for the safe heat of the desert. While there he might visit his and Austin's alcoholic father, who has a penchant for drinking away money Austin gives him from time to time.
Badgering Austin about the writer's latest 'period piece,' Lee proclaims that he has ideas, too, which might make for a good movie. When Saul arrives to discuss business aspects of Austin's script, he good-naturedly agrees to listen to Lee's idea as well. To Austin's astonishment, Saul and Lee arrange to meet the next morning to play a round of golf and talk more about Lee's idea.
Lee returns from the golf game and tells Austin that Saul likes Lee's idea for a modern Western about the "true west." In fact, Saul wants Austin to work on the script. Shocked and angered, Austin refuses until Saul himself stops by and says that, yes, he really thinks Lee's idea can sell tickets and wants Austin to work on the script along with his current project.
When Austin vehemently refuses, Saul rescinds his offer for Austin's own script, something Lee had hinted might happen. The surreal has become a hellish reality for Austin.
He'll get his revenge, though: If Lee can make a living at Austin's occupation, what's to prevent Austin from turning to crime to 'show up' his wastrel older brother? And what will Mom have to say about any of this?
Highlights: St. Louis Actors' Studio revives one of master playwright Sam Shepard's finest works as a fitting piece of its "Blood Is Thicker Than Water" 12th season. Director William Whittaker and his agreeable cast and crew combine for a rollicking romp through scary Shepard territory in STLAS' solid production.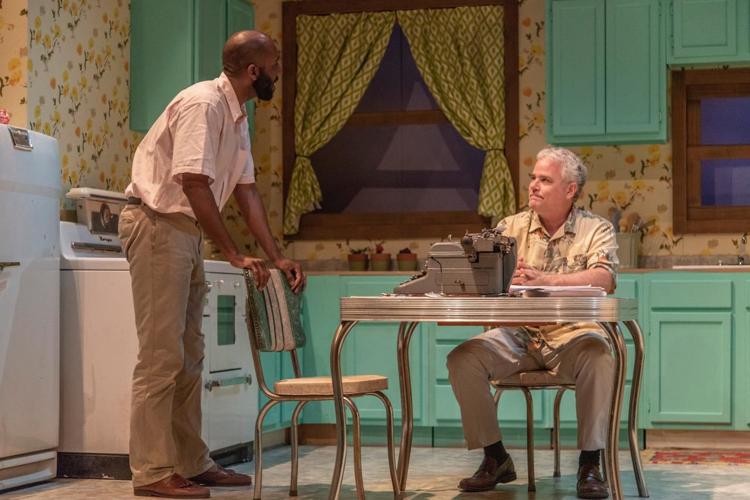 Other Info: Shepard was a finalist for the Pulitzer Prize in Drama in 1983 for his bizarre, funny and disturbing look at the fringes of society, both geographically and psychologically. Shepard's characters, like those in others of his works such as Buried Child, Fool for Love and Curse of the Starving Class, are often on the edge of mayhem and volcanic violence, at arm's length from civil society. 
A number of notable stars have portrayed the roles of Lee and/or Austin since the two-act work debuted in San Francisco in 1980. Gary Sinise and John Malkovich paired in a memorable production which moved from Chicago to Off- Broadway in 1982, where it ran for 762 performances. Peter Coyote, Tommy Lee Jones, Peter Boyle, James Belushi, Bruce Willis, Randy Quaid, Dennis Quaid, Philip Seymour Hoffman and John C. Reilly all have taken turns, with the latter two occasionally switching parts in the 2000 revival.
Isaiah di Lorenzo masterfully captures the manic and dangerous elements in Lee's deranged character in STLAS' presentation. His Lee attacks the stage, jumping around with the attention span and energy of a 5-year-old, living on impulses rather than any semblance of maturity. When he carries a stolen TV into Mom's kitchen while Saul and Austin are talking, he shows a knack for lying without breaking a sweat.
William Humphrey depicts Austin satisfactorily as the more mature of the two brothers, while also showing Austin's gradual descent into decadence with convincing aplomb. His work is highlighted by an hilarious scene with a cornucopia of 'hot' toasters which underscores Shepard's off-kilter naturalism.
William Roth and Susan Kopp offer a pair of effective portrayals of the amiable Saul and the long-suffering Mom, respectively, accentuating the outrageous elements of Shepard's story with their subtle and muted responses to the squalid mess inflicted on Mom's kitchen by her 'adult' sons.
Whittaker maintains a comfortable pace, allowing has players to settle into their characters without disturbing the flow of Shepard's manic study. He also contributes to the engaging country-style sound design with Jeff Roberts, as well as the incessant chirping of crickets and an occasional bird or coyote.
Patrick Huber's terrific set uses every inch of the cozy Gaslight Theater stage to represent Mom's basic, ranch-style kitchen, complete with green appliances save a sturdy old white refrigerator, with plenty of counter space for sundry toasters which are put to the test in Act II.
Steve Miller's lighting underscores the set, especially fine in some darker scenes, while costume designer Andrea Robb is at her best adorning the wild-eyed Lee with suitably tacky attire. Shaun Sheley adds the effectively harrowing fight choreography between the mismatched brothers.
Or are they brothers? One could argue that Lee and Austin are two sides of the same person, and that True West isn't about a family as much as one man's psychosis. Either way, True West is as much a gem now as it was nearly 40 years ago, as evidenced by Actors' Studio's sharply etched rendition.
Play: True West
Company: St. Louis Actors' Studio
Venue: Gaslight Theater, 358 North Boyle
Dates: April 18, 19, 20, 21, 25, 26, 27, 28
Tickets: $30-$35; contact 1-800-982-2787 or ticketmaster.com
Rating: A 4 on a scale of 1-to-5.