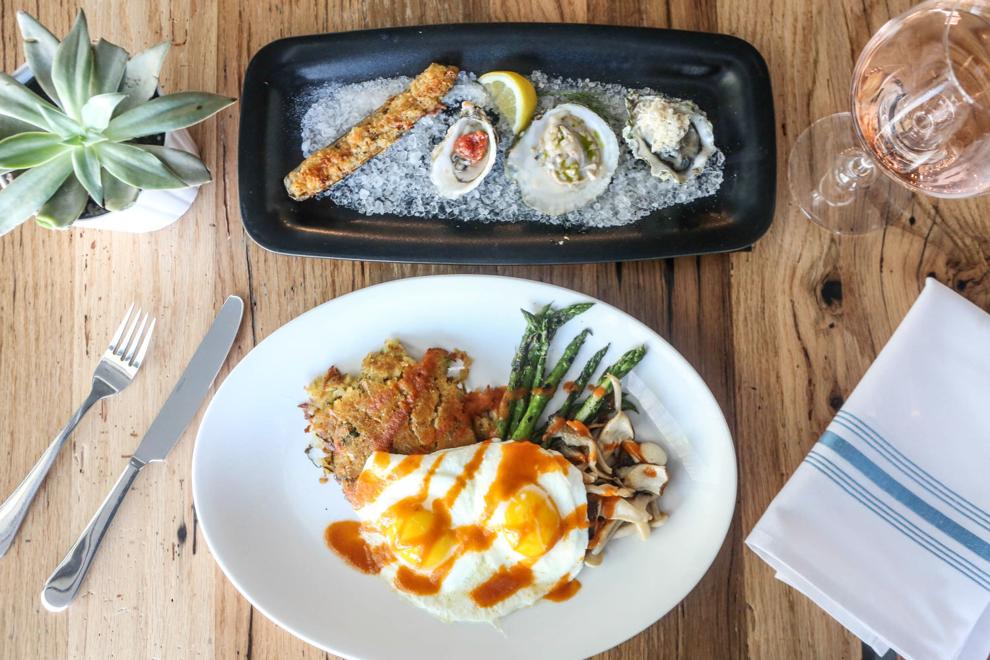 Though Webster Groves has been home to some of the gems of the St. Louis food scene for a while now, it's still under the radar to many foodie types. Olive + Oak, one of the latest eateries to open here, may finally put this municipality on the local culinary map along with so many others around town.
Owner Mark Hinkle and executive chef Jesse Mendica, both recent alums of local favorite Annie Gunn's, have put together a combination of excellent food and drink and convivial atmosphere that has made this restaurant one of the hard-to-get reservations in town in recent months. Located right in the heart of downtown Webster Groves, Olive + Oak is also close to many fine theaters, including Mustard Seed Theatre, making it a great place before catching that venue's latest production, Bosnian/American. The dining room is more than spacious, made to feel even more so by the high ceilings. Also, this area of Webster has street parking and a couple of larger public lots, making it easily accessible.
You can tell a lot about a place by the care its proprietors take with their beverage program. Many restaurants obsess over the food, but don't give much thought to the drink portion of the equation. Such is not the case at Olive + Oak. The wine list has some great by-the-glass options, including a Barolo and a Barbera, which don't show up in small formats often around town. Likewise, the cocktails are carefully crafted here, listed by numbers instead of names. I tried the No. 94 ($10), a curious combination of rum, Madeira, muddled grapes and basil. Rum and Madeira are certainly not the first ingredients I'd think to put together, but this concoction works incredibly well.
In the mood for some meat, I started off with an order of the hand-cut steak tartare ($14), which is a superb way to whet the appetite, three dollops of nicely seasoned meat accented with egg yolk and grilled bread. The Tuscan kale salad ($12) is also a fine segue to the mains. The eponymous greens are served atop crispy potato patties, a nice contrast, and topped with grated egg and a mild sweet-pepper-and-sherry dressing. This salad could easily serve as an entrée – we had it split up to share.
Olive + Oak has some fine seafood options, including oysters, shrimp and tuna. I was particularly attracted to the Hama Hama clams ($20) on the entrée list. This warm and comforting bowl includes plenty of said clams along with potatoes in a savory and smoky bacon-and-tomato broth, akin to a Manhattan chowder. Spring means ramps, and Olive + Oak's spring ramp tagliatelle ($18) makes good use of this earthy bounty, incorporating them into the pasta itself. The noodles are then seasoned with black pepper and Parmigiano-Reggiano. We paired it with a glass of Château Valcombe Epicure ($10), a refreshing dry rosé. The menu also includes some large-format shareable dishes, including whole fish, which we definitely need to explore further!
Olive + Oak, 102 W. Lockwood Ave., 314-736-1370, oliveandoakstl.com