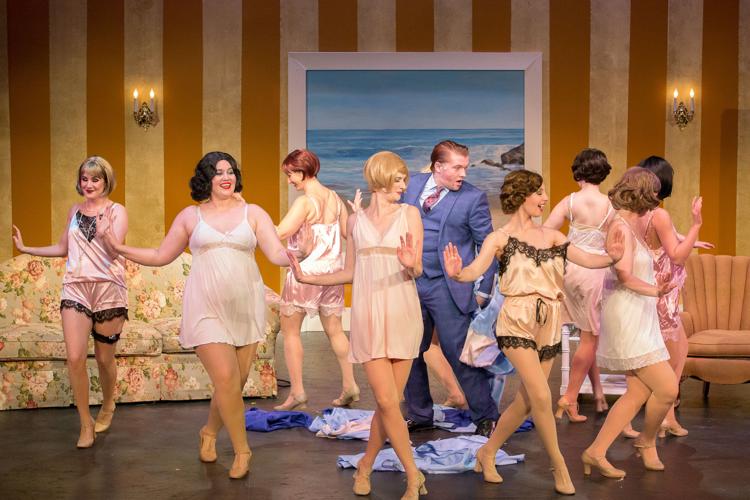 Story: Jimmy Winter realizes his major attributes are that he's "rich and good-looking. Turns out, that's enough." He's recently been married for the third time, once again to a chorus girl at one of the Roaring 20s nightclubs he frequents. He keeps trying this marriage deal in hopes that his wealthy mother will be pleased with her roustabout son, but to little avail.
While strolling down the street one night, Jimmy happens upon Billie Bendix, part of a trio of bootleggers who are in desperate need of a hiding place to stash away 400 cases of gin they've commandeered. Billie picks Jimmy's pocket, finds the address of his family's swanky Long Island estate and tells the address to her partners, Cookie and Duke.
Meanwhile, righteous Senator Max Evergreen is on the warpath against all sins, assisted by his temperance-leading sister, Duchess Estonia Dulworth. Seems that the senator's daughter, Eileen Evergreen, wants to marry Jimmy while also pursuing her 'career' as the self-described, pre-eminent interpreter of modern dance.
While Billie, Cookie and Duke masquerade at Jimmy's estate as servants, Billie finds herself smitten with Jimmy, as he was with her the night before on the street. Since Jimmy was drunk, he doesn't recall anything but does find Billie quite attractive.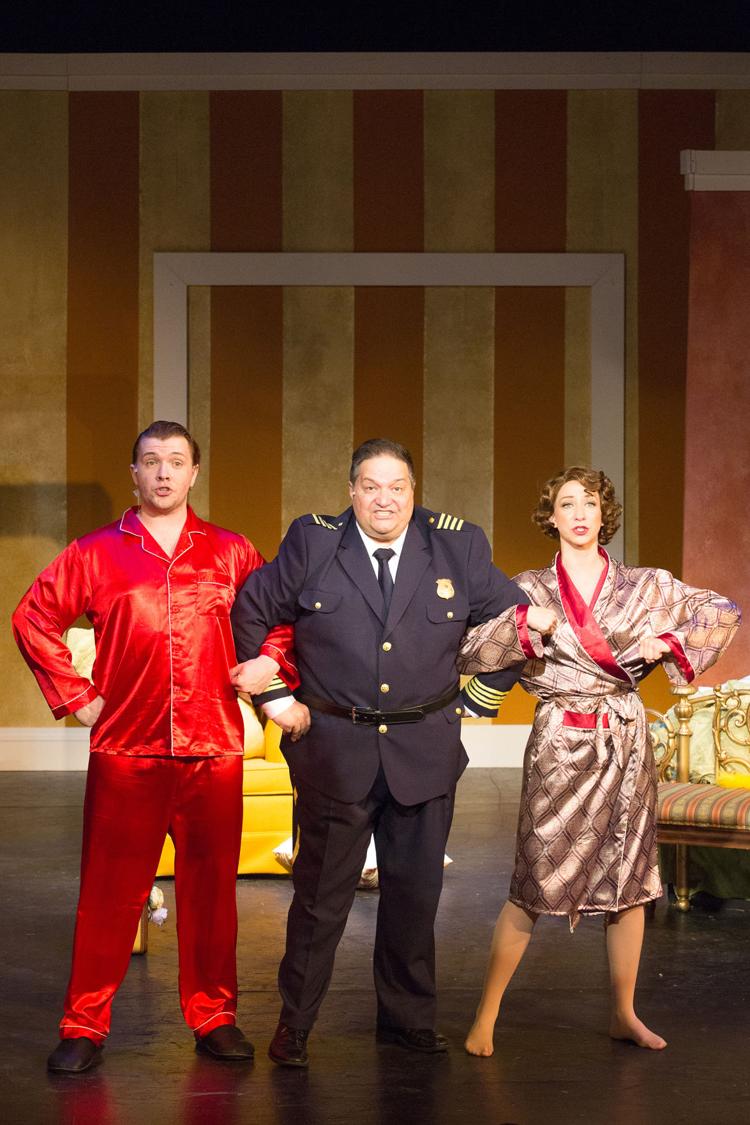 Chief Berry of the Long Island Police Department is hot on the trail of the bootleggers and has tracked them to Jimmy's mansion. He wants to search the place for the missing gin, but Jimmy, Billie and Cookie come up with all manner of excuses to divert him from that assignment.
Jeannie Muldoon, one of Jimmy's chorus girl sweethearts, visits him along with some other chorines. She mistakenly thinks that the tongue-tied Duke is the Duke of England and to his delight sets her sights on him. And Chief Berry mistakenly thinks that Jimmy's new bride is Billie, unaware of Eileen, who still is in 'prep' mode before she agrees to let Jimmy touch her.
Will Jimmy be compelled to marry Eileen, even though he doesn't love her? Will Billie, Cookie and Duke deliver the 400 cases of gin to their unseen boss, the notorious Brownbeard? Will Jimmy's mother Millicent ever approve of her son? Despite their individual challenges, everyone doubtless agrees that being rich is "nice work if you can get it."
Highlights: Evan Fornachon and Jaclyn Amber prove themselves equally accomplished at singing, dancing and acting in Kirkwood Theatre Guild's explosively energetic production which lights an inextinguishable fuse of gloriously effervescent entertainment.
Other Info: Writer Joe DiPietro based his book on original material by Guy Bolton and P.G. Wodehouse to complement the irrepressible music and lyrics by brothers George Gershwin and Ira Gershwin, respectively. Nice Work If You Can Get It opened on Broadway in 2012, running for more than 500 performances.
Like another Gershwin musical pastiche, Crazy for You, Nice Work If You Can Get It puts together a silly, frothy comedy which serves as loose structure for a litany of infectious tunes by Mrs. Gershwin's immensely musically talented sons. Classic songs such as Someone to Watch Over Me, 'S Wonderful, But Not for Me, Fascinating Rhythm, Let's Call the Whole Thing Off and the title tune keep this high-octane fun time of a show at full throttle.
Director Dani Mann does a wonderful job utilizing all of the Reim Theater stage, including side entrances and exits for her players. The show does lag noticeably in the second half of the second act, but there's more than enough spirited dancing to Laura Roth's lively choreography to worry about down stretches.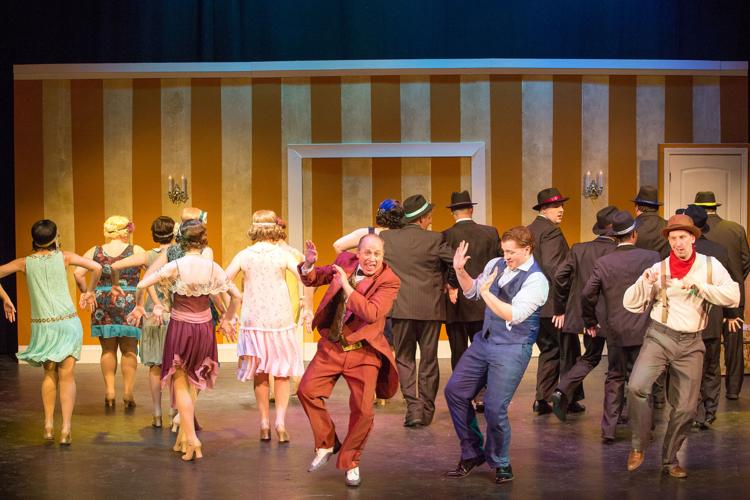 Fornachon as Jimmy and Amber as Billie make for an impressive and congenial duo, whether exchanging barbs in their on-again, off-again romance, singing affectingly great Gershwin ballads such as 'S Wonderful or Will You Remember Me or leading the high-stepping, infectious dancing to the rollicking title number.
Also making this upbeat, spirited musical work to its hilarious hilt are Kent Coffel as the exasperated Cookie, forced to improvise after his butler's costume leads Jimmy to assume he's a new hired hand. Coffel joins Fornachon and the buoyant ensemble to deliver the Act I finale, Fascinating Rhythm, with flair and euphoric flamboyance.
Jennelle Gilreath Owens is priceless as the clueless terpsichorean 'legend' Eileen Evergreen, whether in a tub covered with carefully placed soap bubbles or adorned in a wedding dress with the world's longest train. Will Shaw is suitably insufferable as her father, accustomed to supremacy and power but grateful for immigrants who "are pleasant and agreeable."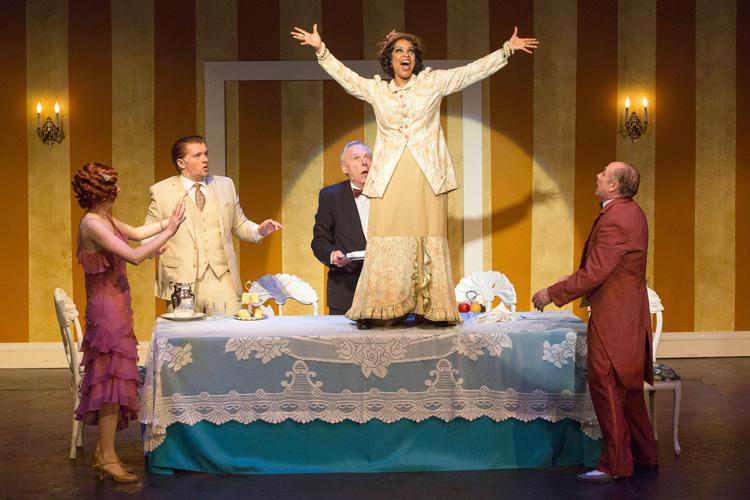 The latter line is one of many contemporary nods made by DiPietro in his amusing book, which updates dialogue while retaining the 1927 setting.
Kimmie Kidd-Booker makes for a prim and proper Estonia, then commands the stage with a tour de force scene as the suddenly inebriated teetotaler revealing long-repressed desires. Jason Meyers makes the most of his comic moments as the dull-witted Duke, whose sincerity shines through on the sweet, endearing number, Blah, Blah, Blah, sung to Andrea Brown as the gold-digging Jeannie, whose change of heart is just one of the silly but winning moments in the show.
Ken Lopinot provides additional comedy as the pesky gendarme, dressed in appropriate finery just as the other players adorned in Colene Fornachon's appealing costumes. Ken Clark's scenic design is simple but effective, supported by Stephanie Draper's lighting, and Sean Bippen's musical direction adds ample support on the show's many light-hearted numbers.
Mann's male and female ensembles feature some terrific dancing, not so much in the opening number, Sweet and Lowdown, as in the Act I finale and other bits. They're comprised of Sarah Birch, Kayla Dressman, Heather Fehl, Savannah Fernelius, Melanie Kozak, Elizabeth Semko, AJ Surrell, Jennifer Zellers, Bob Becherer, Dennis Fricks, Bradley Fritz, Kellen Green, Matthew Kauzlarich, Pat Klick, Caleb Long and Christopher Strawhun.
If 'Fascinating Rhythm' and broad, funny comedy are on your 'fun' list, check out Nice Work If You Can Get It. As the Gershwins wrote, ''S Wonderful.'
Musical: Nice Work If You Can Get It
Company: Kirkwood Theatre Guild
Venue: Reim Theatre, Kirkwood Civic Center, 111 South Geyer Road
Dates: May 9, 10, 11, 12
Tickets: $22; contact 821-9956 or ktg-onstage.org
Rating: A 4 on a scale of 1-to-5.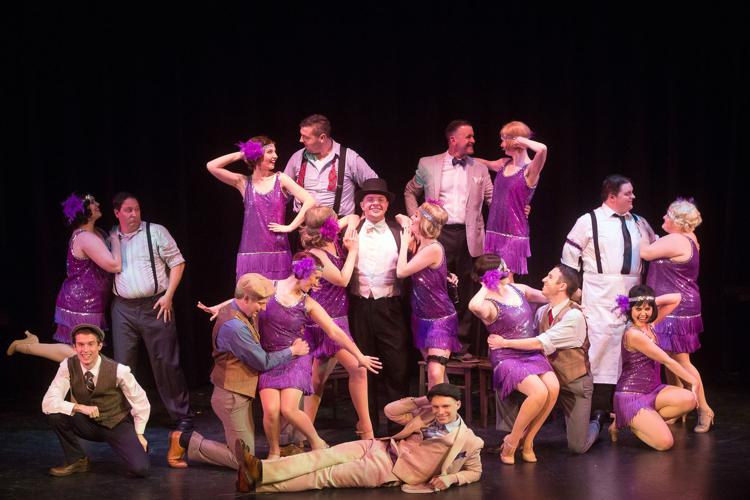 Be the first to know
Get local news delivered to your inbox!