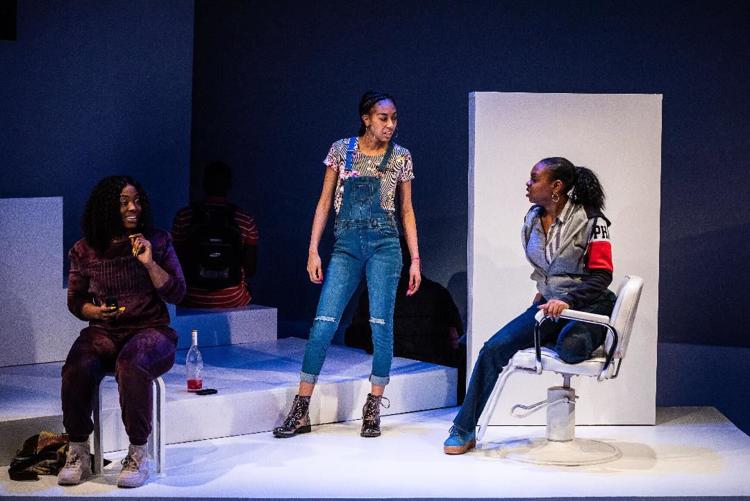 Story: It's Annie's 16th birthday and her best friends Talisha and Margie have taken her to a tattoo parlor to get her inked for this special occasion. A young man named Antwoine, an aspiring artist, welcomes Annie to his cousin's business. When Annie asks him what tattoo she should get, he replies he'll draw what she wants, no matter what he or anyone else thinks.
The three girls also decide on that evening to make a disturbing pact which will have long-term consequences for all of them. Talisha routinely pays other kids to take her tests and Margie is more concerned with fashion than books, but Annie has common sense and yearns for more in life, especially seeing how her father and her mother Myrna struggle to raise three kids on their meager incomes.
Myrna, who fancies herself a writer, is more interested in penning her thoughts when she gets home than cooking a meal for her cab driver husband and three kids, including Annie's two older brothers who are rarely around. Annie longs for family nights, board games played at the kitchen table after supper or just good conversation.
Her desires are piqued further when she befriends Keera, a 'nerdy' kid at school who always seems happy, chatting on about her idyllic family life and the importance of religion to her stability. Annie also begins a friendship with Malik, a young man who takes care of his wayward mother as best he can while sharing with Annie his love of the stars, which he glimpses through his prized, if second-hand, telescope.
Annie has a good head on her shoulders, but she's torn between the pursuit of immediate gratification by Talisha and Margie on the one hand and the yearnings for a better life by Malik, Keera and Antwoine on the other. She knows that powdered milk, which looks like sugar, isn't very healthy, but it seems to be a staple in her neighborhood. Can she succeed in adopting a healthier lifestyle?
Highlights: Director Nicole Brewer and her youthful, talented cast capture the essence of this convincing and thoughtful drama by playwright Kirsten Greenidge in a smart, vivid production by The Black Rep.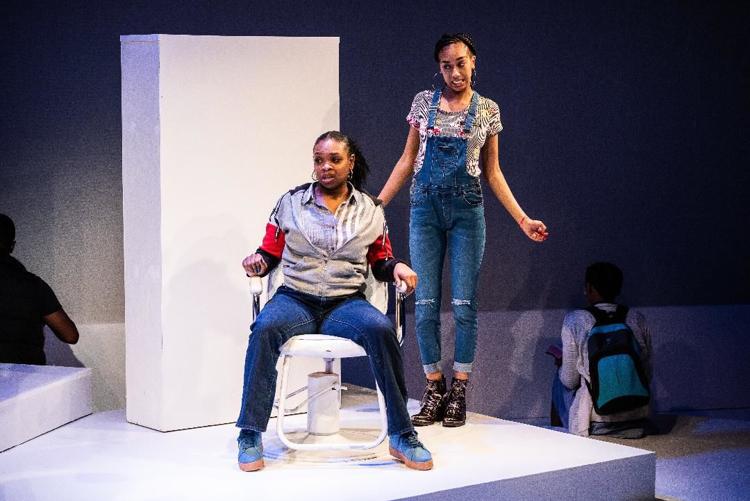 Other Info: Greenidge's gritty one-act, 90-minute story won several awards when it debuted around 2011, including a 2012 Obie (Off-Broadway) Award for playwrighting. The author has an ear for realistic dialogue spoken by her teen characters as well as an astute observation on how the cycle of poverty and lack of education often tragically repeats itself in the inner city.
The playwright's fine writing doesn't offer easy answers to longstanding problems. Rather, she focuses on well-etched character development, which makes each of the seven characters more than one-dimensional stereotypes and rather realistically delineated.
The scenic design by Rama appears to be sterile or perhaps a blank canvas, with everything in white to offset the colorful characters in Greenidge's script whose lives are in various stages of development. A couple of chairs and a table at stage left represent Myrna's kitchen, a chair in the center serves as the tattoo parlor and a bi-level area at stage right houses Malik's treasured telescope and observation point.
Sean Savoie's lighting accentuates various scenes, such as ones in which Malik and Annie look through his prized possession at the limitless ocean of stars in the sky. The sound design by Kareem Deanes sprinkles contemporary tunes in the background and the costumes designed by Marissa Perry are simple but effective in representing each character, highlighted by Keera's telling white wardrobe.
Brewer coaxes fine performances out of her informed cast. Brandi Threatt shows several facets of Annie's complex personality, revealing the potential in the young woman for a more fulfilling life, which she innately understands and believes can be realized through her interactions with Keera and Malik.
Dwayne McCowan and Brian McKinley etch sympathetic portrayals of the young men in the play, Malik and Antwoine, respectively, the former with focused determination on his future while the latter struggles to figure out how to make the most of his artistic talents.
Tyler White displays the brash braggadocio of Talisha, the leader of the girl group who isn't as certain of her decisions as she wants others to believe, and Camille Sharp does well as the well-meaning but rudderless Margie, who already is more interested in superficial appearances than substantive efforts.
Michelle Dillard nicely depicts the realities of Myrna's restrained life, a woman who is frustrated that her creative abilities have been suffocated by the reality of raising a family in dire economic circumstances. Completing the cast is Jillian Franks as the upbeat Keera, whose optimism belies her own harsh background and provides another example of real potential longing to be expressed.
Milk Like Sugar tells it like it is in language teens might better appreciate than words that lecture more than teach. In that respect, Greenidge's drama offers an important message well conveyed in The Black Rep's studied presentation
Play: Milk Like Sugar
Company: The Black Rep
Venue: Hotchner Studio Theatre, 6445 Forsyth Blvd. at Washington University
Dates: February 21-24, 27-March 3
Tickets: $40-$45, $15 for children 5-12 and students when purchased 30 minutes before show; contact 534-3810 or www.theblackrep.org
Rating: A 4 on a scale of 1-to-5.