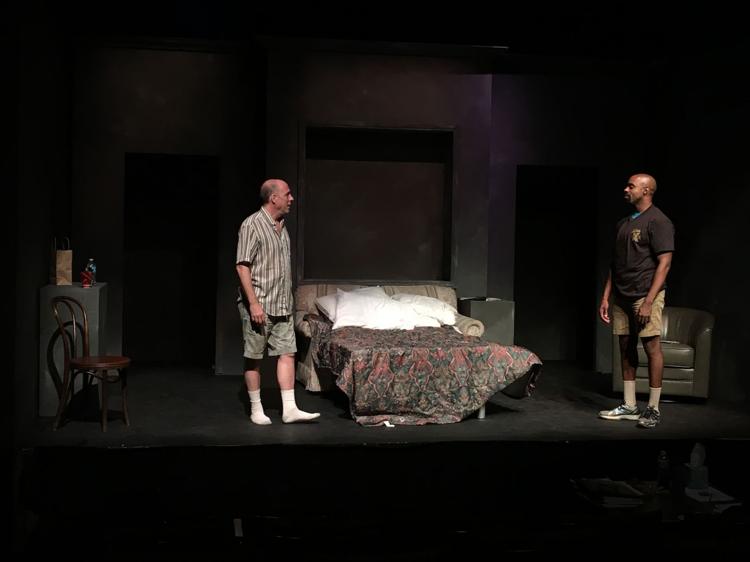 It never hurts to ask.
Several years ago, when St. Louis Actors' Studio mounted a production of Neil LaBute's The Shape of Things, co-founder and artistic director William Roth was annoyed to learn his presentation was opening on the same night as another production of the same work at a community college theater here.
How annoyed? Well, he contacted the publisher, who expressed sympathy but offered little else, saying "What do you want us to do?" Roth replied, "I want Neil to come to my opening."
Shortly after, Roth received an email from none other than the playwright himself. "I understand you want me to come to your opening," LaBute wrote. "I can do that."
Ultimately, LaBute – also a noted film director and screenwriter – couldn't make that engagement. However, he and Roth discovered they shared similar ideas about the state of theater. LaBute thereupon suggested that St. Louis Actors' Studio stage productions of some of his shorter works, so Roth responded with a presentation titled Just Desserts that did just that, including a new monologue by LaBute.
The playwright liked Roth's idea of the LaBute New Theater Festival and agreed to contribute an original work for the inaugural 2013 edition. He's done that every year since. This year's version, which runs in two segments from July 7 through 30, features a new play by LaBute titled Hate Crime, with Chauncy Thomas and Greg Hunsaker performing under John Pierson's direction.
Each year, LaBute makes an effort to attend the festival, which focuses on "reaching out to emerging playwrights," says Roth, who calls LaBute "a nice Midwestern guy once you get to know him," despite the often dark and sometimes misogynistic nature of his stories.
St. Louis Actors' Studio annually solicits entries to the festival, which Roth says have numbered between 200 and 400 per year. Entrants send manuscripts from throughout the United States, as well as from Canada, France, the United Kingdom, Mexico and New Zealand.
Less than two years ago, Roth expanded the festival by taking a version of it to New York City, in January 2016; this past January, he did the same, again with new pieces by LaBute.
The playwright has built a considerable reputation for himself and his own works. Now, Roth observes that the LaBute New Theater Festival enjoys a "nice reputation around the country," too.
Finalists for Set 1 (July 7-16) are Hate Crime, by LaBute, directed (again) by Pierson and starring Thomas and Hunsaker; Waiting for The Erie Lackawanna, by Ron Radice of Andover, Massachusetts, directed by Pierson and starring Spencer Sickmann, Reggie Pierre and Ryan Lawson-Maeske; Sacred Space, by Barbara Blumenthal-Ekrlich of Needham, Massachusetts, directed by Nancy Bell and starring Sophia Brown and Kim Furlow; and Percentage America, by Carter Lewis of St. Louis, directed by Pierson and featuring Bell, Thomas and Kelly Schaschl.
Works scheduled for Set 2 (July 21-30) are Hate Crime once more; How's Bruno, by Cary Pepper of San Francisco, directed by Bell and featuring Thomas, Lawson-Maeske, Pierre and Sickmann; and Sin Titulo, by Tearrance Chrisholm of St. Louis, directed by Linda Kennedy and featuring Patrice Foster, Pierre and Jaz Tucker.
Plays written by high school students will be presented as readings at The Gaslight Theater on July 8 at 11 a.m. Admission is free.
Check out part or all of the festival for yourself from July 7 to 30. Performances start at 8 p.m. Thursdays, Fridays and Saturdays and 3 p.m. Sundays at The Gaslight Theater. Tickets cost $30 for students and seniors and $35 for general admission for adults. To purchase tickets, call 1-800-982-2787, click on ticketmaster.com or visit the theater box office an hour prior to a performance.