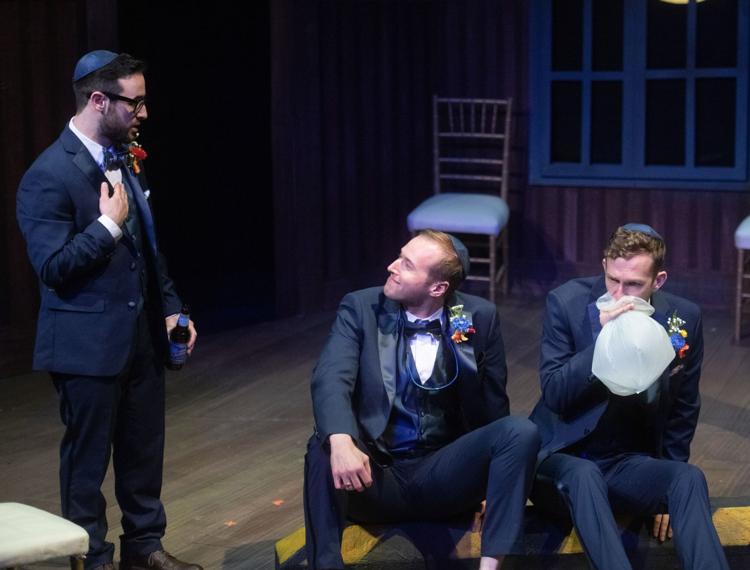 Story: It's a lovely day for a wedding. Adam and Nicole have invited their families and friends to share in this most solemn and also joyous occasion, for which Nicole has requested that the rabbi who married her parents officiate at the ceremony.
He does just that, even if he's well beyond his peak years. He knows Nicole well enough, but darned if he doesn't have trouble with Adam's name, which he turns into Alan, Anthony, Andrew, Abraham and most anything starting with an 'A'.
So, the event is off to a rocky start when the rabbi, coughing and stumbling about, suddenly keels over. One of Nicole's relatives says that he's been taken away 'sick' by EMTs, but the three flower girls know better: He's dead.
Everything quickly goes south from there. Adam and Nicole bicker with each other, not even sure if they're officially married yet since they hadn't reached the "I do" part of the ceremony.
Groomsman Dave thinks it's an opportunity for him to try his smart-mouthed, stand-up comic act funny to no one except him, while Adam's other groomsman Seth has been rattled by the news of his wife's infidelity and her chutzpah in wanting to bring her boyfriend to the reception.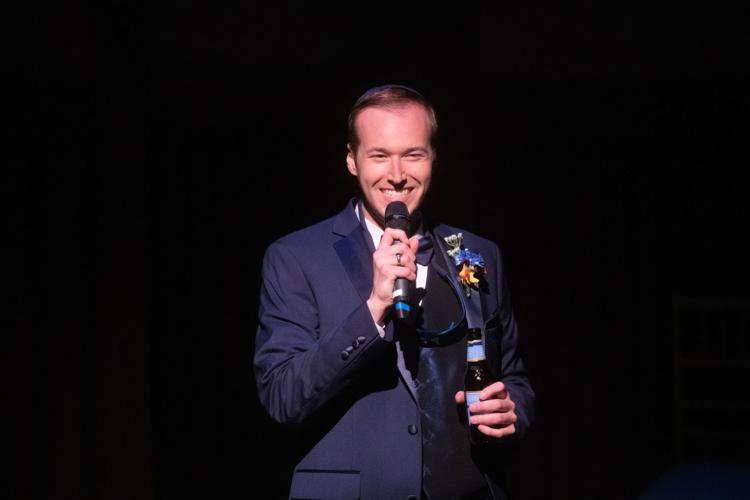 Bridesmaid Michelle has developed a crush on Carlos, one of the EMT guys, and has invited him to be her date at the reception after he gets off work at 11 p.m. or so, while the other bridesmaid Eva considers the day just another unfortunate circumstance in her lackluster life.
As for the three flower girls? They're having a grand time eavesdropping on adult conversations and more, running around and acting like little kids. Which is OK for them, but not so much for the adults who seem to make a bad situation hopelessly worse as the day turns into night and continues on its disastrous path.
Highlights: New Jewish Theatre closes its 2018-19 season with a hard-working production of this dark comedy by playwright Tasha Gordon-Solmon.
Other Info: Gordon-Solmon has said she was inspired to write her show after being bored while attending a wedding. Inspiration comes in many forms and at all manner of times, and she took that opportunity to imagine how terribly funny a wedding could be starting from a most unfortunate tragedy.
There are so many problems with her script, though, that for some audience members her brand of humor only rarely strikes the funny bone. It seems to be quite passive-aggressive, with the laughs too often resulting from mean-spirited characters caught in their ugliest moments. The result is a shaggy story which tries way, way too hard to be humorous. Forced laughter is rarely good of its own accord.
In any event New Jewish Theatre artistic director Edward Coffield has assembled a fine cast, performers who do their best to elevate Gordon-Solmon's misguided effort. Coffield directs in an easygoing fashion, allowing his players to develop their characters as well as the script may allow.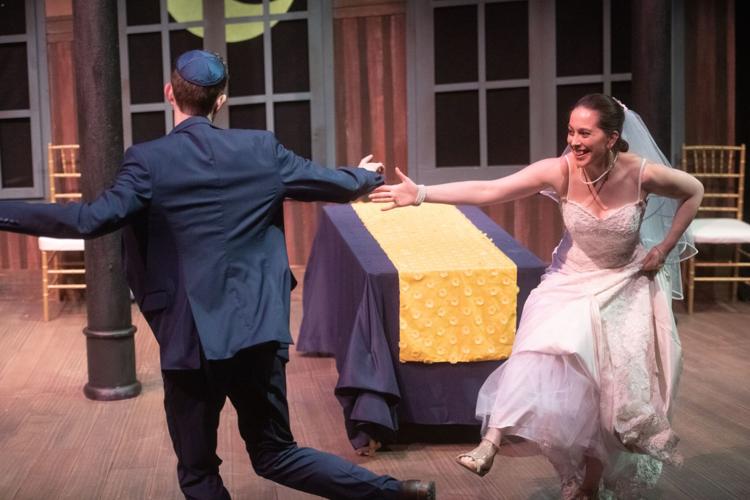 A true highlight is the warm and amusing encounter between Eva and Seth. She's a sad sack, second-choice kind of woman, at least in her own mind, while he's a decent guy who's coming to terms with the fact that his wife has long ago lost interest in him, even to the point she's ready to bring her lover to the reception.
Frankie Ferrari and Ryan Lawson-Maeske are each affecting and effective in their touching portrayals of these two kindred spirits, who even share a love of Top Chef as a beloved TV series. Their height difference accentuates the comedy of their physical encounter.
As Dave, Will Bonfiglio proves that he can portray a cad as convincingly as the numerous good-hearted characters he's assumed in other shows. Delaney Piggins has her own poignant moments as Michelle, the bridesmaid whose desperation for romance takes a sad and forlorn turn in an overly long scene near the show's long-awaited conclusion.
Graham Emmons brings out all the small-minded spite of Adam, who quotes ABBA lyrics to deliberately antagonize his bride but then just as impulsively sweeps her away in mutual carnal fervor. As Nicole, Jessica Kadish captures the bride's haughty, arrogant instincts with carefully targeted insults for pretty much everyone she encounters.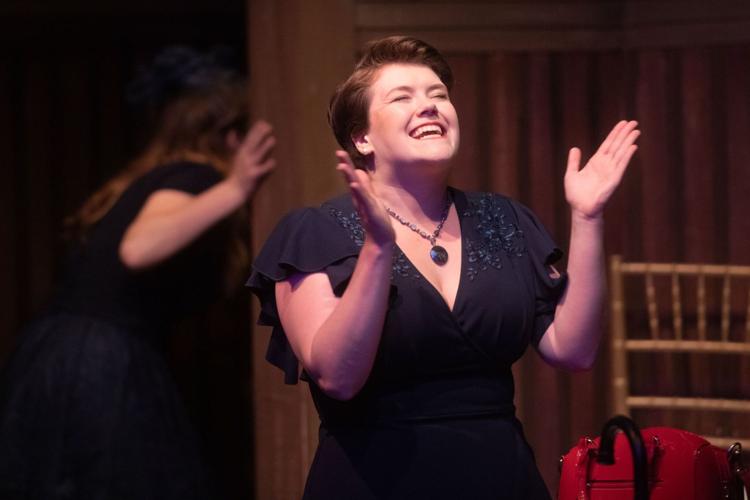 Craig Neuman introduces us to the sad goings-on as the borderline senile rabbi, with a silly cameo at the show's conclusion that would be tender if it wasn't so ridiculous. Again, though, it's not the performance but the material at fault.
Completing the cast, and giving the show many of its too few fine moments, are Millie Eidelman, Abby Goldstein and Lydia Mae Foss as the amusing and inquisitive flower girls.
David Blake's scenic design nicely showcases a "conference room" that doubles as the reception area, with a makeshift altar for the ceremony up front, all nicely illuminated with Tony Anselmos' lighting design.
Michele Siler's costumes range from the rabbi's ill-fitting suit to Nicole's beautiful wedding dress and Adam's handsome tuxedo. Amanda Werre's sound design cleverly includes references to ABBA and Cindy Lauper as well as a touching instrumental version of In My Life near the conclusion.
Pacing is erratic and choppy between the interminable number of scenes, as Gordon-Solmon includes vulgar and/or insipid toasts to the wedding couple and other interludes. The curtain call is entertaining, though, as the cast enjoyably dances its way through many tunes familiar to anyone who's attended a modern wedding reception.
The cast works hard, the off-stage artists put together a well-wrought effort and director Coffield does his best to leaven this sluggish comedy. In this case, however, the whole is decidedly less than the sum of its parts.
Play: I Now Pronounce
Company: New Jewish Theatre
Venue: Wool Theatre, Jewish Community Center, 2 Millstone Campus Drive
Dates: May 22, 23, 25, 26, 30, 31, June 1, 2
Tickets: $42-$45; contact 442-3283 or newjewishtheatre.org
Rating: A 3.5 on a scale of 1-to-5.