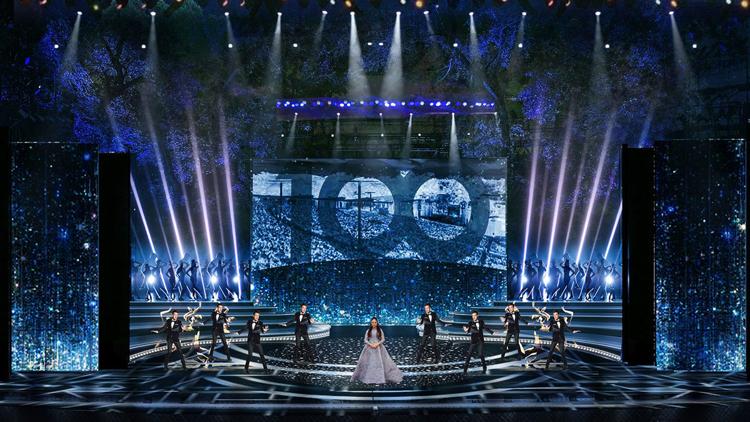 A considerable stretch separates Aida and Jersey Boys, but the distance between them underscores how central The Muny remains to the area arts scene.
In 1917, The Municipal Opera of St. Louis, as The Muny originally was known, presented a weeklong run of Verdi's classic opera Aida. Two years later, on June 6, 1919, a performance of Robin Hood began The Muny's annual season at its showcase amphitheater in the heart of Forest Park. Since then, six generations of families have made The Muny a summer entertainment destination.
This season's series features two regional premieres (Jersey Boys and Jerome Robbins' Broadway), with two family classics (Annie and The Wiz), two American musical staples (Gypsy and Singin' in the Rain) and an iconic local story (Meet Me in St. Louis) also coming.
To start the milestone season memorably, The Muny will stage two special events this month. Muny favorites Heather Headley and Matthew Morrison co-host An Evening With the Stars there at 9:15 p.m. on Friday, May 18. Two days later, The Muny holds its "Centennial Birthday Bash" from 1 to 5 p.m.
Tickets for the first event start at $15, obtainable by visiting muny.org/100, with 1,500 free seats offered on a first-come, first-served basis. (Although the gala's dinner portion sold out, many tickets remain for the show itself.) The centennial bash, meanwhile, is free, with some activities, Muny souvenirs and food available for purchase.
"This will be a night of real Muny history," says Muny artistic director and executive producer Mike Isaacson of the gala. "So many extraordinary talents will be joining us, and we're working to create a show that we hope for the rest of your life, you'll be able to say, 'I was there.'"
The season then starts with Jerome Robbins' Broadway (June 11 to 17), starring Muny favorite Rob McClure (The Addams Family, Hello, Dolly!, Beauty and the Beast) and directed by Broadway veteran Cynthia Onrubia. Following it is The Wiz (June 19 to 25), directed by St. Louis Theater Circle winner Denis Jones (42nd Street, A Chorus Line, Chicago) and starring Nathan Lee Graham (Fox TV's LA to Vegas), Jared Grimes, Mykal Kilgore and James T. Lane.
Singin' in the Rain, last seen at The Muny in 2011, runs from June 27 to July 3, with Marc Bruni directing. It showcases Broadway star Corbin Bleu, one-time Muny Kid Berklea Going and Jeffrey Schechter, who came to the rescue at the 11th hour for last season's A Funny Thing Happened on the Way to the Forum, enchanting Muny audiences with his performance as Pseudolus.
Following that will be The Muny and world regional debut of Jersey Boys (July 9 to 16), directed and choreographed by Josh Rhodes.
Annie takes to The Muny stage for the first time since 2009 from July 18 to 25; directing it is John Tartaglia, seen at The Muny last season in A Funny Thing and a 13-year veteran performer on PBS's Sesame Street. Christopher Sieber portrays Daddy Warbucks, with Jennifer Simard playing that dastardly orphanage villain Miss Hannigan.
Rob Ruggiero, who's directed The Music Man, Oklahoma!, South Pacific and The King and I at The Muny, returns to direct the classic musical Gypsy from July 27 to Aug. 2. Ralph Perkins choreographs the show, which features lyrics by Stephen Sondheim, music by Jule Styne and a book by Arthur Laurents.
Closing the centennial season Aug. 4 to 12 is that perennial Muny favorite Meet Me in St. Louis, making its eighth appearance on the Forest Park stage and first since 2009. Marcia Milgrom Dodge directs, with choreography by Josh Walden (The Little Mermaid, Buddy: The Buddy Holly Story). Erin Dilly and her real-life husband, Stephen R. Buntrock, portray Mrs. Anna and Mr. Alonso Smith. This presentation includes several songs new to the stage adaptation of the show.
The Muny's centennial season, in short, features something familiar, something new and something pretty much for everyone to enjoy. One can understand why, in producing top-tier, Broadway-caliber shows on the sprawling stage of that impressive outdoor theater, before thousands of patrons on summer evenings in St. Louis, The Muny can proclaim that it's "alone … in its greatness." 
Municipal Theatre Association of St. Louis, 1 Theatre Drive, St. Louis, 314-361-1900, muny.org