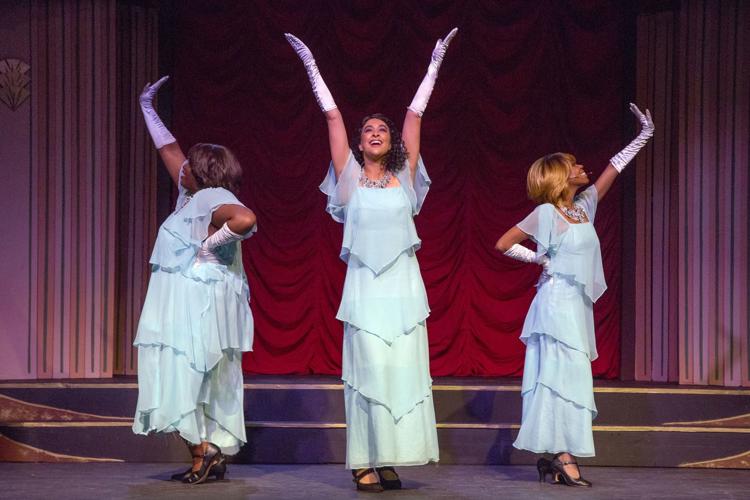 Story: It's a big night for Effie White and her two BFFs, Deena Jones and Lorrell Robinson. Their trio of Chicago singers, The Dreamettes, are competing in the early 1960s in the famous Amateur Night competition at the renowned Apollo Theatre in Harlem.
They're good, but car salesman and aspiring producer Curtis Taylor Jr. bribes a judge to make sure they don't win the contest. He wants to bring them under his wing and convinces them to perform as a backup girl group behind James "Thunder" Early, a star rhythm and blues and soul singer. Effie's songwriting brother C.C. has penned a new tune called Cadillac Car, which Curtis thinks can help Jimmy cross over into the pop genre.
Jimmy and The Dreamettes meet huge approval as they tour the country with Cadillac Car. Unfortunately, as is the unfair custom, a white group records a cover version and overshadows what Jimmy and the Dreamettes have accomplished. Curtis vows to resort to payola for DJs in order to get his tunes played in the future, a familiar method in the business which pays off.
Looking ahead to the next opportunity, Curtis decides that The Dreamettes should break off from Jimmy and form a separate act. Personally, he's involved with Effie and Lorrell is having an affair with the married Jimmy, but that doesn't deter Curtis from relegating the plump Effie to backup status, moving the slender, photogenic Deena to lead singer for the group now known as The Dreams.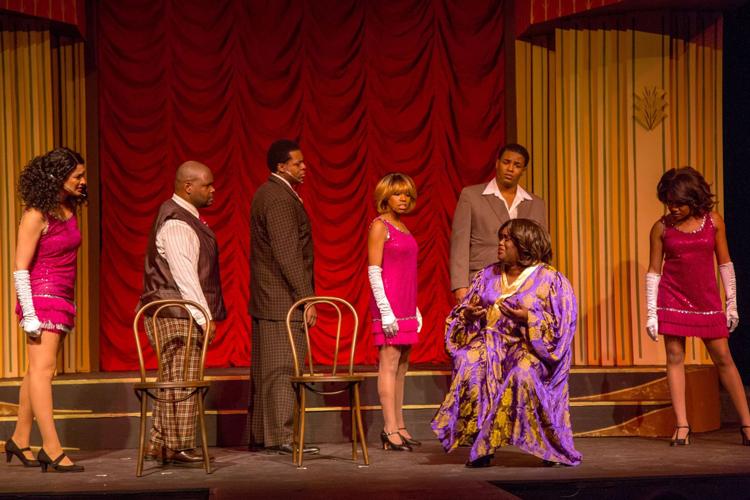 Curtis pushes The Dreams further into the pop world, where they become huge stars. With Effie continuing to balk about her reduced role, Curtis finally replaces her with singer Michelle Morris in a performance in Las Vegas.
As the new version of The Dreams continues to ride the charts, Deena entreats Curtis, now her husband, to let her leave the group and focus on her fledgling movie career. Jimmy is frustrated with his fading career, yearning to return to his more popular days on the r&b and soul charts, finally being fired by Curtis for insubordination. And Effie accepts her former manager Marty's help in resuscitating her own career.
Can Deena free herself from the Svengali-like influence of Curtis? Will Effie return to her former days of glory? Can Jimmy find renewed strength in his return to his areas of vocal strength as well as straighten out his personal life? And will Curtis' empire crumble or continue to change the musical world?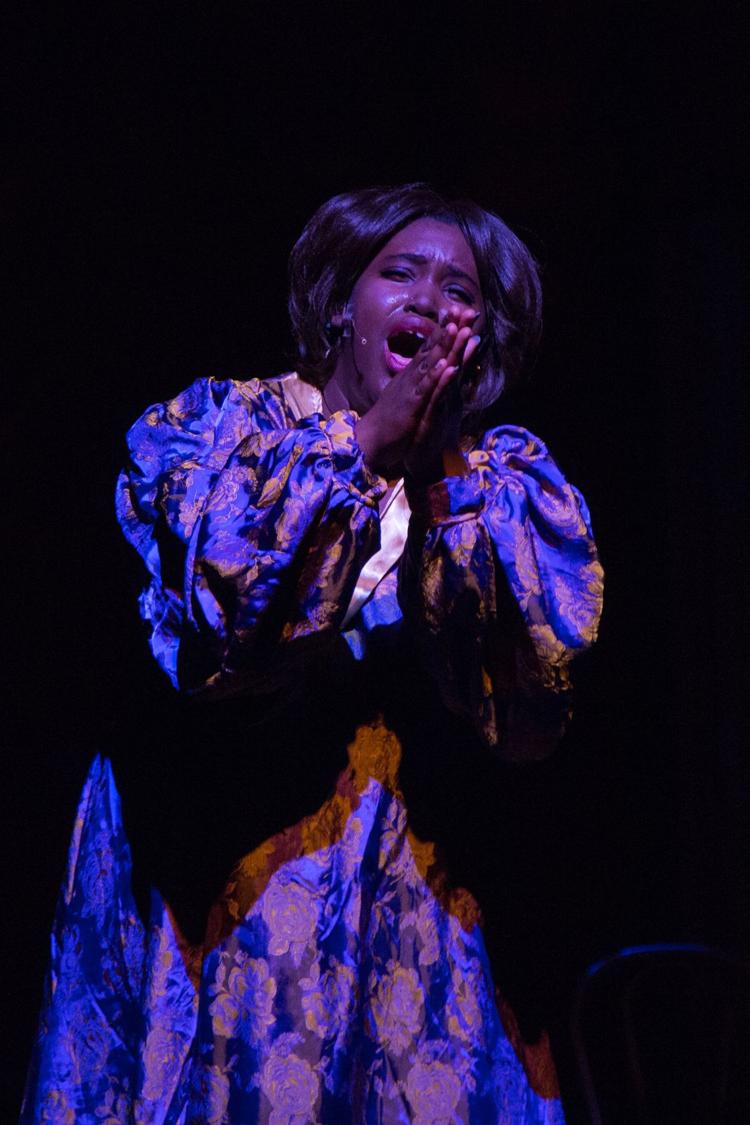 Highlights: Director Justin Been leads an energetic, lively ensemble in Stray Dog Theatre's triumphant rendition of this thinly veiled story of The Supremes and Motown founder Berry Gordy Jr.
Other Info: Dreamgirls opened on Broadway just before Christmas in 1981 and closed in 1985 after more than 1,500 performances. Director/choreographer Michael Bennett, book writer and lyricist Tom Eyen and composer Henry Krieger went to great lengths to disavow any biography of Gordy and The Supremes.
So, let's just say it's a remarkable coincidence how much Effie, Deena, Lorrell and Michelle match so well with Florence Ballard, Diana Ross, Mary Wilson and Cindy Birdsong, respectively. And that slick salesman-turned-recording magnate Curtis Taylor Jr. just happens to bring to mind Berry Gordy Jr. and the rise of Motown. Heck, Jimmy even has the same first name as James Brown. Yeah, just happenstance.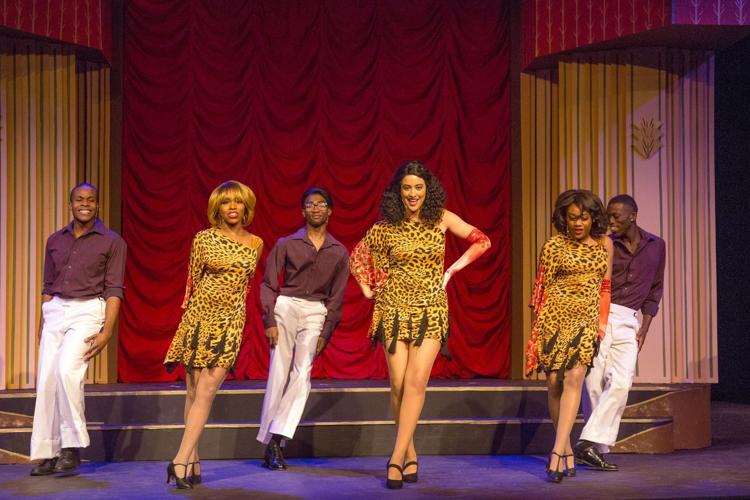 Regardless, what Dreamgirls does is capture the time and essence of the '60s and early '70s in the music world, which was just as segregated as the rest of America. Curtis finds a way to bridge that racial gap musically and to elevate his clients to star status previously rarely achieved.
With a sprawling cast, Been makes shrewd use of the aisles at Tower Grove Abbey as well as a stage which protrudes well into the audience at its center, thanks to Josh Smith's ambitious scenic design. Smith situates the band on the upper level of both sides of the set, where music director Jennifer Buchheit and her tight combo enliven the theater with the infectious Dreamgirls score.
Pianist Buchheit is accompanied by Joe Akers and Ron Foster on trumpets, Kelly Austermann, Lea Gerdes and Joseph Hendricks on reeds, trombonist P. Tom Hansen, guitarist Adam Rugo, M. Joshua Ryan on bass and percussionist Joe Winters. Choreographer Mike Hodges puts the performers through some classy moves to accentuate Krieger's agreeable score.
Smith's design includes a back curtain which allows the set to serve as both the front of the action and backstage, depending on the scene, something which lighting designer Tyler Duenow amplifies with his precise illumination. Julian King offers an array of costumes befitting the era, both on stage and off, complemented by Shanice Mac's makeup and wig design.
Vocal standouts include Ebony Easter as Effie, belting out the show's signature ballad, (And I Am Telling You) I'm Not Going, as well as the smooth tones of Eleanor Humphrey as Deena, Tateonna Thompson as Lorrell and Diamon Lester as Michelle.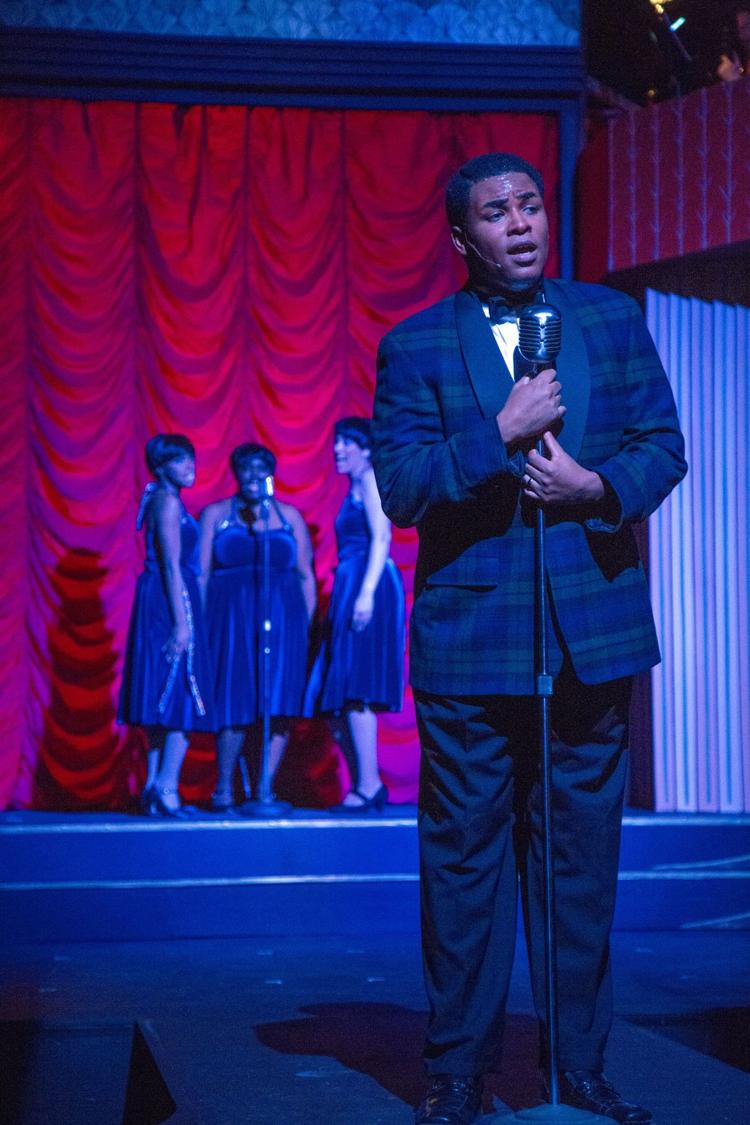 Omega Jones captures both the swagger and the desperation of Jimmy in a fine performance, accentuated with his smooth moves and velvet voice. Abraham Shaw shows the calculated drive of Curtis, while Don McLendon brings wisdom and compassion to the part of Marty. Chrissie Watkins excels as the hard-driving Apollo MC and Marshall Jennings is the earnest and well-meaning C.C.
Been keeps the large cast hitting their spots effectively throughout the show's two acts and two and a half hours of performance time. Others contributing to the ensemble's efforts are Chastity Cook, Rahnesha Holmes, Sierra Smith, Margery Handy, Laurell Stevenson, Robert Crenshaw, Lawrence J. Haliburton, Tony L. Marr Jr., Chris Moore, Kanisha Kellum, Ashley Santana, Jazmine Wade and Malaika Pedzayi-Ferguson.
Dreamgirls depicts the troubled times as well as the musical evolution of the '60s in America in Stray Dog's faithful interpretation.
Musical: Dreamgirls
Company: Stray Dog Theatre
Venue: Tower Grove Abbey, 2336 Tennessee Avenue
Dates: April 11, 12, 13, 14, 17, 18, 19, 20
Tickets: $25-$30; contact 865-1995 or StrayDogTheatre.org.
Rating: A 4 on a scale of 1-to-5.