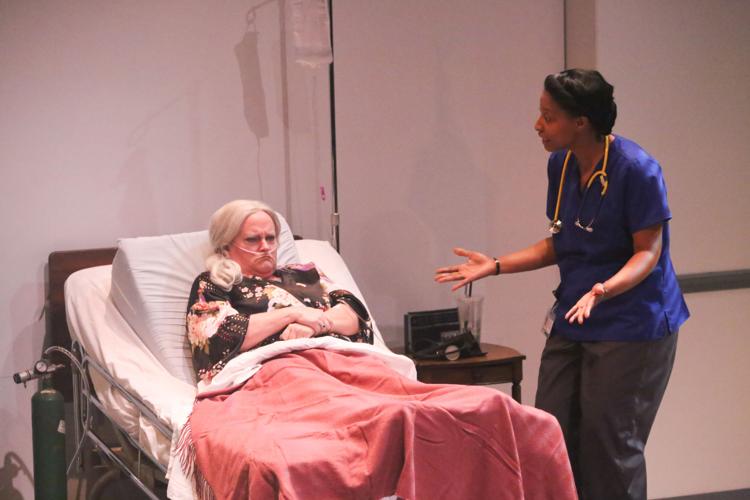 Story: Maxine is resting, not so comfortably, in a nursing home. She's openly hostile to the staff, including nurse Tina, who has the thankless task of monitoring Maxine's vital signs and otherwise tending to her needs as an elderly, exasperating and cantankerous patient.
Not only is Maxine a patient who tests the patience of the staff but she's a wealthy one to boot. She'll tell you that she has amassed a considerable fortune, but now is fearful that her daughter wants to see Maxine dead and buried before New Year's Day in 2011, when the new federal "death tax" takes effect in just a few short weeks.
That tax will take quite an additional chunk out of the inheritance for Maxine's daughter, a woman for whom Maxine professes little fondness or use. She even accuses Tina of conspiring with her daughter to kill off Maxine before the end of the year, thus saving her daughter considerable money.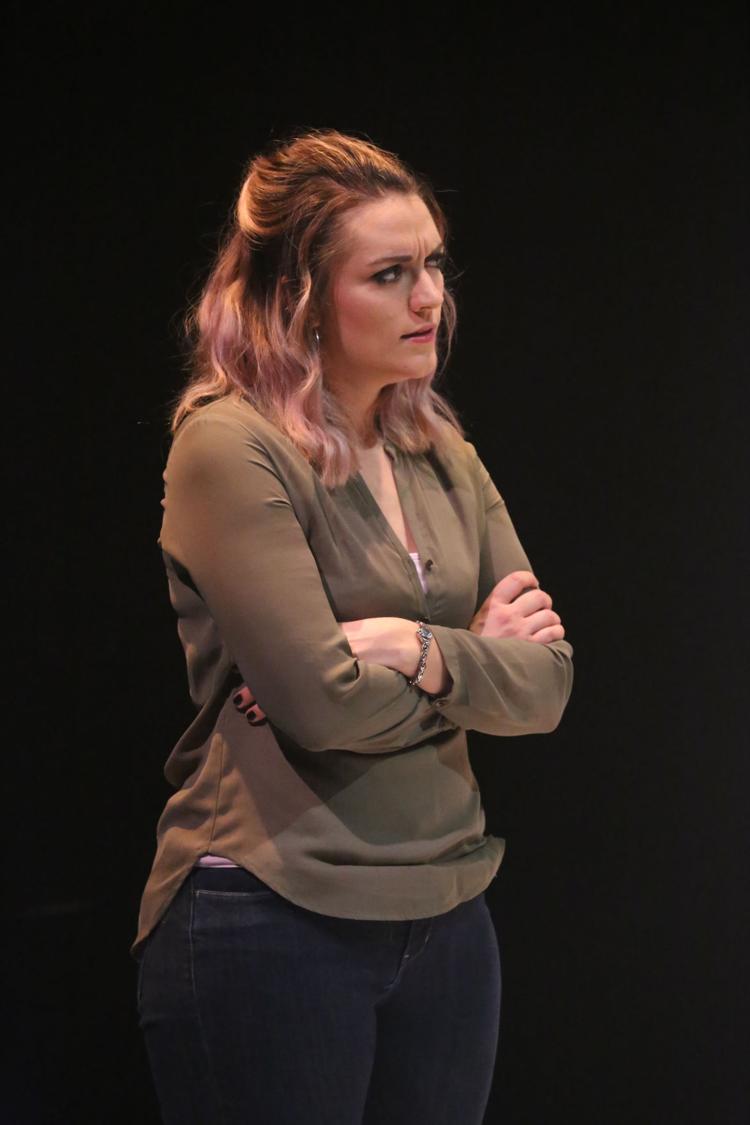 Tina vehemently denies this, but when Maxine makes a "counter-offer" to her, Tina finds it too good to resist. After all, the single mother is trying to get her son back from her ex-husband in Haiti, but lacks the resources to do much without outside financial assistance.
Her co-worker Todd is willing to help Tina as much as possible, but Tina has brushed aside his financial aid as well as his romantic overtures after an initial fling. Besides, Maxine's offer is ridiculously lucrative, and Tina isn't about to be swayed by Todd's fear of reprisal for criminal activities.
Tina's not above manipulating Todd, though, in order to get what she wants. In that respect, she has something in common with the invalid termagant she now is especially determined to keep alive.
Can Tina nurse Maxine through the coming weeks until the new law takes effect? Is Maxine even remotely interested in patching up her stormy relationship with her only child, who wants her own son at peace with his grandmother before she passes away? Does Tina have any feelings for Todd or simply wishes to use him to further her own means? This 'death tax' makes for stormy situations.
Highlights: Mustard Seed Theatre concludes its 2018-19 season with a compelling, local premiere production smartly directed by Bess Moynihan of this probing, one-act character study by Lucas Hnath.
Other Info: Hnath's drama, which premiered at the Humana New Play Festival in Louisville in 2012, is filled with dark comic moments and is divided into five scenes introduced by Tina from the side of the tidy set designed by Jamie Perkins. A white wall serves as backdrop to Maxine's bed in some scenes, while others are played out in Todd's tiny office at stage right.
That office features a forlorn little desk big enough for Todd's laptop computer and a tiny, military figurine provided by props designer Morgan Fisher which amusingly accentuates Todd's obsessive-compulsive behavior. As often as Tina moves the statuette in her conversations with Todd, he carefully puts it back where it was in order to help maintain purpose in a chaotic universe.
Zoe Sullivan's sound design begins and ends with a quiet composition by Bach on Maxine's bedside table with modern music in between. Jane Sullivan's costumes fit the drab surroundings but are highlighted with Tina's surprise Christmas gift for Todd, while Michael Sullivan's lighting is mostly harsh to match the gritty realities being played out on stage.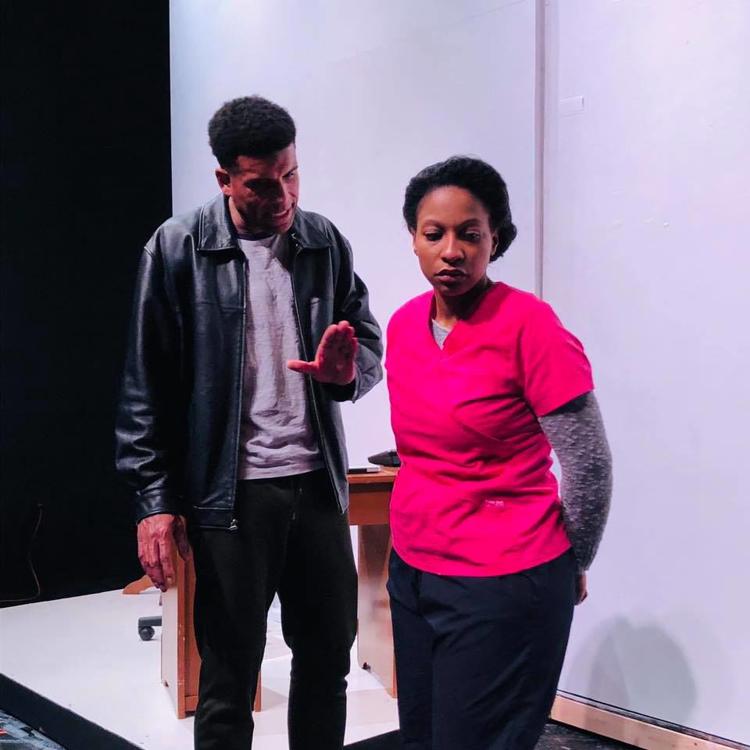 Jeanitta Perkins captures the cadence of Tina's native Haitian accent as well as her dedication to her profession. She's adept at showing Tina's unswerving commitment to bring her son to America for a better life, even if she bends and breaks rules when offered the opportunity to make that move more likely. She also serves capably in the final scene as a rather empty-headed social worker.
Reginald Pierre shows his considerable range in two roles, first as the lonely, easy-going and romantically thwarted Todd, offering a surprising twist when the pliable administrator takes a more studied look at Tina's plot. He's effective too as Maxine's grandson Charlie in the story's final scene, one which comes with an abrupt departure from the tale's plot up to that point. It's a portrayal which personifies the consequences of Maxine's venal philosophy.
Kim Furlow is relentless in her portrayal of the nasty Maxine, a woman with few redeeming points even as she stares straight into the face of death. There's little sympathy for Maxine as Furlow expertly shows why.
There's strong work as well by Kristen Strom as Maxine's long-suffering daughter. Essentially she's on stage for just one stark and affecting scene, but in those moments Strom carefully crafts a portrayal of a decent woman who has lived a hellish life at the capricious whims of a malevolent mother to the point that she arrives at a stunning conclusion. It's no accident that the daughter is nameless in Hnath's script.
Death Tax is a strong character study, good enough to overcome a startling turn by Hnath in the final scene, especially in Mustard Seed's presentation so smartly executed by Moynihan and her convincing cast.
Play: Death Tax
Company: Mustard Seed Theatre
Venue: Fontbonne Fine Arts Theatre, Big Bend at Wydown
Dates: May 16, 17, 18, 19
Tickets: $15-$35 (or Pay with a Can/Pay What You Can on May 16); contact 543-1111 or mustardseedtheatre.com
Rating: A 4 on a scale of 1-to-5.