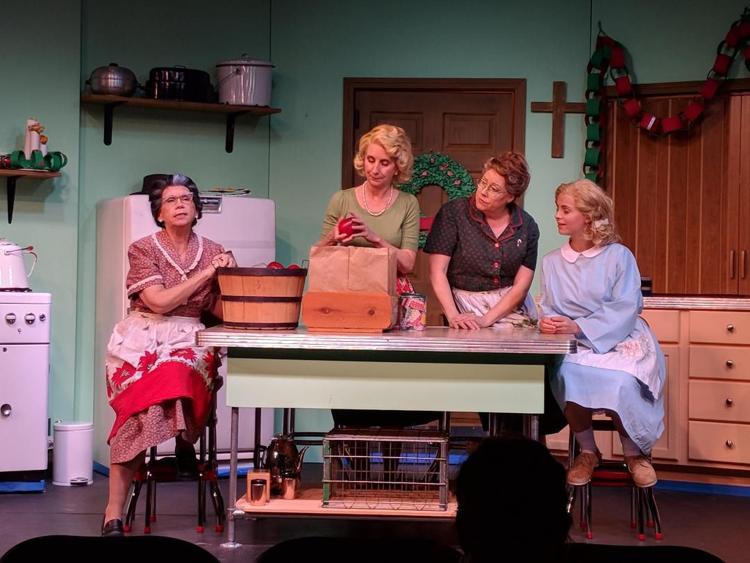 Story: There's snow on the ground, there's a chill in the air and the "Church Basement Ladies" are preparing for the 1959 Sunday School Christmas program at the rural Lutheran church in Minnesota where they congregate. All the reliable volunteers are there.
Elderly widow Mrs. Lars (Vivian) Snustad runs the kitchen; Mrs. Gilmer (Mavis) Gilmerson, a hardy woman with a ready smile and a faulty memory, does the heavy lifting for the group; Mrs. Elroy (Karin) Engleson is the fashion plate whose agreeable personality helps smooth the rough edges in the brusque Mrs. Snustad; and Karin's teenage daughter Beverly chafes to be treated like an adult.
Pastor E.L. Gunderson makes frequent visits from church down to the basement to see how everything is progressing for the Christmas pageant. Pastor has been a widower for two years now, but a kindly woman named Helen seems to be his topic of conversation often these days. The ladies smile and glance at each other knowingly when he mentions Helen's name.
Well, wouldn't you know, it's one calamity after another as some kid gets sick or another doesn't show up and another freezes when it's his turn to utter some lines. This Christmas pageant could very well be a disaster, but don't count on that.
These ladies all have considerable experience at this hallowed rodeo and aren't about to let down the congregants. Heck, they've done too much work, cooked too much food and made too many ornaments to let that happen.
Highlights: The close-knit Church Basement Ladies are back with plenty of holiday cheer and tuneful melodies in this third installment of the Church Basement Ladies franchise, doing their best to keep audiences in The Playhouse at Westport Plaza in a jovial, holiday mood.
Other Info: Like Church Basement Ladies, which played to appreciative audiences at The Playhouse in 2017, this holiday version offers plenty of laughs, homespun philosophy and agreeable if lightweight songs to wile away two hours at a leisurely matinee performance.
Director Emily Clinger utilizes the notable talents of her quintet of players, all of whom have their moments to shine in this fluffy piece inspired by the books of Janet Letnes Martin and Suzanne Nelson, including the best-seller, Growing Up Lutheran.
It's written by Greta Grosch and features music and lyrics by Drew Jansen, the latter of whom composed music and lyrics for the first five of the six Church Basement Ladies installments. Grosch penned the books for all five of the sequels but not the original.
Erica Zaffarano's set looks pretty much identical to the one employed at The Playhouse last year for Church Basement Ladies, which is set in 1965, including a closet door, another leading outside, one up into the church and another into the nether reaches of the basement where handyman Willie rules the roost. There'a s freezer and a refigerator and a big ol' prep table, too. Michael Sullivan lights all of it effectively.
Rissa Crozier is responsible for the costumes, hair and wig design which adds to the humor, contrasting the fetching Karin with farmer's wife Mavis or the gray wig adorning Vivian with Beverly's golden locks. Pianist Joe Dreyer provides the pleasant musical accompaniment for the singers, who make the most of Wendy Short-Hays' choreography on the minuscule stage.
Clinger's amusing cast, who capture the distinctive Minnesota accent courtesy of dialect coach Pam Reckamp, is led by Peggy Billo, whose rendition of tight-lipped, iron-fisted Mrs. Snustad is hilarious, stealing more than her share of scenes as she talks about "yinyer snaps" and drinks egg coffee (yuck).
Rosemary Harris brings plenty of humor herself as the absent-minded Mavis, always willing to lend a hand, even shopping at the "Catholic" grocery store for last-minute goodies. Lee Anne Mathews as Karin is the pillar of amiable strength for the ladies, nurturing her sweet daughter as well as complying with the wishes of the stubborn Mrs. Snustad, a stickler for tradition.
Hollyn Gayle plays a delightful Beverly, fighting to declare her independence and impending adulthood on the one hand while chafing at the teasing she gets for the attention she receives from a local boy on the other.
As Pastor Gunderson, Michael Jokerst shows the patient, low-key cleric's affection for his congregation, careful to include virtually everyone in any of his compliments and also remarking with affection about what his newfound friend Helen brings to the pageant. He can't understand, though, what's happened to Helen's missing red high heels or the new red hymnals, either.
If you enjoyed Church Basement Ladies you're sure to have fun with this holiday sequel, which truth be told is better in its first act than the second. The latter goes on far too long with the same jokes and features too many soggy ballads, which aren't nearly as good as the dance numbers.
Ah, well, 'tis the season, and there's sufficient merriment delivered by the Church Basement Ladies and their pastor.
Musical: Away in the Basement: A Church Basement Ladies Christmas
Company: Emery Entertainment
Venue: The Playhouse at Westport Plaza
Dates: Tuesdays through Sundays through January 6 (matinees only)
Tickets: $55 or $27.50 if you use promocode: HOLIDAY; contact metrotix.com or 534-1111; $10 "rush tickets" at box office one hour prior to show time with student or military ID
Rating: A 3.5 on a scale of 1-to-5.