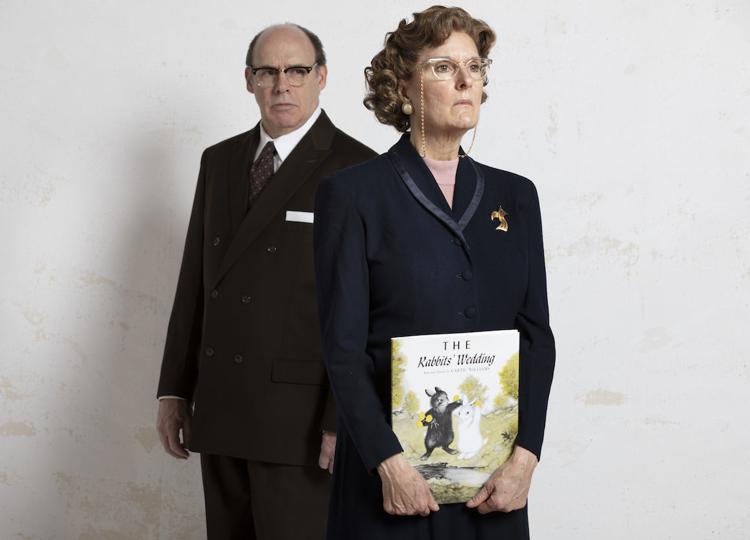 Story: Emily Wheelock Reed, head of the Alabama Public Library System, routinely orders books for state libraries which are recommended by the American Library Association. She doesn't give much thought to repeating that procedure in 1959 until she finds herself in the middle of a maelstrom.
It seems that state Sen. E.W. Higgins has taken offense to a children's story titled The Rabbits' Wedding, mainly because the book's cover shows a white rabbit and a black rabbit next to each other. In the land of cotton, Higgins sees as a thinly veiled attempt by author/illustrator Garth Williams to promote and encourage interracial dating and marriage.
Higgins demands that Reed have the book removed from all Alabama state libraries. She refuses to do so, saying that "the free flow of information is the best means to solve the problems of the South, the nation and the world," while declining to give her own personal views on integration.
Because Higgins serves on the state board overseeing the library system, their conflict becomes a state and then national issue about censorship even more so than civil rights. Williams himself is amazed at what transpires, citing the influence of Chinese illustrations for his own work, which he says is too innocent for some adults to understand.
While controversy rages, old friends Lily Whitfield and Joshua Moore, the latter the son of a black woman who waited on the former's wealthy family until one fateful night, accidentally run into each other in Montgomery and renew, in a way, their childhood relationship. Whitfield may be fond of the good old days, but Moore prefers looking forward to a future equal for all people, bringing a new tension between the two.
As Reed stands firm, aided by her loyal assistant, native Southerner Thomas Franklin, Higgins mounts an uncompromising attack on her, waging war for what he believes are the time-honored traditions of the Old South. He may be an ardent fan of Mark Twain's Tom Sawyer (not as "fancy" as that Huckleberry Finn), but he's no champion of ideas other than his own.
Highlights: The Repertory Theatre of St. Louis becomes the latest company to mount a production of Kenneth Jones' studious adaptation of a true but little-remembered story that has its own niche in the nation's civil rights struggles of the 1950s and '60s, while depicting the ever-present fight for freedom of thought and against censorship.
Other Info: First performed in Salt Lake City in 2015, Alabama Story has been produced more than 20 times in the last two years alone. Jones conceived the two-act drama after seeing an article in The New York Times about Reed and, before he finished reading the article, "knew this was an idea for a play."
Jones' effort weaves the fictional tale of Whitfield and Moore around the fact-based narrative focused on the four real people. While Reed, Higgins (renamed for the stage from the real Sen. E.O. Eddins) and Franklin interact at center stage, Williams serves as a narrator of sorts for the drama. He speaks to the audience from the edge of the stage, expressing the children's author's wonder and amusement at how his simple story could be so misinterpreted.
Williams had previously enjoyed a career as illustrator for such classics as E.B. White's Stuart Little and Charlotte's Web and Laura Ingalls Wilder's Little House on the Prairie and, as such, was accustomed to involvement in stories for children. Actor Larry Paulsen interprets Williams' amused reactions to the controversy with a lighthearted, innocent reckoning. He also portrays a number of minor characters, some of them unsavory, with an added limp or hat cocked atop his head.
In addition to Larry Paulsen, director Paul Mason Barnes' cast includes Jeanne Paulsen, who excels as the rigid, unsmiling, but highly principled Reed, a woman who admits to a penchant for a nomadic existence while plying her trade as a distributor of knowledge. Jeanne Paulsen shows Reed's innate aversion to the bright lights of fame, preferring to focus on her life's work, even when she's cast into controversy.
Carl Howell delivers a powerful performance as Reed's soft-spoken but intensely loyal assistant, delivering the drama's most poignant moment as Franklin relates the tragic fate of Reed's predecessor. As Higgins, Carl Palmer convincingly conveys the senator's greasy and small-minded philosophies, while showing a surprising moment near the show's conclusion.
Corey Allen's performance as Moore carefully reveals a number of layers underscoring the character's wide-eyed recognition of reality, as well as his alternate interpretation of Whitfield's rose-colored reflections on the past. Anna O'Donoghue finely displays Whitfield's vacuous grasp of the real world while showing how the character herself was raised to conform to Southern ways.
Jones makes the mistake of dragging his story on for too long, as his coda updating the audience about the characters years later is unnecessary to the core tale itself. For the most part, though, Alabama Story brings deserved justice to a pivotal moment in America's history that's now all but forgotten.
Company: The Repertory Theatre of St. Louis
Venue: Browning Mainstage, Loretto-Hilton Center for the Performing Arts, 130 Edgar Road
Dates: Through Jan. 27 (except Mondays)
Tickets: $19 to $92; contact 314-968-4925 or repstl.org
Rating: A 4 on a scale of 1-to-5