It seems inconceivable that anyone would fail to feel warm fuzzies over the simian star of an exhibition now at The Magic House, St. Louis Children's Museum.
On Jan. 18, that Kirkwood landmark opened "Curious George: Let's Get Curious!" – and the exhibition should have children of all ages monkeying around for four full months, till April 19.
Carrie Hutchcraft, the museum's director of marketing and development, explains what, specifically, inspired the local institution to present the exhibition, admission to which comes with admission to or membership at the museum.
"We've been very excited about our traveling exhibit lineup for 2020 for some time, but were approached with a last-minute opening in the Curious George exhibit schedule," Hutchcraft says. "We conducted a quick survey to our members to gauge their interest level, and the results were pretty strong – they're as excited as us to have the opportunity to bring 'Curious George: Let's Get Curious!' to The Magic House!
"This new exhibit introduces young children into the world of Curious George, leading visitors on a fun, meaningful interactive math-, science- and engineering-based adventure."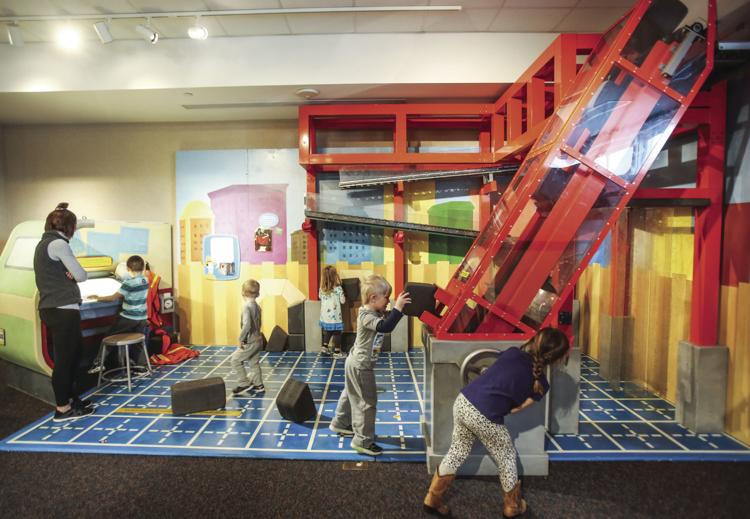 The much-loved anthropoid adventurer – created by writers Margret and H.A. Rey with illustrations from Alan J. Shalleck – debuted in the U.S. in Curious George in 1941, the same year as writer/illustrator Robert McCloskey's Make Way for Ducklings and just a lustrum after The Story of Ferdinand from writer Munro Leaf and illustrator Robert Lawson (obviously a grand time for children's literature).
The merry monkey and his BFFL, The Man With the Yellow Hat, subsequently appeared in six other Houghton Mifflin Harcourt books from the Reys between 1947 and 1966, as well as various TV series and films – and now this exhilarating exhibition.
"We were able to partner with another museum, the Minnesota Children's Museum, to rent their exhibit," Hutchcraft says. "While The Magic House creates several exhibits, this one was developed in Minnesota in partnership with Universal Studios Consumer Products Group."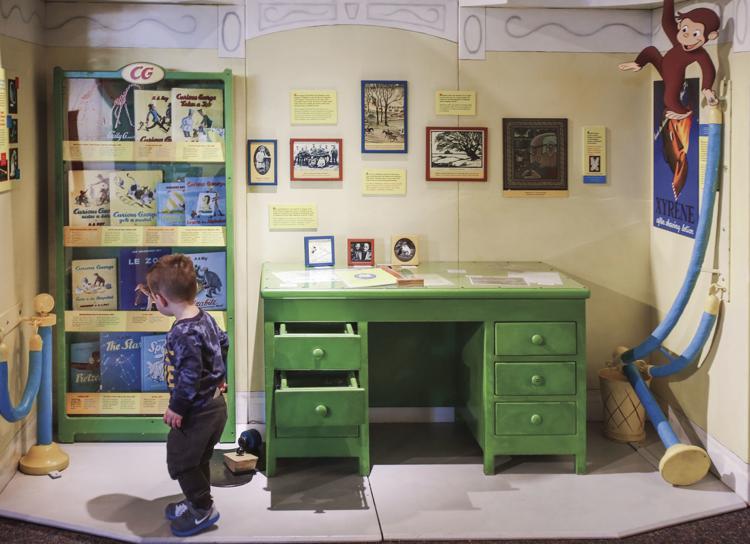 Curious (pardon the phrase) about the immersive exhibition's components? Hutchcraft happily sketches what "Curious George: Let's Get Curious!" involves at various museum sites in the way of science, engineering and math learning through hands-on, interactive play:
Apartment Building Museum guests operate wheels to move the marvelous monkey on pulleys from window to window; they also scale a faux fire escape and climb inside to play with color, light and shadow.
Sidewalk Produce Stand Guests impersonate either customers or salespeople, not only to explore the shapes of fruits and veggies, but also to sort, weigh and count produce.
Construction Site Within a munchkin construction trailer, wee visitors design a building before using machines to move construction materials and to realize different structures.
City Park An urban green space allows youngsters to rest – and to hug a full-size Curious George for photo ops. The museum's youngest visitors can also enjoy busy wall activities designed expressly for toddlers and infants.
Mini Golf Pipes, ramps, funnels, turntables and bumpers let tiny patrons get in touch with their inner Tiger Woods, experimenting with physics and engineering as they putt through three holes of mini golf.
Space Rocket The space race remains as vital as ever when junior astronauts board a rocket Curious George used to adventure beyond planetary bounds; this component of the exhibition features George in pseudo-NASA duds – with the chance for visitors to nab a selfie from the mock control station and email it to their homes.
Farm A vacation to rural environs lets exhibition attendees visit a farm, where they experience cause and effect, and use wind power to move yard art such as whirligigs, windmills, windsocks and wind chimes. They also can build their own whirligigs and care for bucolic beasties.
Museum Within the Museum In this final component, museumgoers can learn about Curious George by tracing the history of the Reys' work – including their escape from France to safety during World War II, which saved the first Curious George manuscript – and the lovable mammal's presentation throughout the years.
All in all, based on what Hutchcraft relates, potential visitors to "Curious George: Let's Get Curious!" may well find the exhibition … well … more fun than a barrel of monkeys.
The Magic House, St. Louis Children's Museum, 516 S. Kirkwood Road, St. Louis, 314-822-8900, magichouse.org