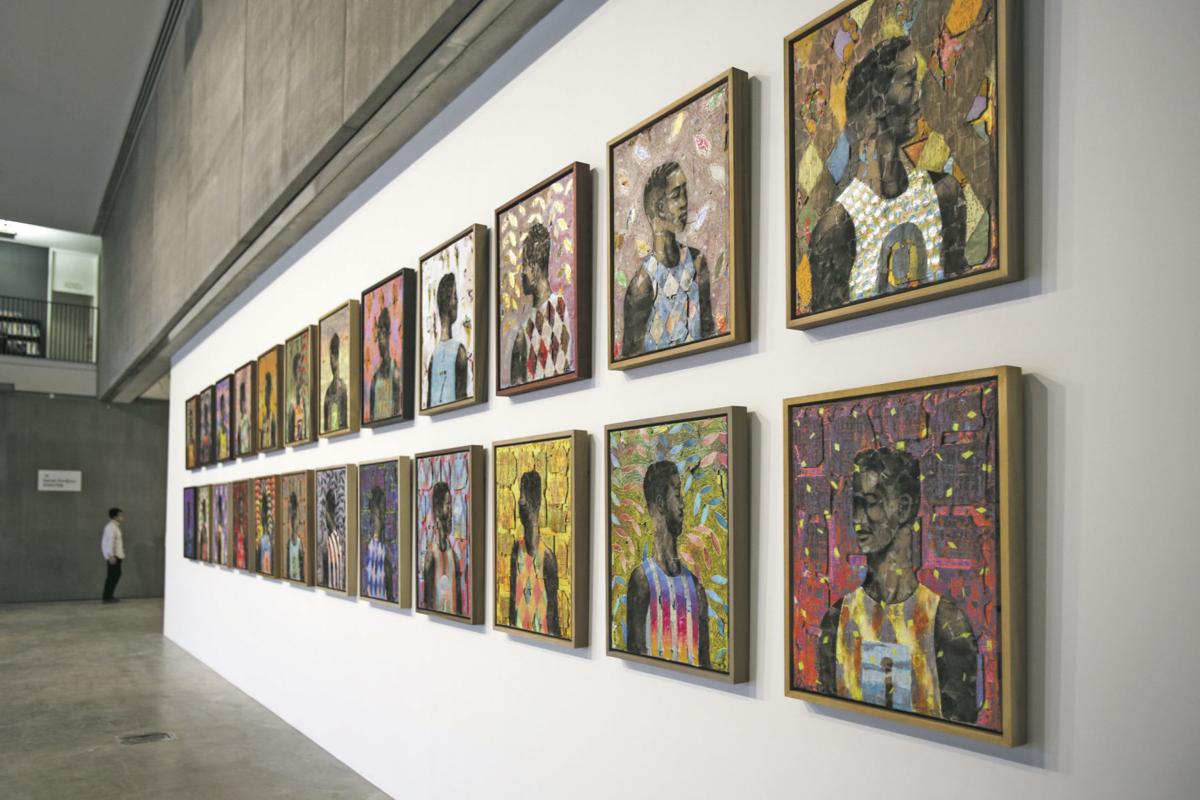 As an exercise in aesthetic disruption, "SHELTER," now at the Contemporary Art Museum St. Louis, borders on brilliance.
CAM, which opened that free exhibition by interdisciplinary artist Derek Fordjour roughly a month ago, will showcase it till April 19. Fordjour, the son of Ghanaian immigrants, hails from Memphis, Tennessee, but currently operates out of New York.
In 2017, notably, a freelance Forbes contributor dubbed him "the Jay-Z of the art world." That nickname held even more meaning when the American rapper and his better half, superstar singer/songwriter Beyoncé, visited Fordjour last February at a Los Angeles gallery exhibition.
Wassan Al-Khudhairi, CAM's chief curator, organized "SHELTER" with Misa Jeffereis, assistant curator. Via email, Al-Khudhairi relates what, specifically, inspired the museum to approach Fordjour about "SHELTER."
"I had seen an installation that Derek had presented at the Art Basel Miami," she states, referring to the annual international art fair staged in multiple locations, among them Miami Beach, Florida. "It was a powerful experience, which placed festivalgoers in a very unfestivallike environment. I was also drawn to Derek's image-making process, the intense layering of canvas with what he calls 'humble materials.'
"His work has considerable conceptual depth and meaning regarding important issues such as identity, race and inequality – all relevant issues to St. Louis in particular, but truly relevant anywhere."
The CAM exhibition, which comprises two components, commences with a gallery of 24 portraits hung along the west wall of the museum's central Performance Space. Each measures roughly 2 by 2½ feet and depicts an athletically clad African American male.
Photographs make those portraits look like impasto, but that's scarcely the case. Closer examination reveals them to be complex collages involving cardboard, newsprint, tinfoil, acrylics, gouache, spray paint and extemporaneous scratchboard. From one square-inch to the next, their palettes range from pastel to neon; at once distressed and tranquil, they also abound with stripes, diamonds and, in the background, floral forms.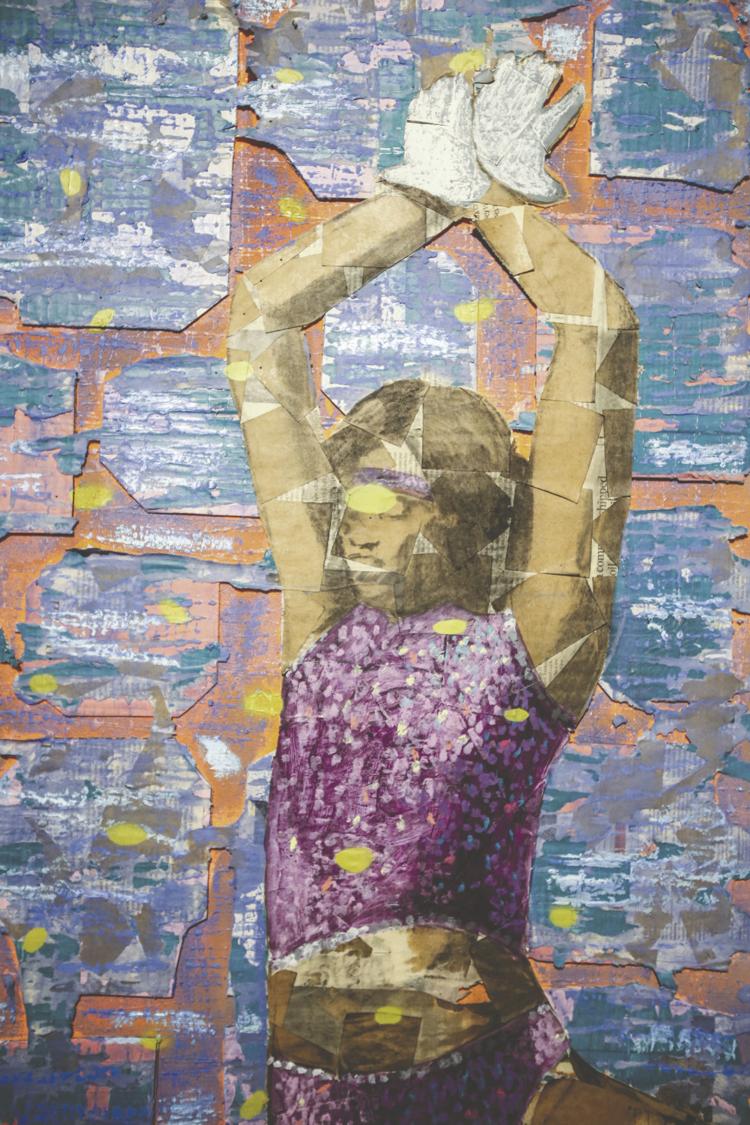 A CAM press release cites Fordjour's fondness for using "sports as a metaphor for reading the black experience in America" and mentions an ongoing investigation of today's sociopolitical "balance of power" and "a critique of the exploitation of the black body as an entertainment figure."
In that regard, all the subjects of those two dozen portraits appear in profile or three quarters – and all pose with their eyes resolutely closed, as though disavowing some sight beyond endurance.
"Derek's work subtly addresses themes relating to race, systemic inequality and aspiration, particularly in the context of American identity," Al-Khudhairi states. "The installation 'SHELTER' heightens visitors' awareness of their own temporal nature, the tenuous circumstances in which art is often made and the vulnerability of millions currently caught up in human migrations across the earth. As Derek has said, a shelter is not a home. All of these themes relate to social and political issues that are most critical in our region, our country and across the globe."
The second component of CAM's Fordjour exhibition involves a commissioned, site-specific multichamber construct just around the corner from the 24 portraits.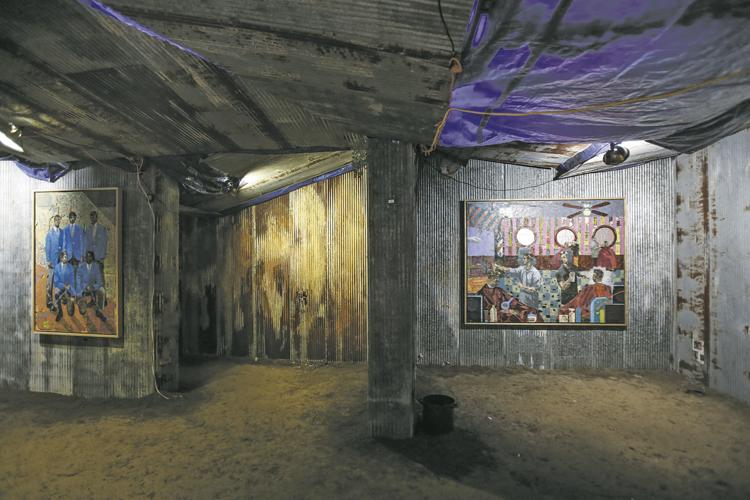 The construct's walls and ceiling comprise sheets of corroded corrugated tin or something similar; its floors, irregularly spread loam. An audio component greets visitors at the east-facing entrance: irregular percussion meant to mimic rain lashing that roof, interspersed every now and then with a clatter likely meant to evoke the rumble of thunder.
Just inside Fordjour's construct hangs a larger collage, measuring perhaps 2½ by 4 feet. To an extent, it recalls various works by René Magritte, among them The Son of Man, the famed 1964 painting by the Belgian surrealist. In the Fordjour construct, several dozen hat-clad men surround a thin red- and white-striped pole flying a small flag.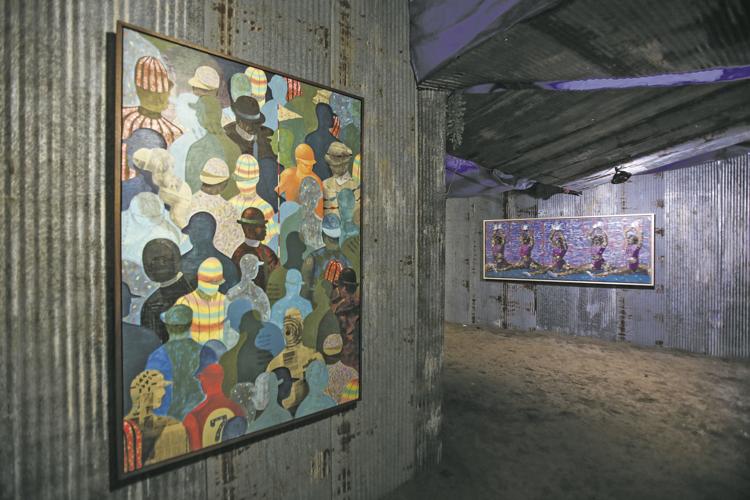 Other larger collages populate the construct's walls: a quintet of men in blue blazers, a white-uniformed naval officer with a large gold medal, two tailcoated lovelies, band majors bending backward, five violet-clad cheerleaders performing splits, a barbershop with a patron and a tonsorial artist in both the foreground and the background. The largest collage by far, a work the size of a formal dining room table, hangs on the south wall of the construct; it depicts four lanes of synchronized swimmers visually cut on the dexter by four lines of multicolored pennants.
Beyond the collages, rotating irregularly in the northwest chamber of the construct is an outré miniature Ferris wheel, hung with tiny incandescents and other bulbs as big as softballs. It lights at random and ticks like a metronome.
In the southwest corner, meanwhile, stands a statue made of something like molded asphalt, comprising two pairs of male busts arrayed right-side up to upside-down, incongruously topping the vertical horn of an antique phonograph.
Finally, extension cords snake through the roof and its accompanying blue sheeting, while cigarette butts, fallen leaves, a crushed aluminum can, an all-but-effaced playbill and general detritus decorate the construct, as do a few strategically placed plastic buckets. ("Plip!" goes a cunningly executed "leak" into one of those buckets.)
All in all, Fordjour's construct can quite thoroughly blitz one's sensorium.
"We work with artists in any way we can to manifest their vision," Al-Khudhairi states. "There was a lot of back and forth, from concept to completion, with Derek, with many variables changing for a host of reasons.
"The goal is to reach a finished product we are all happy with, and that is exactly what we achieved with 'SHELTER.'" 
Contemporary Art Museum St. Louis, 3750 Washington Blvd., St. Louis,
314-535-4660, camstl.org
Be the first to know
Get local news delivered to your inbox!