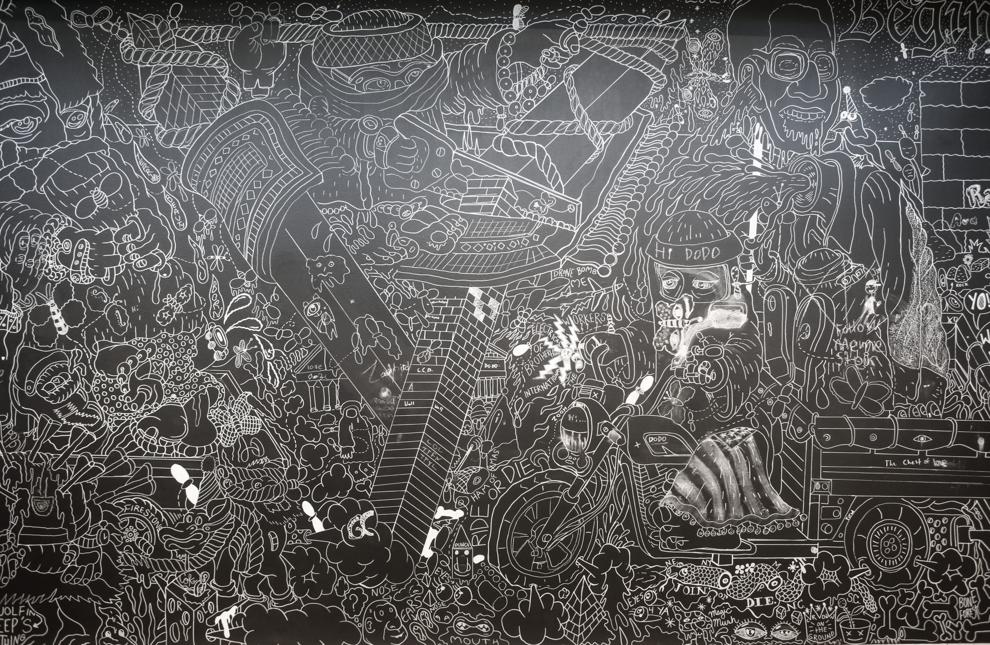 In such divisive times, few endeavors, artistically, can rival the unifying power of a mural, and COCA – known only to sticklers as the Center of Creative Arts – is even now hosting such an exercise in unification.
"Let Me Help You Make a Mural," which opened June 9 in that University City Loop facility, is curated by Yvonne Osei, transmedial artist and COCA's inaugural curator in residence, with Israeli-born, St. Louis-based artist Edo Rosenblith.
Osei, it bears noting, has lately been one busy lady, having won the Saint Louis Visionary Awards' 2018 Visionary Award for Emerging Artist in April and also having recently jetted back to the metro area from Paris, as well as preparing a solo exhibition titled "Who Discovers the Discoverer?" at Clayton's Bruno David Gallery starting Aug. 31.
In discussing the expansive mural, Osei first addresses what inspired it. "As a curator, my interest is to engage COCA's audience in fresh and unconventional ways, while finding opportunities for the visual arts to influence and be influenced by various aspects of the organization," she says.
"My aim for the exhibition is to nurture a visual experience that promotes 'active' engagement of the audience we serve. The inspiration was to create a hands-on experience for viewers and to hopefully encourage a deeper understanding and appreciation for the process of art making as they engage the artist.
"This community-collaborative exhibition was conceived to blur the boundaries of art making and art engagement."
Osei also explains the endeavor's title – specifically, whether she and COCA intend it to be interpreted as the artist extending an offer to the public or vice versa.
"'Let Me Help You Make a Mural' itself suggests a willingness to collaborate," she says. "The title purposely embraces ambiguity, as the exhibition develops through various visual interactions between the artist and the audience.
"One can think of the entire exhibition – the creation of the mural – as a process to be engaged in and not just a product to be viewed. Both Rosenblith and COCA's audience are constantly shifting and changing the visual narrative of the mural with the white marks they leave behind on the black Millstone Gallery walls."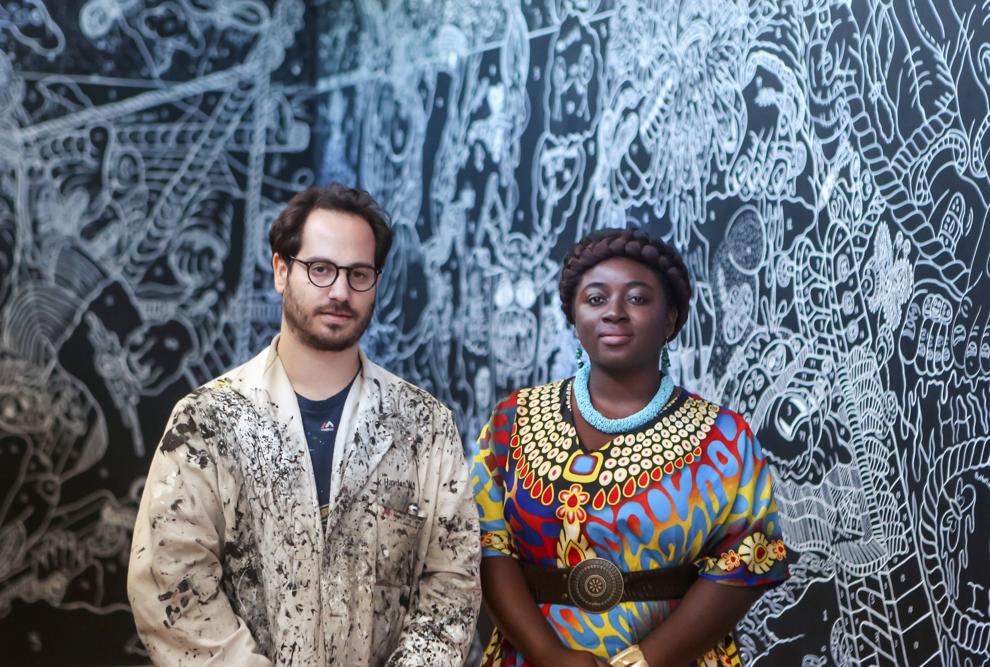 She also explains the factors that led to choosing Rosenblith as the "guide" for this work, as well as his duties as guide.
"I approached Edo Rosenblith for the solo exhibition in February," Osei relates. "I had been familiar with Rosenblith's work from Washington University, where we both pursued our MFA degrees." She commends him for his "ability to address various subject matters" across all ages and his willingness to tackle what Osei cites as Rosenblith's first community-collaborative creation.
Few strictures govern visitors' contributions to the endeavor, which covers a number of planar surfaces throughout the gallery, Osei adds. "Upon walking into the gallery space, Rosenblith has handwritten guidelines on the gallery wall that have three simple options for gallery visitors participating in making the mural," she says. Otherwise, within reasonable societal constraints, COCA welcomes all forms of content to "Let Me Help You Make a Mural."
Since its opening, moreover, the collective creation has enjoyed a good deal of attention, Osei remarks, coinciding, as it has, with the opening of certain physical renovations at COCA and its hugely popular summer arts camp. "All of this has provided high visibility for the exhibition," she says.
Osei also sketches how the mural has developed thus far. "The idea was to engage a wide range of individuals of various ages, levels and forms of creativity, as well as from diverse academic, social and cultural backgrounds," she says.
Various recent events, Osei continues, "brought in a lot of individuals ranging from board members, to staff members, to ballet dancers, to theater trainees, to summer camp children of all ages and so on, all who have participated in developing the mural in one way or another.
"Some of our summer campers are using the evolving mural as a form of sketchpad or journal. Other visitors have even approached the mural as a large coloring book, coloring away pockets of outlined drawings made by the artist. In many cases, Rosenblith reinforces, expands and blends in their ideas with permanent markers, making them a comprehensive part of the piece."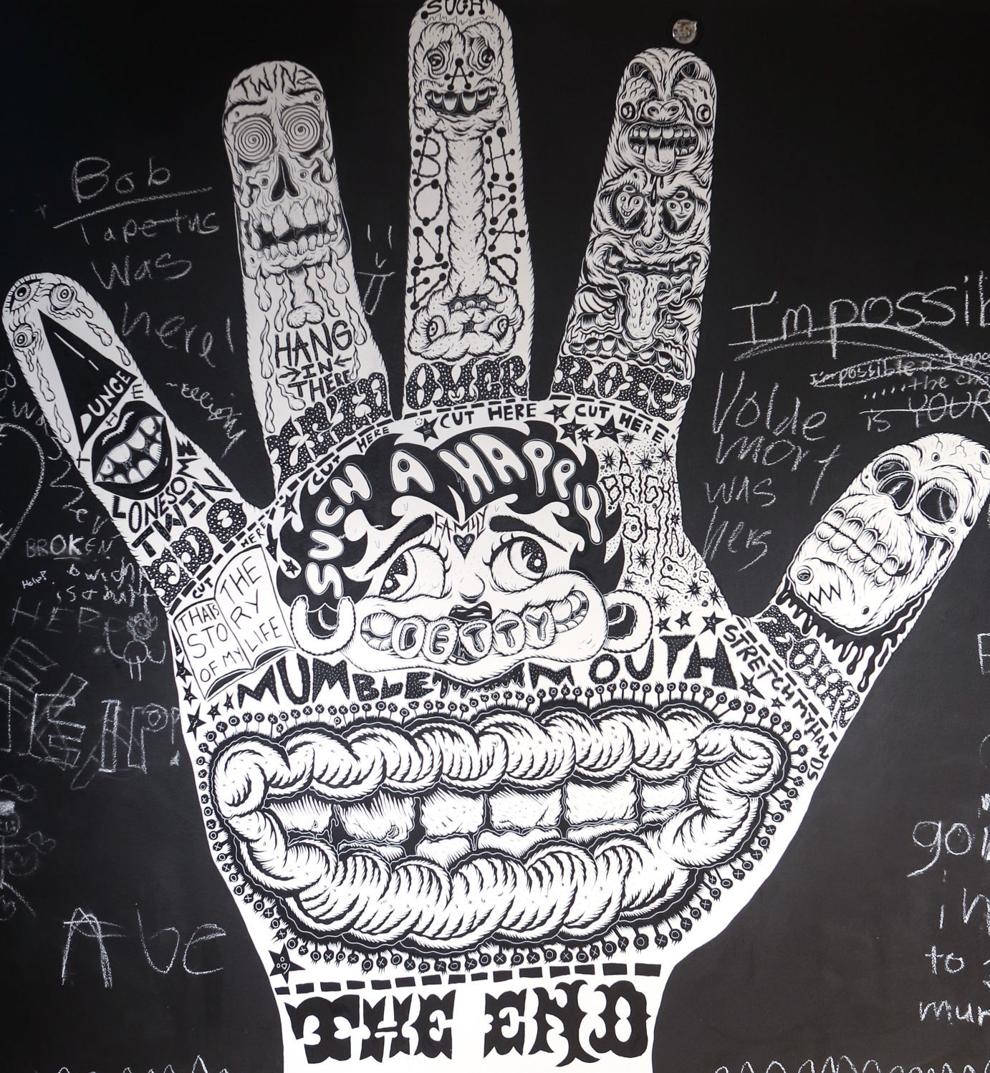 Also scheduled as part of "Let Me Help You Make a Mural" were two "drawing marathons" – the second set for Saturday, Aug. 4 – allowing visitors to draw alongside Rosenblith. "The events have been intentionally designed to foster meaningful collaboration between the artist and the community," Osei says. "And certainly, in the absence of the artist, gallery visitors can still contribute to the development of the mural during the open hours of the gallery until Aug. 26, when the exhibition closes."
After that date, Osei states that "the work will not exist physically but only through documentation. It was conceived as a temporary site-specific mural that develops from June 9 to Aug. 26, 2018.
"We invite the community to attend the Aug. 25 closing reception, which will show the culmination of visual expressions from both Edo Rosenblith and all community collaborators over the span of close to three months."
Finally – happily enough – Osei reassures art devotees about the robust memorialization of "Let Me Help You Make a Mural": "We have professional photographers documenting the process of the mural periodically."
COCA, 524 Trinity Ave., University City, 314-725-6555, cocastl.org