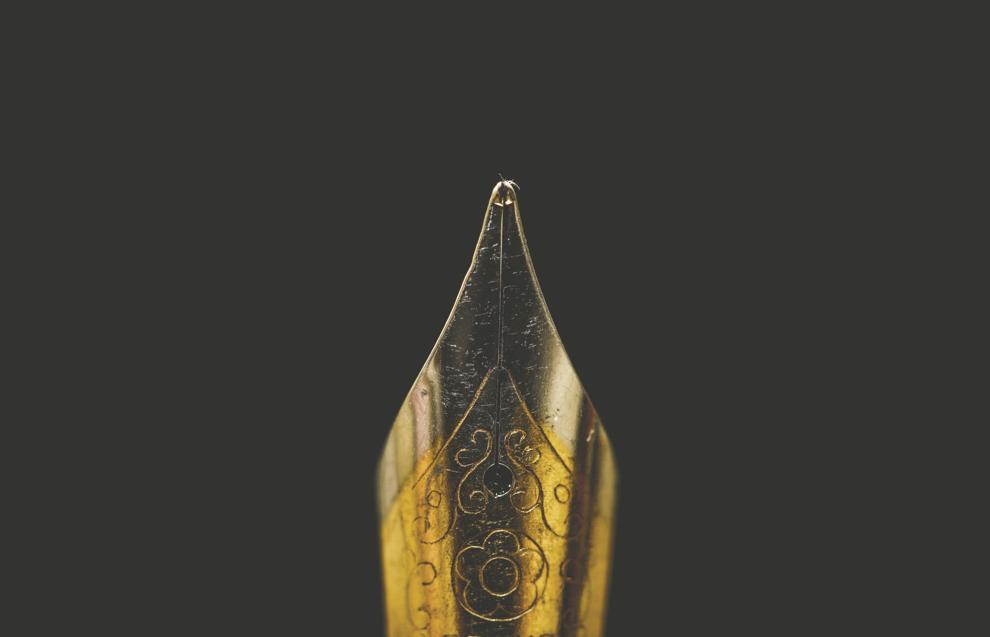 Devotees of the Fort Gondo Compound for the Arts poetry series, which ended less than three weeks past, can mitigate their mourning next month through a new, related initiative.
That new initiative, 100 Boots Poetry Series, launches Jan. 27 at the Pulitzer Arts Foundation and comes, in part, courtesy of Fort Gondo's former director.
Helming 100 Boots are Jessica Baran, both the Fort Gondo ex-director and a lecturer at Washington University's Sam Fox School of Design & Visual Arts, and Ted Mathys, an adjunct instructor in English at Saint Louis University. Baran and Mathys themselves both are poets, it bears noting.
The inaugural 100 Boots series will comprise Lyn Hejinian and St. Louisan Alison C. Rollins on Jan. 27; Rae Armantrout and Evie Shockley on March 3; and Kaveh Akbar and Anselm Berrigan on April 21.
Baran reflects on 100 Boots as an outgrowth of the five-year Fort Gondo series.
"The finest thing to emerge from the Gondo poetry series has been its community," she says. "Our hope with 100 Boots is that it will both encourage the growth of this rich local public of artists and poets and maintain a space for it to gather."
Similarly, Baran sketches the final fate of Fort Gondo and differentiates between the two series.
"The two Cherokee Street galleries that comprise Fort Gondo will indeed close, though the nonprofit entity itself – which a little over a year ago extended to include the Granite City Art and Design District in Granite City, Illinois – will continue at G-CADD," says Baran. "So all programs – exhibitions, poetry and otherwise – at this important, 14-year-old alternative South City art space will cease at year's end.
"100 Boots is, really, an entirely new series. Hosting it at the Pulitzer in and of itself changes the physical environment, neighborhood dynamic and institutional culture in which the series is situated, and our collaborators – from WORK/PLAY, the enormously talented artists Danielle and Kevin McCoy, who will be designing our broadsides, to the Pulitzer staff itself – come with fresh and exciting insights into how the series can be shaped."
Baran's collaborator expands on the formation of 100 Boots.
"There was a healthy confluence of events and people," Mathys says. "The poetry series at Fort Gondo was in its final season, and we had been discussing how we could run a series elsewhere that would continue the feisty, inclusive spirit of our current series.
"At the same time, Pulitzer Arts Foundation has hosted some dynamite poetry readings in the past, and their embrace of community, diversity and the intersections between language and art appealed to us. Several great people at Pulitzer Arts Foundation were regular friends of the Fort Gondo series, including Kristin Fleischmann Brewer, director of public projects and engagement; Philip Matthews, former assistant curator of public projects; and Justin Phillip Reed, public engagement coordinator.
"The collaboration made sense to all."
Helpfully, Mathys also explains the new series' curious name – that is, whence 100 Boots?
"We wanted a series title with some teeth and one that would call together a diverse community under the banner of poetry and art," he says. "We also threw an element of chance into the mix, researching titles of art pieces, performances, works of avant-garde literature and so forth.
"The 100 Boots title references a piece by artist Eleanor Antin in which pairs of boots were arranged and documented in different public spaces. For the poetry series, we love this notion of creating art from the possibility of public assembly. Incidentally, Antin's partner, the late David Antin, was a poet."
The peculiar temporal patterning of the first 100 Boots series – Jan. 27 for the first event, followed five weeks later by the second, followed six weeks after that by the third – Mathys attributes to "total chance and coordination of various schedules," citing "the various other series in town and the Pulitzer's exhibition schedule and other public programs."
Baran and Mathys in tandem developed the list of participants in the first 100 Boots series, with the latter adding that they "benefited from additional suggestions during early meetings with the Pulitzer staff [mentioned previously]."
Various criteria informed the choices for the first series.
"Programming a reading series is an art, not a science," says Mathys. "Our list of poets that hadn't already read at Fort Gondo and that we'd be delighted to have read in 100 Boots quickly grew to over 50 the moment we sat down.
"Obviously, travel schedules, teaching schedules, book publication schedules, reading schedules and family demands fluctuate wildly. So our pairings shifted around. But in the swirl, the things we were really looking for with the series were to feature poets of the very highest caliber; embrace a diversity of poets from different cultural backgrounds, geographic regions and stages of their careers; tap into the rich literary culture and history of St. Louis and the Midwest; and make the readings welcoming and effervescent events.
"Our readers in this first season reflect those choices."
So what, in particular, inspired the choice of Hejinian and Rollins as the first two 100 Boots poets?
"Alison is a hugely talented poet from St. Louis, whose work is fierce and excellent and whose star is quickly rising in American poetry," Mathys relates, speaking for himself and for Baran. "We're lucky to have her in town, and she made obvious sense to us.
"Lyn Hejinian is a hero for both of us and for many in the poetry world. Her landmark book My Life should be required reading, and her critical work in pieces like 'The Rejection of Closure' has had a major influence on the way that many think about the social stakes of writing poems."
Finally, Mathys reflects on the timing of a potential 100 Boots second series – in a manner of speaking, collecting the change to keep feeding the meter.
"If it makes sense for all to continue after these first readings," he tacitly urges local poetry devotees, "a fall series of readings in 2017 would be ideal."
100 Boots Poetry Series, pulitzerarts.org/series/100-boots-poetry-series
'The First That Ever Burst'
During the workweek, Alison C. Rollins serves as a librarian at Webster Groves' historic Nerinx Hall, but she otherwise ranks as a young poet of breathtaking power.
Among other credentials, during the past year Rollins published multiple pieces of work in Poetry – perhaps the preeminent modern journal devoted to verse, founded in Chicago in 1912 by Harriet Monroe – including the electrifying "Why Is We Americans" from the June edition.
As a poet, to borrow a phrase from "The Rime of the Ancient Mariner" by Samuel Taylor Coleridge, Collins will number among "the first that ever burst" in less than a month, as half of the initial pair of participants in the new 100 Boots Poetry Series on Jan. 27 at the Pulitzer Arts Foundation.
"I am humbled and excited as a local poet who's originally from St. Louis," Rollins confesses. "In January, I'm reading alongside Lyn Hejinian, who I first met doing an undergraduate summer research program (Summer Research Opportunity Program) at [University of California] Berkeley. It will be incredible to reconnect with her in my hometown and to also have the opportunity to read alongside such a pivotal force in poetry."
Rollins similarly mentions connections to poets appearing later in the series, noting that she met and worked with Evie Shockley (who will take part in 100 Boots on March 3) last summer during a fellowship with the nonprofit literary service organization Cave Canem. She also recently read with Kaveh Akbar (who will take part in 100 Boots on April 21) in Newark, New Jersey, at the Dodge Poetry Festival. "We are both 2016 recipients of the Poetry Foundation's Ruth Lilly and Dorothy Sargent Rosenberg Fellowship," she adds of Akbar.
"On a variety of personal and professional levels," Rollins concludes, "I'm looking forward to the series and having all of these poets share their work with the St. Louis community."