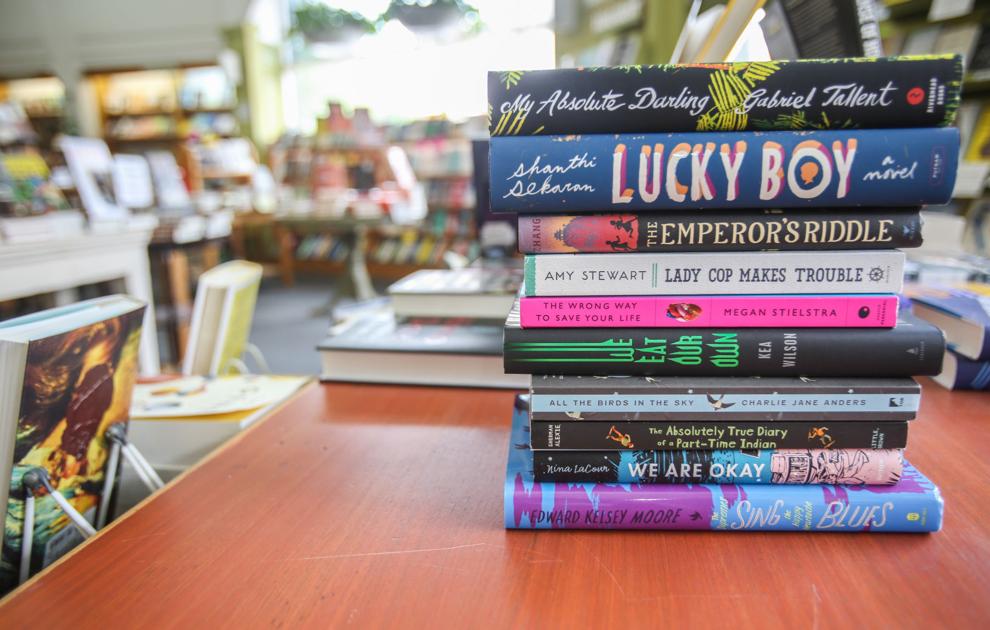 Although one of our most wearisome bromides cautions against judging a book by its cover, the number and variety of metaphoric covers involved in a literary festival soon making its debut here should boggle area bibliophiles' minds.
With the exception of two antecedent events, BookFest St. Louis, the festival in question, runs from 10:30 a.m. to 9 p.m. on Sat., Sept. 23, at various venues in St. Louis' Central West End neighborhood – and, almost dizzyingly, involves nearly four dozen authors of local, regional or national renown.
"The Central West End has such a rich literary legacy and is also home to so many creative individuals contributing to the contemporary arts through writing, art and music today," says Kate Haher, who serves as executive director of the CWE North Community Improvement District, which is sponsoring the event with the city's revered Left Bank Books and the Left Bank Books Foundation.
"BookFest St. Louis speaks to the neighborhood's history and charm and provides an opportunity for many to come explore the CWE," she says. "We're excited to provide a backdrop for what we hope will become a signature arts-and-culture event for our city."
The predominantly free public festival mostly takes place near the neighborhood's famed Writer's Corner at McPherson and Euclid avenues, where busts of St. Louis literary lions Kate Chopin, T.S. Eliot and Tennessee Williams (to be joined at some point by William S. Burroughs) eye the streetscape. The event boasts a roster literally ranging from A (Sherman Alexie) to Z (Kat Zhang).
You read that right. Sherman Alexie, the acclaimed Native American – who shot to prominence two decades ago with The Lone Ranger and Tonto Fistfight in Heaven and who has since won multiple awards, explored multiple genres and graced the lists of multiple major publishers – will deliver the festival's keynote address and otherwise bolster the bibliomaniacal bonanza.
Left Bank's website sketches the parameters of that bonanza, which includes not only "[f]amily-friendly programming for children and middle readers" but also "panels highlighting the best of contemporary literary fiction, mystery, poetry, memoir, science fiction, young adult fiction and history." The website adds that attendees can "purchase books, listen to live music and visit booths hosted by other St. Louis arts and literary institutions."
In particular, the festival features an impressive science fiction contingent. More specifically, Charlie Jane Anders, one member of that contingent, just won the 2017 Nebula Award, arguably the field's highest honor, for her novel All the Birds in the Sky, and St. Louisan Ann Leckie previously landed that laurel and several more for her 2013 novelistic debut, Ancillary Justice.
The festival similarly concludes with a burst of verse-related verve, as a dozen poets celebrate the centennial of Eliot's Prufrock and Other Observations (commemorated in the June 16 Ladue News) and related works.
"We wanted to produce an event that is unique to the area, celebrates the neighborhood's literary history and has the ability to grow over time," Haher says regarding the festival's conception. "With the help and expertise from the team at Left Bank Books, the vision for the festival came together and has taken on a much bigger and more national scope. Certainly, we always hoped to be able to bring in authors of keynote Sherman Alexie's caliber, but [Left Bank staffers'] tireless efforts really helped turn that dream into a BookFest St. Louis reality."
Haher adds that planning for the festival started early last year and perforce accelerated early this year – with certain felicities still to be formalized. "Readers can look forward to details about the vendors planned for our festival zone," she teases, "plus an exciting announcement about a long-awaited public art installation, coming to our website soon."
Haher also touches on the potential logistical complexities of organizing a festival involving so many authors. "With any new event, you want to make sure you explore ideas and opportunities as they come while also staying committed to your core vision," she says. "We want to grow the book festival in a thoughtful way so that it is an event people can look forward to for years to come."
When asked which feature of the festival she personally most anticipates, Haher waffles a bit before replying: "That's a hard question to answer – the schedule for this event is packed with so many great panels and individual events. The team at Left Bank Books has put together some really interesting author events, including a special high tea at Mary Ann's Tea Room with best-selling mystery author Amy Stewart.
"Stewart will discuss and sign copies of her newest book, Miss Kopp's Midnight Confessions … I think this just sounds like such a fun event, for book clubs, for mothers and daughters, for anyone who loves historical fiction and/or lighthearted detective novels."
In sum, figuratively speaking, for bibliophiles throughout the area, the inaugural BookFest St. Louis promises to be a page-turner beyond compare.
BookFest St. Louis Schedule
The schedule for the first BookFest St. Louis follows in brief, with more details and updates available on the festival's website.
6 to 8:30 p.m. | Reception: Mary Engelbreit From the Archives | St. Louis Public Library – Schlafly Branch
7 to 9 p.m. | An Evening With Sherman Alexie (ticketed keynote address, limited seating) | The Sheldon Concert Hall & Art Galleries
10:30 to 11:30 a.m. | Children's Storytime | Ann Ingalls, Shelley Michael | St. Louis Public Library – Schlafly Branch
11:30 a.m. to 12:30 p.m. | Middle Readers Meet & Greet | Trenton Lee Stewart, Kat Zhang | St. Louis Public Library – Schlafly Branch
Noon to 1 p.m. | Young Adult Panel | Sherman Alexie, Zac Brewer, Nina LaCour | The McPherson
12:30 to 1:30 p.m. | Jane Ellen Ibur | 510 N. Euclid
2 to 3 p.m. | Literary Fiction Panel I | Alex George, Edward Kelsey Moore, Robin Sloan | The McPherson
2 to 3 p.m. | Weird Fiction Panel | Leyna Krow, Kea Wilson, Chavisa Woods | 510 N. Euclid
2 to 3 p.m. | Megan Stielstra | The Vino Gallery
3 to 4 p.m. | Michael Kahn | Brennan's
3:30 to 4:30 p.m. | Literary Fiction Panel II | Shanthi Sekaran, Gabriel Tallent, Whitney Terrell | The McPherson
3:30 to 4:30 p.m. | Memoir Panel | Anne Edelstein, Kathleen Finneran, George Hodgman | 510 N. Euclid
4 to 5 p.m. | Peter Hernon | Gamlin Whiskey House
5 to 6 p.m. | Miss Kopp's High Tea With Amy Stewart (ticketed) Mary Ann's Tea Room
5 to 6 p.m. | Science Fiction Panel | Charlie Jane Anders, Ann Leckie, Annalee Newitz, Mark Tiedemann | The McPherson
5 to 6 p.m. | Poetry Panel | Tongo Eisen-Martin, Alison C. Rollins, Treasure Shields Redmond, Roger Reeves | 510 N. Euclid
7 to 8 p.m. | A Special Trust: Remembering Patricia & Fred McKissack | Left Bank Books
8 to 9 p.m. | Prufrock and Other Observations | Jessica Baran, Mary Jo Bang, Katryn Dierksen, Cheeraz Gorman, Eileen G'Sell, Jane Ellen Ibur, Ted Mathys, Alison C. Rollins, Steve Schreiner, Shane Seely, M.K. Stallings, J.R. Tappenden | Dressel's Pub