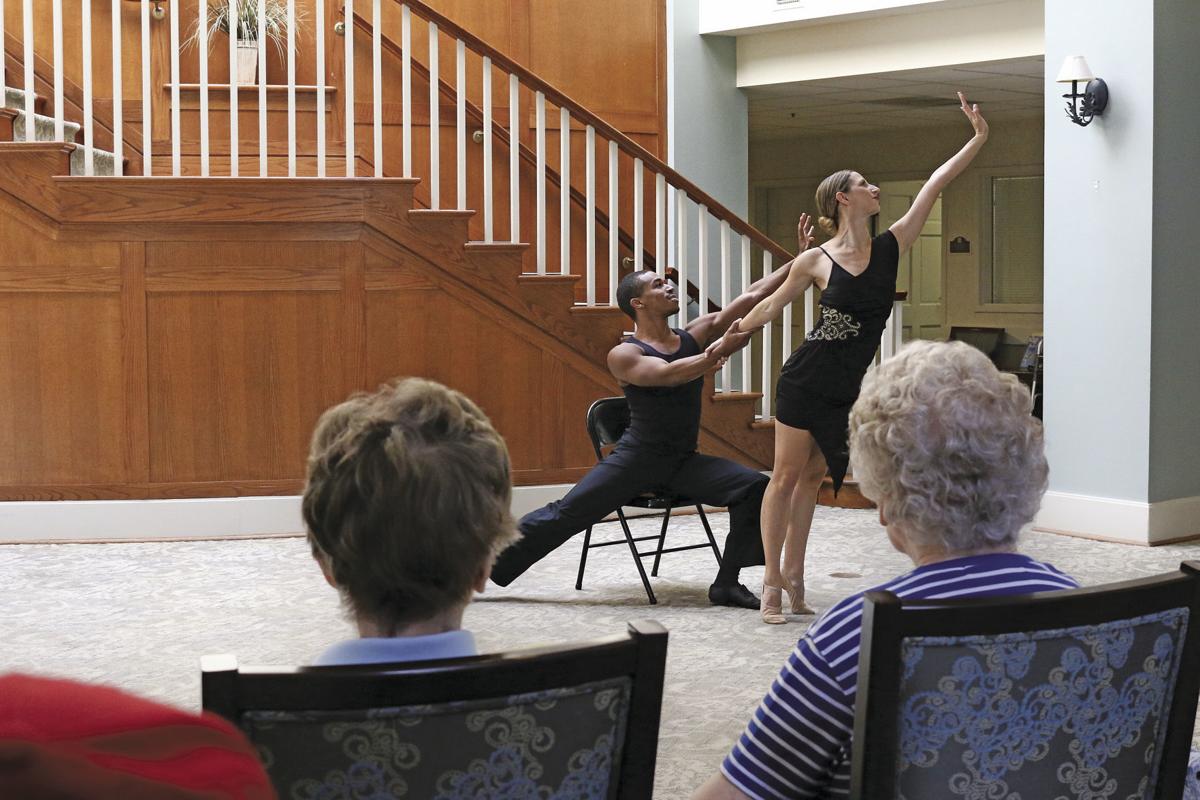 Retirement homes in the metro area have become performance venues for The Big Muddy Dance Company.
In these unique spaces – an activities center, dining area or spacious living room – it's not uncommon to face an audience with heads down, eyes closed or emotionless expressions, says Erin Warner Prange, the company's executive director. But once the music kicks on, the energy in the room tends to change.
Warner Prange recalls a World War II veteran with dementia sitting in the audience recently. He watched, seemingly uninterested at first, while dancers leapt, chasséd and twirled around the room. The dancers wore khaki-brown military uniforms and '40s-style dresses, and the music reflected the time period, with songs like "Boogie Woogie Bugle Boy" filling the room. Warner Prange says she remembers the veteran's head lifting, his eyes engaging, and by the end of the performance, he was smiling, clapping and singing along.
"Afterward, when the dancers came out and talked to everyone, he started telling war stories – not traumatic ones – but stories about when he got to go home and see his family, and then when the war ended, how excited everyone was," she says. "It just got him talking."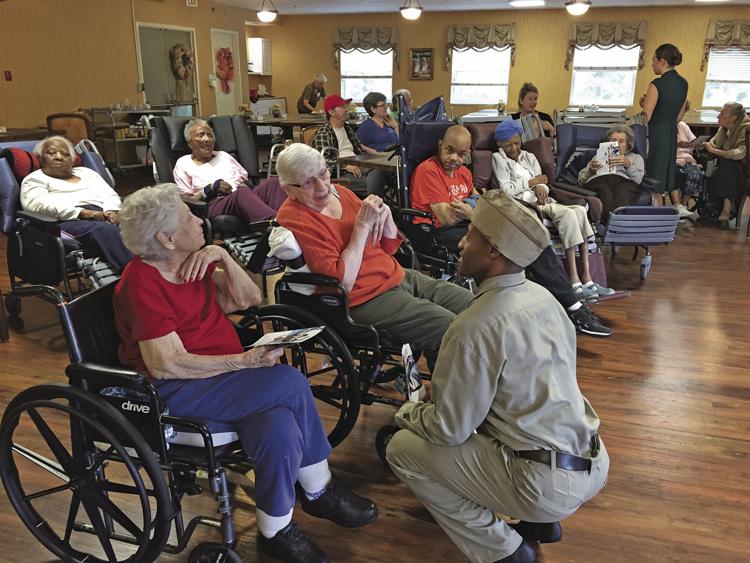 The Big Muddy's Senior Embrace Program has been orchestrating these outreach performances since 2012 with a goal to visit 30 homes each season. This 2019-20 season, however, marks the first season of officially implementing the program's movement workshop for dementia patients and training initiative for staff in memory care facilities. It all goes back to the company's mission to "invigorate life through dance."
"For someone who is struggling with quality of life and who is either physically or mentally unable to go out to see public performing arts, this is a chance for them to experience that right where they are," Warner Prange says.
Warner Prange says the program has been evolving since it began. At first, bringing professional-quality performances from the stage to senior facilities was the main goal, but it didn't take long to realize the company could do more. Since 2013, The Big Muddy Dance Company has worked with Saint Louis University, University of Missouri-St. Louis and Washington University in St. Louis to discover how the program could better help seniors experiencing cognitive decline.
"We would dance for the seniors, and then we would be able to talk with them, but they weren't really getting up and moving themselves," Warner Prange says. "A lot of the units that we would go in and dance for were the memory care units, and so we started to see another gap that we thought we could fill in terms of using dance as a form of movement therapy for seniors with Alzheimer's disease or any form of dementia."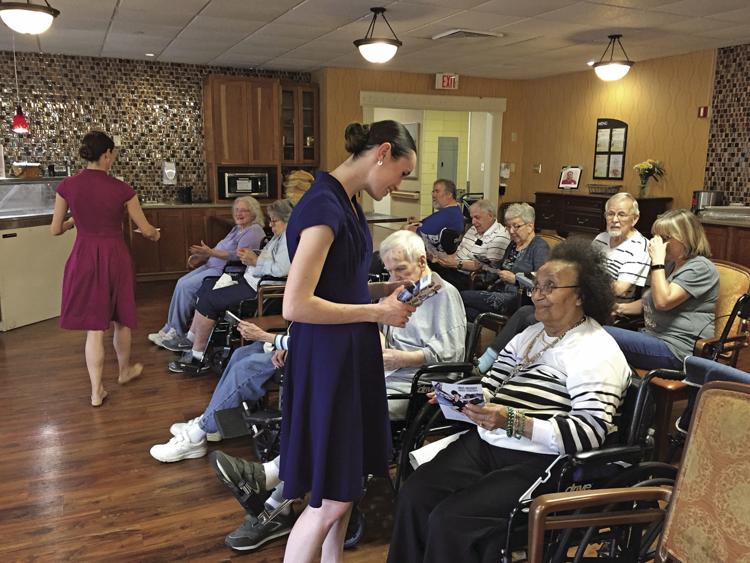 The Alzheimer's Association, incidentally, includes dance and movement therapy in its suggested activities for individuals with dementia. According to the American Dance Therapy Association, this type of therapy "uniquely addresses the needs of adults with Alzheimer's disease and dementia by relying on movement and other nonverbal behavior as the primary means of communicating and connecting."
"Interacting in this manner de-emphasizes verbal language skills and cognitive deficits and allows persons with Alzheimer's disease and other dementias to participate in the group from a place of ability, rather than disability," the association's website states. "The motor action often sparks memories from the past, which in turn helps confused individuals become more alert and organized."
Through connections with the Alzheimer's Association and metro area universities, Big Muddy members became educated on how to interact with seniors who have dementia, thereby preparing them to lead movement workshops.
During the 2019 spring semester, the company partnered with a group of doctorate and master's occupational therapy students at Washington University in St. Louis to develop dance and movement training for caretakers. Maggie Fleita, one of those students, who is now pursuing a doctorate, says the team saw a need to empower caretakers to continue dance and movement therapy after Big Muddy leaves.
"As you're educating people on the importance of dance and the arts … I think that in order to best convey that to a group of other health care professionals, it does so much coming from someone who actually practices that craft," Fleita says. "Our role was to give Big Muddy the tools to be able to [implement that training]."
Dolan Memory Care Homes in the metro area is the first organization to participate in the company's four-part workshop and training. Sandi Antalick, the homes' activities director, says the dancers have visited to perform a few times prior to this season and always leave the residents and staff wanting more: "'Can we have them every day?'" they ask. "'When are they coming back?'"
"They're not just performing," Antalick says. "They're engaging."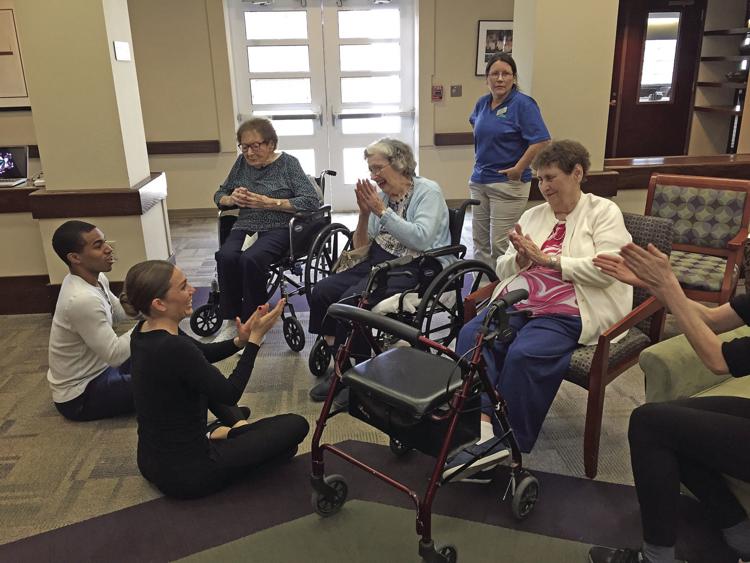 Antalick says she was impressed by how the workshop got the residents moving, and despite varying degrees of cognitive decline, each participant did well to keep up with the dance leaders' instructions.
"I think the other thing that I'm really impressed with is the dancers' warmness toward the residents," Antalick adds. "They'll bend down, they'll talk to the residents, and they'll ask questions … When I see the residents smiling because they're out there talking, that's what I'm looking for."
Warner Prange says the performances, workshop and training come at no cost to the homes thanks to sponsors, including the Missouri Arts Council, Regional Arts Commission of St. Louis, Sign of the Arrow, Safety National, Edward Jones and Centene Charitable Foundation.
Stephanie Vonarx, assistant activities director for Dolan Memory Care Homes, says the staff training will help plan more engaging activities in the future that better incorporate movement. She emphasizes that the staff already has seen benefits of the company's in-house performances by the way residents watch "in awe" and often show mood improvement after the dancers leave. In one instance, Vonarx remembers a resident arriving at a performance agitated, but by the end, she stood to applaud with giddy enthusiasm.
Warner Prange says it's difficult to quantify the program's impact, though The Big Muddy is trying, but numerous testimonies like these seem to prove it's on a path to success. 
Be the first to know
Get local news delivered to your inbox!