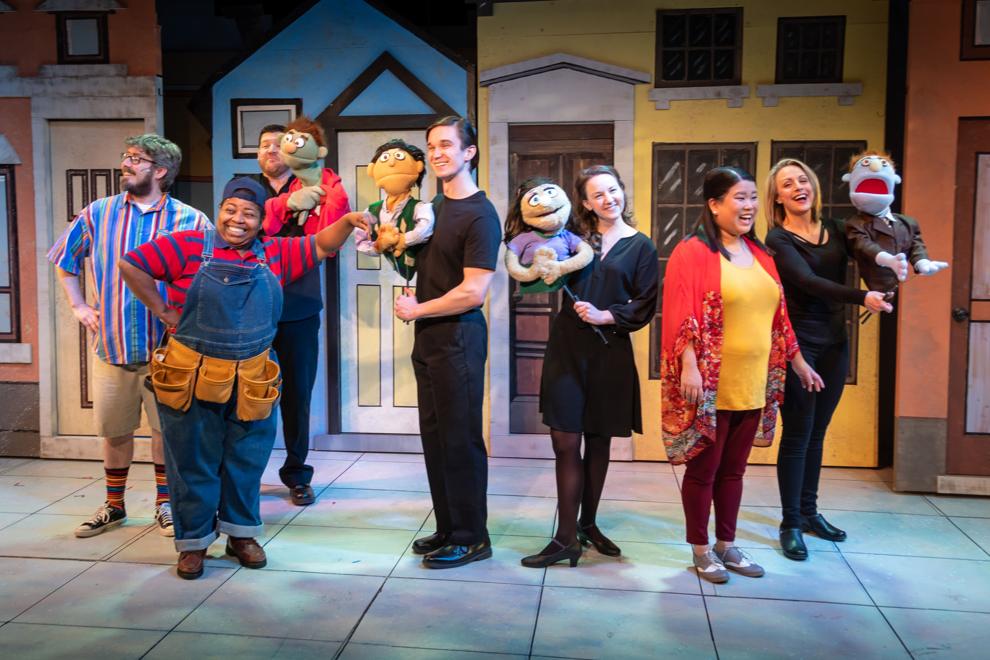 Story: Princeton has arrived in New York City with enthusiasm and a degree in English literature but very little money. Bolstered by a tiny stipend from his parents, he looks for lodgings in Gotham beginning at Avenue A, finally finding something in his price range all the way down on Avenue Q.
It's a nice enough area and Princeton is quickly introduced to several of his new neighbors. There's Brian, a wannabe stand-up comedian who recently lost his day job. Brian's fiancee Christmas Eve is a Japanese immigrant with two master's degrees and a certification for counseling, lacking only clients.
Former child TV star Gary Coleman is the landlord and superintendent of the cozy apartments, eager to fill a vacancy with Princeton and his first month's rent. Next-door neighbor Kate the Monster is a kindergarten teaching assistant yearning to open her own school for monsters, while the reclusive Trekkie Monster surfs the web daily for his porn fix.
Rod is a stuffy Republican banker with a big secret and Nicky is his slovenly roommate, who suspects that Rod is gay but is happy no matter what just being his friend. A pair of "Bad Idea Bears" are only too pleased to lead Princeton into a series of bad decisions, and then there's Lucy the Slut, a sexy chanteuse with a penchant for easily pliable men.
While worried about finding his 'purpose' in life, Princeton begins a sweet courtship with the unattached Kate the Monster, who is smitten by the new guy in town. Can the two of them find mutual happiness and make their way into the scary world of adulthood with some reasonable chance of success?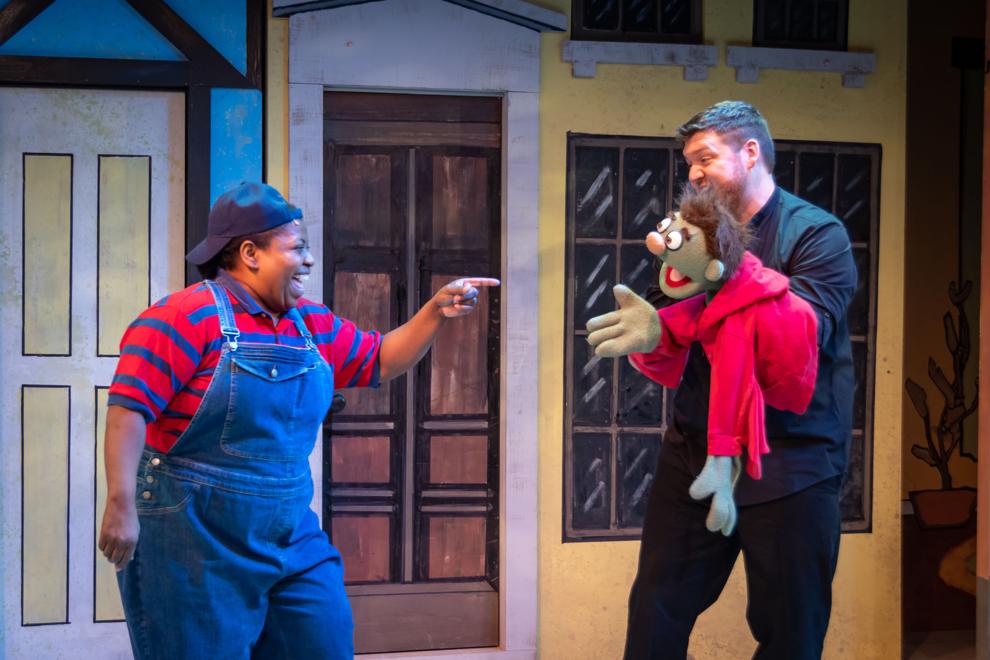 Highlights: A blend of national and local talent brings zest, exquisite precision and rampant enthusiasm to this delightful version of the Tony Award-winning musical melange of puppeteered optimism at its finest to the Playhouse at Westport Plaza.
Other Info: The septet of players, four of whom operate myriad colorful Muppet-style puppets, deliver a fun-filled two acts in just over two hours in this brisk, bright version directed in lively style by Lee Anne Mathews. She and her cast make the most of the ample doorways designed by Dunsi Dai, which allow quick and easy entrances and exits for the players on this brightly-hued stage.
Dai's title street is a cardboard-style motif as economical as the budgets of its inhabitants, enhanced by the illumination in Michael Sullivan's lighting design. Rissa Crozier adds the funky costumes for the 'human' characters and Val Kozlenko's video design provides an amusing complement of images for the goings-on below, such as a humorous medical chart for Lucy the Slut or the realization in Princeton's mind of what Kate expects in their relationship.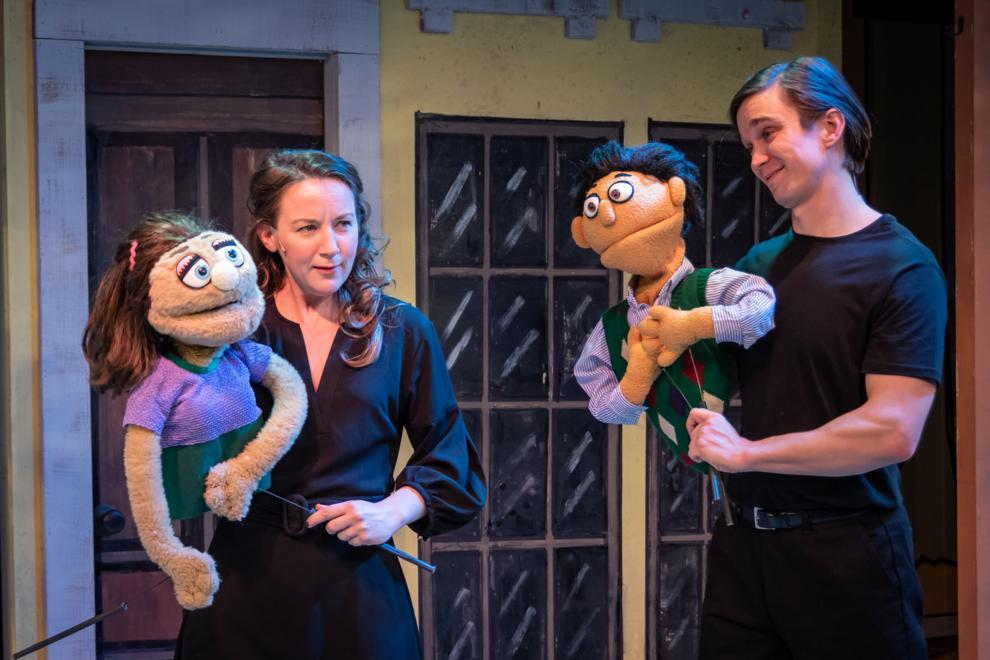 Heed the warning that this show is NOT for children because of its ribald subject matter and some visually graphic sexual situations between some of its furry characters. For the adults, the double entendres and sometimes explicit sexual dialogue provide many of the comedy's funniest moments.
Avenue Q won Tony Awards in 2004 for Best Musical, Best Book and Best Score for composers/lyricists Robert Lopez and Jeff Marx and writer Jeff Whitty. It opened Off-Broadway in 2003, moved to Broadway later that year and ran on the Great White Way until 2009, when it moved back to Off-Broadway. It's still running today, scheduled to close in late April.
It's had two national touring productions, but because it's a 'small' show I actually found it more enjoyable at the intimate Playhouse at Westport Plaza than previous editions at The Fox. Despite the minuscule stage, choreographer Ben Nordstrom elicits smooth, fluid and graceful performances from the cast, all the more impressive as several of them manipulate those personable puppets conceived and designed by Rick Lyon.
Charlie Mueller ably serves as musical director, with sprightly orchestrations and inventive arrangements by Stephen Oremus.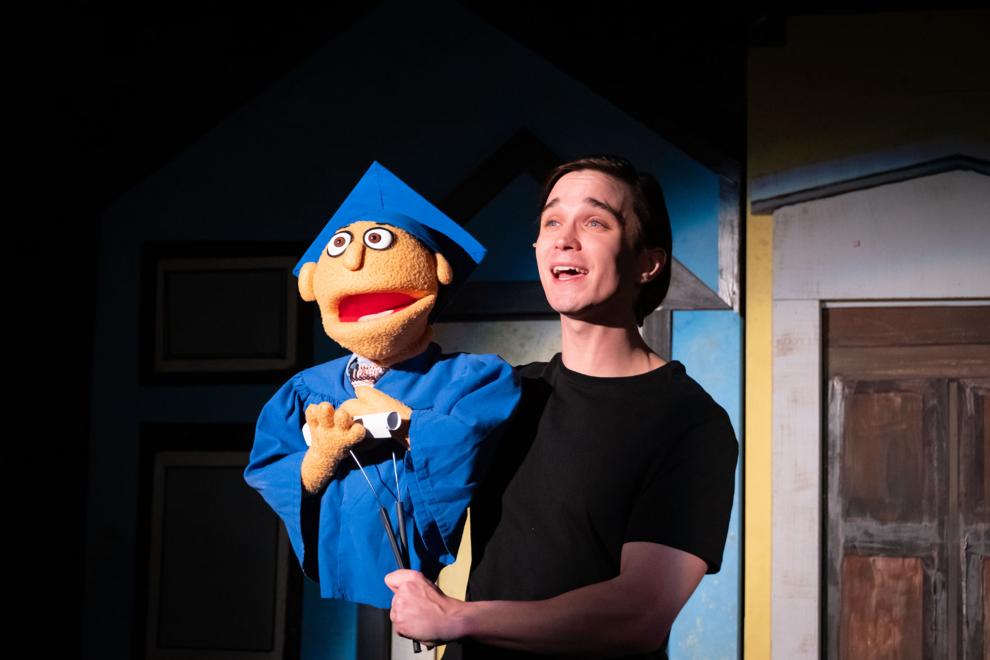 As for the cast, each one has her/his turn to sparkle in the spotlight and does so with flair and pizzazz. The engaging and enthusiastic ensemble includes Andrew Keeler as Princeton/Rod, Brett Ambler as Brian and Illeana Kirven as the adult Gary Coleman, albeit still as impish as ever.
Local favorites Jennifer Theby-Quinn, Grace Langford, Kevin O'Brien and April Strelinger shine in their roles as Kate the Monster, Christmas Eve and the Bad Idea Bears, respectively. Theby-Quinn impressively voices not only Kate but also Lucy the Slut, even when Strelinger is pulling the strings on the latter. O'Brien provides a booming voice for Trekkie Monster and also portrays Nicky, while Strelinger adds the bombastic voice of Kate's domineering boss, Mrs. Thistletwat.
Entertaining songs are abundant, such as It Sucks to Be Me, Everyone's a Little Bit Racist and If You Were Gay. Avenue Q is not even close to being politically correct, so is likely to offend people on both ends of the political spectrum. For the majority in the middle, though, Avenue Q is quite a fun place to visit.
Company: Emery Entertainment
Venue: The Playhouse at Westport Plaza
Dates: Wednesdays through Sundays through March 3
Tickets: $50-$75; contact metrotix.com, 534-1111 or at box office one hour prior to show; $20 tickets available one hour prior to show for patrons with valid student or military ID
Rating: A 4 on a scale of 1-to-5.