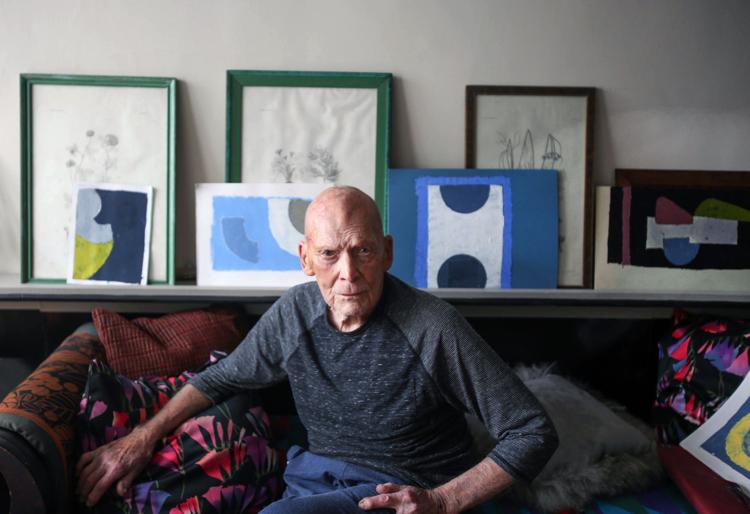 Interviewing local artist Leslie Laskey, frankly, prompts a degree of trepidation verging on terror.
That feeling in no way stems from any personal failing of Laskey, a professor emeritus of architecture at Washington University in St. Louis.
Rather, it arises from the suspicion that the 96-year-old landmark with legs has seen and done more than any four men half his age – and the realization that he remains quite vital and creative despite having been born, in southwestern Michigan, before the Great Depression.
With a well-fed Australian Cattle Dog named Louie – "the boss of the house," the home's supposed owner remarks with a small smile – Laskey occupies a stately Central West End brownstone whose entrance two small obelisks flank and whose exterior northeastern wall bears a bust of Marcus Junius Brutus the Younger (he of infamous "Et tu, Brute?" fame from Shakespeare's Julius Caesar).
After the better part of four diversified decades at Washington University, Laskey, hilariously, reduces his métier, simply, to "basic design. I taught – I painted, did sculpture, woodcuts."
Of his ongoing work, Laskey (with tongue perhaps a bit in cheek) confesses, "I've been painting at least 50 years, and so I know a little bit about it. I do a lot of discovery in what I do. I like to paint. I like doing collage. I like working at a small scale, and I also like working large."
Aptly, at the time of the interview, Clayton's Bruno David Gallery was spotlighting an exhibition of Laskey's recent work – incredibly, his ninth such in that showcase – entitled "Duets." Just as aptly, the exhibition, which opened on Jan. 12, closed on the 18th of February – the second month of the year, as well as the one containing Valentine's Day, the annual celebration of couples.
"I find a rhythm, and then I let it take me where I'm going," says Laskey of his conceptual process, his hands swooping and fluttering like mating avians as he does so. "I listen to it. It's like the 'Duets.' I would start with an area, and I find out how much room I have.
"And then I find out, well, what am I going to do in this room? And when we're talking about duets, I find the magic of two or finding out what two are. So I have multiple images, then two of them match. There's always a puzzle."
An enormous puzzle – albeit a pleasant puzzle – surrounds the fact that Laskey even survived to find such rhythms and ensorcell local art aficionados with them.
More specifically, as a member of the U.S. armed forces during World War II, Laskey took part in D-Day, the historic June 6, 1944, amphibious start of the Allied invasion of Normandy, France.
Beyond being equipped with weapons and other gear as a combatant, Laskey relates that he served a supplemental function in that historic assault. "I was taking photographs, and I lost my cameras in the invasion," he recollects. "A halftrack pulled the straps of my cameras, and I dropped them right off the beach. … "
Had the straps held, Laskey continues, the military vehicle's back continuous track likely would have harmed or even killed the extemporaneous cameraman – literally embedding him in Omaha Beach.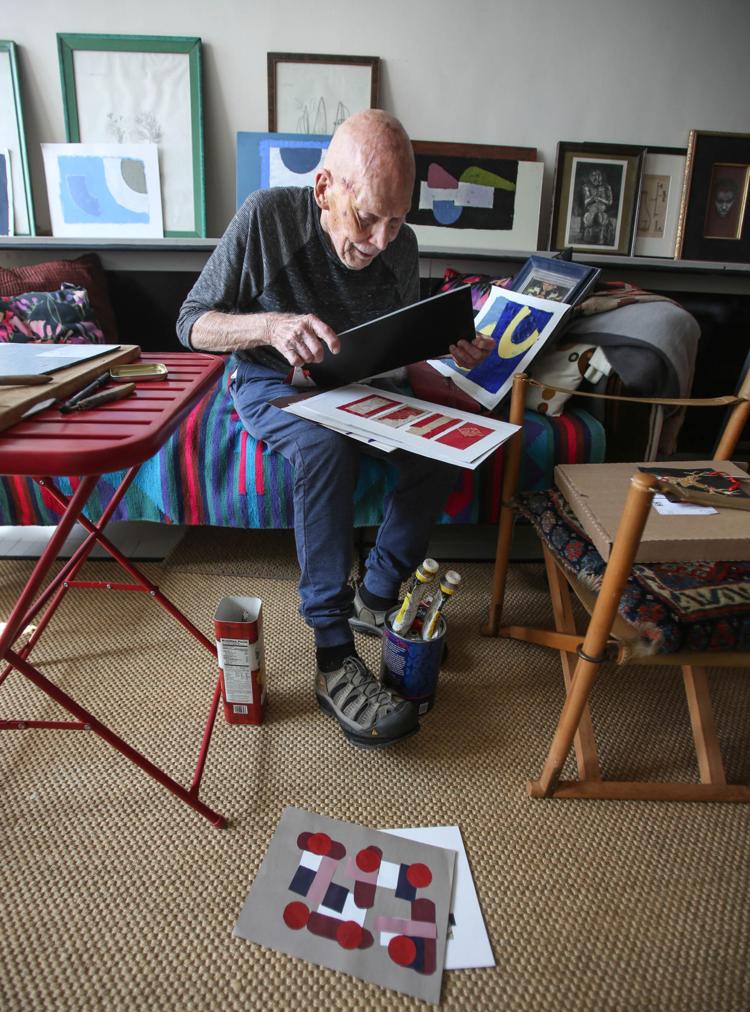 "We had been floating around in the channel, back and forth, to delay the landing, to perplex the Germans," he says of the history-making adventure. "And so we were in not very good gut shape – we were puking our guts out."
After living through both the invasion and the war, biographical material on Laskey from the Bruno David Gallery states, "He studied at Indiana University and at the Institute of Design in Chicago (now the Illinois Institute of Technology) with founder and American Bauhaus pioneer Lászlò Moholy-Nagy," referring to the German art school that operated from 1919 to 1933 and combined the fine arts and crafts.
Thereafter came Laskey's 35-year tenure at Washington University, where he continues to maintain a pedagogical profile. By way of example, Laskey mentions still periodically participating in "crits" – critiques – and charrettes (basically timed, collaborative planning/design sessions involving problems and solutions related to proposed architectural or other projects).
Otherwise, Laskey remains astonishingly vivacious, both physically and mentally, at an age when too many people succumb to infirmity or ennui, transforming themselves into invalids with assistance from, say, television or rosy nostalgia instead of continuing to engage with life.
In short order, for instance, he mentions walking more than a mile each morning; voices an offhand recommendation for The Telomere Effect by Elizabeth Blackburn and Elissa Epel, a biochemistry-based New York Times best-seller published just this past January; and alludes to the difficulty of staging art exhibitions in St. Louis.
For a few moments, Laskey dwells further on "Duets," which ranged from a delicate 9.75- by 11.5-inch collage on paper, whose vivacity of color (a jubilant orange) if not its tangrammatical angularity recalled Henri Matisse's great Jazz, to a black-and-argent stainless steel sculpture towering 8 feet tall.
Reflecting Laskey's impish wit, the collage and the sculpture shared the title Duet – like four more works in the exhibition. Other titles incorporated phrases such as duo and, charmingly, billet-doux or differentiated between works with numerals: Duet I, Duet II, Duet III, Duet V (but no Duet IV) and a wholly incongruous Duet 12.
Regarding the largest of the "Duets" works – the 8-foot-tall sculpture, majestically displayed during the exhibition in Gallery 2 – Laskey admits to a fondness for working in metal. "I did little studies, like folded pieces of paper," he says, "and it got bigger, and it got bigger. And I decided, 'Well, how big can I make this?'"
With assistance from a retired friend with equipment capable of machining sheet steel roughly a quarter of an inch thick, the answer to that question eventually led to Duet – or rather, that particular Duet.
"It's a way to think," Laskey relates of his process of conception and creation. "I find a problem – I discover a problem. I start thinking with my hands, and I try to find a parallel. Then, suddenly, I have a name – so it's 'Duets'? What does that mean? … And eventually, I can work on the whole stream of ideas."
In context, Laskey's process sounds analogous to St. Louis poet T.S. Eliot's critical concept of the objective correlative or to leitmotifs in opera and other musical works.
"It's a challenge," he says. "It has to have a theme that I can work with, expand, so long as I work. I just can't externalize. I have to work at a still life because of something else."
At the highest levels, Laskey's aesthetic may well recall the great English Romantic poet John Keats' "Ode on a Grecian Urn": "When old age shall this generation waste, / Thou shalt remain, in midst of other woe / Than ours, a friend to man, to whom thou say'st, / 'Beauty is truth, truth beauty' … "
"I don't really like talking about the work," Laskey ultimately confesses. "I think you have to, in a way, hear what you're seeing, and you have to see what you're hearing.
"People ask, 'Well, how long did that take you to do?' Well, I don't care, and I have no idea. The idea is, it's the doing that's the joy. That's the way it should be. And you look at [a finished piece], and you say, 'This works. Now it's done with. It fits here or belongs there in this sequence.'"