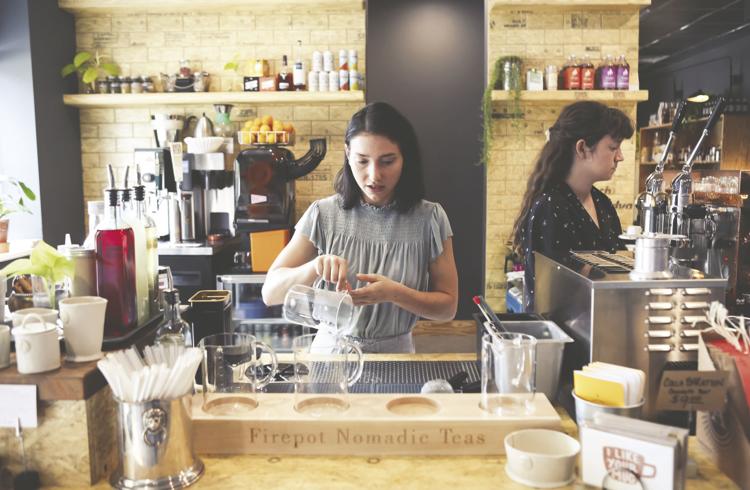 D, E, L and I – it seems more than a trifle apt that those four characters, in just that order, begin both delight and delicatessen, the latter being an often-quirky retailer dedicated to purveying the former.
That observation leads to four other letters, a pair of pairs of them bracketing an ampersand: AO&CO.
Officially dubbed "a specialty market and coffee and tea shop" on its group website, the establishment in question, which opened little more than two months ago, suggests a new-age take on that old-school retailer. It occupies a tidy one-story brick structure with stylish black metal doors at the southwestern corner of the intersection of McRee Ave. and Tower Grove Ave. in St. Louis' Botanical Heights neighborhood.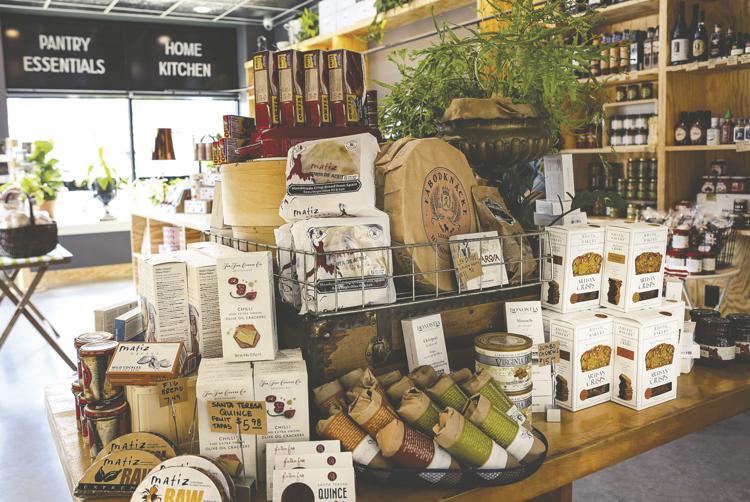 In essence, a visit to AO&CO may well conjure an old-fashioned delicatessen, something nowadays increasingly rare. It comes from Ben and Angela Poremba's Bengelina Hospitality Group and ranks as a bit of a departure for that husband-and-wife team. The Porembas, that is, customarily specialize in restaurants: The Benevolent King in Maplewood and, clustered in Botanical Heights, the twinned Elaia and Olio (across Tower Grove Ave. from AO&CO), Nixta (due north of the new specialty market) and La Patisserie Chouquette (due north of the "twins").
AO&CO reportedly takes its name from the initials of the Porembas' three children, Aviv, Omri and Cossette. Also reportedly, plans for the new establishment have been gestating since 2015 at least.
AO&CO's floor plan comprises four sections, all of which generally differ according to the products they proffer.
In the first, front section – the largest – curious visitors should instantly espy a wood-and-plastic spinner rack sporting small, stylish greeting cards from Nashville, Tennessee's Hester & Cook.
A central table a few feet to the right sports AO&CO-branded loaves of bread, complementing a nearby selection of California-based Rustic Bakery organic sourdough flatbread. The table bearing the flatbread also holds diverse brands of packaged, uncooked pasta and four varieties of single-serving Lillie's Original Kettle Chips from Chicago.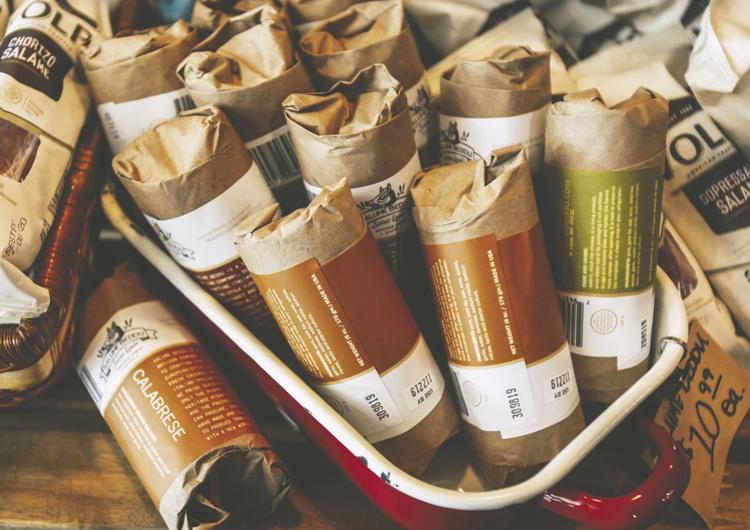 On the north side of that section of AO&CO, just past a small, potted plant-topped counter, stands the first of two coolers. Its offerings include uncured bacon from Nueske's of Wittenberg, Wisconsin, and similarly uncured hot dogs and bratwurst from Chef Martin Old World Butcher Shop of Bensenville, Illinois.
Beside them sit products from the company Fermín (originating in the municipality of La Alberca in western Spain but domestically operating from New York): Iberian acorn-fed loin, grain-fed ham, serrano shoulder and Iberian salchichón.
To nicely accessorize any charcuterie board, that first cooler likewise contains cheeses from Greenville, Illinois' acclaimed Marcoot Jersey Creamery and three varieties of non-genetically modified organism wedges of Hull, Iowa's Green Meadow fromage.
Last but scarcely least, the cooler displays Blue Hill Bay smoked gravlax from Acme Smoked Fish Corp. of Brooklyn, New York.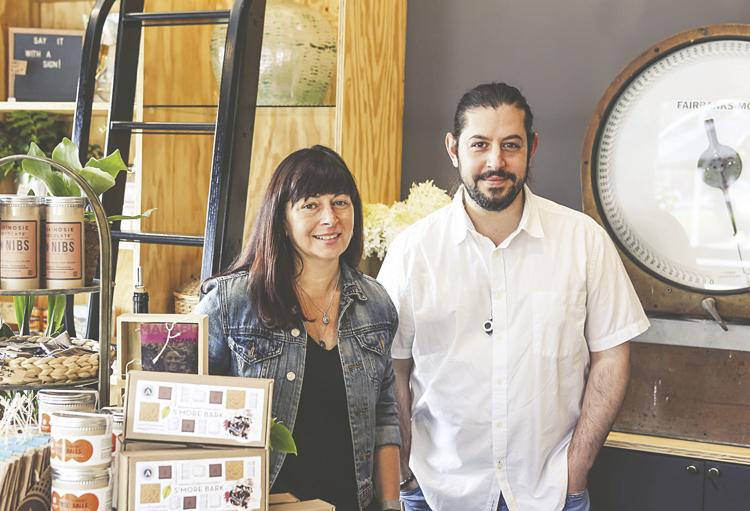 Angling to the south from that first cooler, a second specializes in liquid products, with the exception of a vase of roses. More specifically, it displays a brace of 2-foot-wide shelves of various bottled wines. Other shelves hold three varieties of canned Belgian-style ale from Blackberry Farm Brewery of Maryville, Tennessee; six varieties of sparkling water in single cans and eight-packs from Spindrift Beverage Co. of Newton, Massachusetts; bottled sparkling fruit tonic in tart cherry and crisp apple from Sawyer, Michigan's Fruitbelt; and, surprisingly, bottles of Mexican Coca-Cola.
The second, central section of AO&CO offers a farraginous collection of pleasantries on a table, in wooden casing and even on a glitzy black hanging rack.
Here visitors seeking whimsy can find Romano and pinot grigio salamis from St. Louis' own Volpi Foods; truffle hot sauce from Brooklyn, New York's Tango; three varieties of liquid sizzle in small bottles from Bushwick Sauce Co., also of Brooklyn; three varieties of culinary rubs in small, square tins from Grand Rapids, Michigan's BliS Gourmet; and three varieties of granola in cardboard canisters from Brentwood's own Banner Road Baking Co.
The second section also displays diverse bags and aprons, as well as a selection of notepads, pencils, place mats and ribbons.
AO&CO's third section, adjoining the first and second to the south, discreetly comprises its tobacco-centered area, reportedly containing roughly 100 cigars. (Early one recent Sunday afternoon, it also was hosting a fee-based sommelier-led wine class.)
At the rear of the establishment, its fourth and final section operates as a tiny café, including a trio of two-tops with distinctive clear-plastic chairs and small, round, white tables.
Among other things, visitors here can purchase four types of java in small and large packs from St. Louis' venerated Kaldi's Coffee; bottled masala chai and rooibos teas from St. Louis' Firepot Nomadic Teas; and fresh-squeezed OJ from a machine topped with a dozen or so bright oranges. Also exhibited in this section are a small selection of croissants and other pastries, and small-batch white chocolate bars from Springfield, Missouri's Askinosie Chocolate.
Finally, in glancing toward the ceiling, a visitor exiting AO&CO through the door at its northwestern corner might glimpse one more whimsical delight, likely for decorative purposes only: a shelf high atop the fourth section's eastern wall bearing Drip-O-lators and similar vintage caffeine-related devices. Très charmant!
AO&CO, 1641 Tower Grove Ave., St. Louis, 314-932-1088, bengelina.com