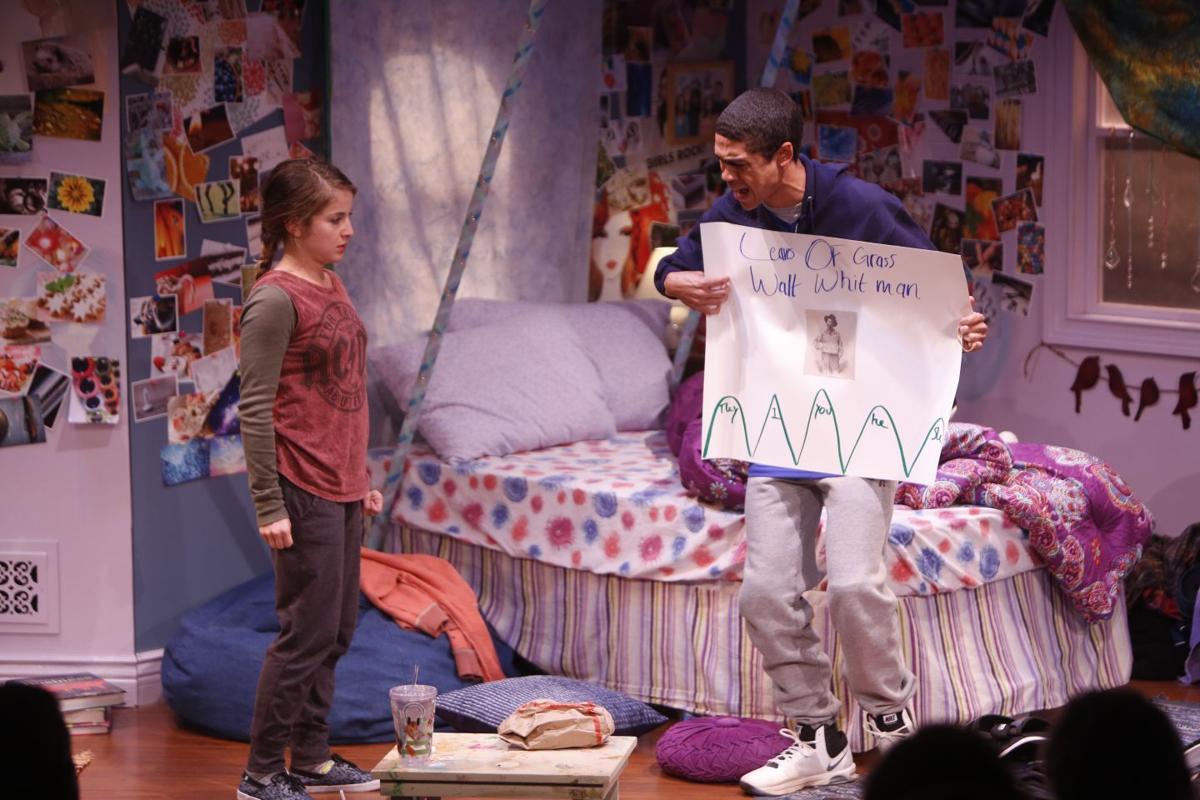 Story: Caroline is a teen who essentially is confined to her bedroom while battling a serious illness. She's been at home for much of her high school senior year, isolated from the camaraderie of her classmates. Still, she bristles when fellow student Anthony shows up with the surprise news that he has selected her as his partner for an English class project on 19th century American poet Walt Whitman.
As if that doesn't frustrate her enough, Anthony reveals that he's kind of waited until the last minute to meet her, since the project is due the next morning. Caroline is unhappy about the whole situation, even though Anthony tells her that their teacher sent her an e-mail about the project a while back. "Who reads e-mail anymore?" is Caroline's petulant response.
Anthony is a 'cool' kid, an 'A' student as well as a musician and athlete, none of which sits well with the irascible Caroline. Additionally, his love of poetry and especially Whitman's soaring lines grates on her nerves. He pleads, though, for her help, especially with the more artistic elements of their project, since he has little skill in that area. Can the two of them, who also happen to be of different races, get along well enough to impress their teacher, as well as learn something about themselves, with their poetic inspiration?
Highlights: The Rep opens its 2015-16 Studio Theatre series with this witty and compelling, if problematic, two-character work by award-winning playwright Lauren Gunderson. It's the type of intimate study that works so well in The Rep's cozy Studio Theatre, to be contemplated in the moment as well as dissected in conversation after the players have left the stage.
Other Info: An interesting piece in the I and You program points out that science is one of Gunderson's favorite topics as she "fuses" science and theater together. Writer Madison Finley observes that Gunderson has written "numerous plays on subjects including human cloning, genetics and historical scientists" and that the playwright believes that "science and theater are equal partners because both have a desire to understand and benefit humanity."
In her own notes, director Jane Page comments on two "colliding values" at the "core" of the United States: The ideal of individuality and the ideal of community, which "create an extraordinary tension at the heart of American culture." The tension between Caroline and Anthony in this one-act, three-scene piece is the struggle between Caroline's mask of aggressive indifference to her condition and Anthony's innate optimism.
Their personalities are reflected in Marci Franklin's costume design, with Anthony sporting a Ladue High School jersey while Caroline prefers the explosive power of rock band AC/DC in her T-shirt attire.
That band choice is not a coincidence, one would think, since the two characters most important to Caroline while confined to her cluttered bedroom are her visiting classmate and the specter of the Grim Reaper with whom she's lived throughout her short life.  There's also a recurring reference to a fitful smoke alarm, another element of electrical energy coursing through the script.
Caroline's bedroom is a masterpiece of a teen mess shrewdly designed by Eric Barker, her walls plastered with photographic images that capture her fancy, her room festooned with a potpourri of bright, lively hues handsomely portrayed through John Wylie's supportive lighting.
Props artisan Emily Frei has found a curious little glowing turtle that serves as Caroline's surrogate pet in her lonely quarters, while Rusty Wandall's sound design tunefully delineates the difference in the musical tastes of the duo, hard rock for Caroline and smooth jazz for Anthony.
That jazz serves as a fitting metaphor for the evolving relationship between the two teens, who over the course of several hours improvise in fits and starts as they learn much about each other, their families, their aspirations and their perspectives on life. A curious shortcoming of I and You, though, is the complete absence of any information about Anthony's mother. That simply makes no sense in such a 'scientific' approach.
Another glaring problem, depending on your point of view, involves the tricks and twists in Gunderson's story. As a result, you'll likely find yourself either delighted or disappointingly puzzled with the conclusion, questioning its purpose or even its necessity.
Regardless of those plot points, Page's direction is tight and keenly focused on her performers as they tell Gunderson's story with humor and imagination. Danielle Carlacci is a wonder to behold as the tormented Caroline, who battles with the balky energy of the smoke alarm even as she 'communicates' with her mother strictly by texting, although she's just down the stairs.
Carlacci's performance reaches both Caroline's depth of despair and exhilaration of excitement in convincingly naturalistic fashion. There's real chemistry, too, between her and Reynaldo Piniella as the affable, gregarious Anthony, whose buoyant spirit eventually propels Caroline forward as they 'dissect' Whitman's overt optimism in the face of the horrors of the Civil War.
Piniella ably handles his character's upbeat persona in broad strokes that accentuate the more direct aspects of Anthony as well as more casual and subtle asides significant to the story.
Gunderson summons the resonating spirit of one of America's greatest poets in the passionate expressions of life embodied in her two characters. Like any art, I and You will have its supporters and detractors who find elation or dissatisfaction, respectively, with its ending. What will you think?
Play: I and You
Group: Repertory Theatre of St. Louis
Venue: Emerson Studio, Loretto-Hilton Center, 130 Edgar Road
Dates: Through November 15
Tickets: $50-$65; contact 314-968-4925 or www.repstl.org
Rating: A 4 on a scale of 1-to-5.
Photos courtesy of Jerry Naunheim Jr.