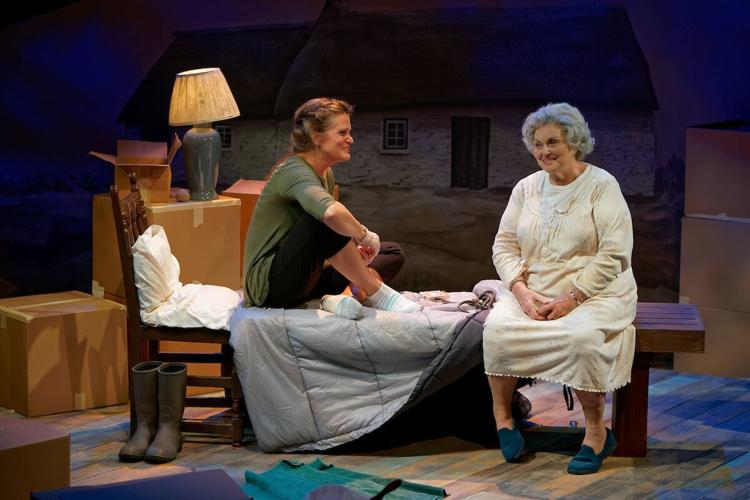 Story: Identical twins Iola Hughes and Anest Owen have lived their entire lives in a town on the northern coast of Pembrokeshire in western Wales. Now in their 70s, they've outlived their husbands and face a dismal future in their tiny cottage because of Iola's rapidly failing health.
Anest's daughter Menna returns from her home elsewhere to help care for her aunt, whose personality and health have become erratic, unpredictable and, in the former case, increasingly violent due to apparent dementia brought on by her illness. After receiving an alarming letter from her aunt discussing suicide, Menna thrusts herself into home care to assist her mother, although the latter seems fine with everything as is.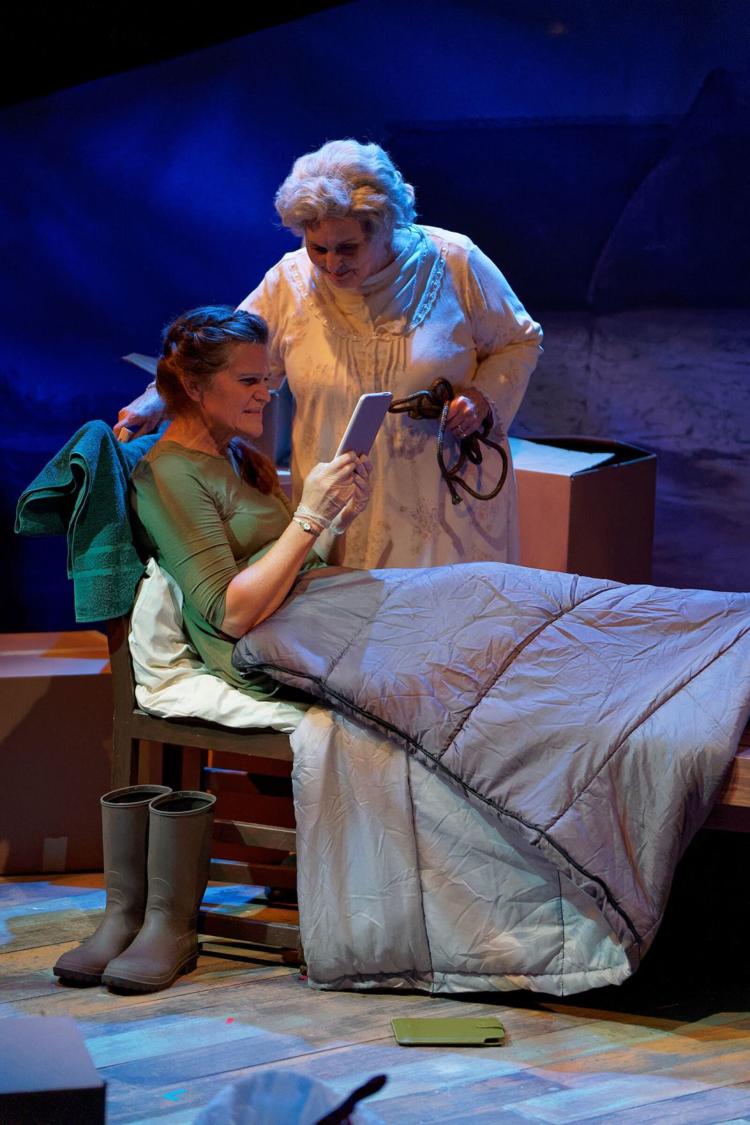 Menna assures her mother that she can afford the time to do this, since her husband is "holding down the fort" at home and their two sons have grown and left the nest. Occasionally the three women are visited by local constable Gareth Rowlands, who is about Menna's age and a friend of longstanding.
While Menna frets about hygiene and shaping up the elderly sisters' abode, Iola slips in and out of lucidity, cared for lovingly at each turn by her sharp-witted sister. They reminisce about their childhood days and their mysterious father, who said he was a "merman" akin to the creatures in Welsh lore, returning periodically to the sea. To Menna's frustration, they also converse occasionally in Welsh.
Menna's nerves continue to unravel as she attempts to restore some semblance of normalcy to her mother's and aunt's lives. She cannot abide, however, the most shocking secret of all when Anest reveals her plan on how ultimately to care for her declining 'soul' sister.
Is this a matter for Gareth? Should Menna take complete command of the situation? Or do the identical twins have some inexorable link that makes the most sense of a tragic development?
Highlights: Tim Price's affecting, absorbing drama is given a top-notch presentation in its American premiere production currently at Upstream Theater. It's a one-act wonder that ideally fits Upstream's goal "to move you and move you to think."
Other Info: A co-production with Houston's Stages Repertory Theatre, this tidy gem from 2011 is Welsh in its setting but universal in its humanity as it addresses difficult decisions faced by people around the world every day.
The heartbreak of seeing a beloved family member decline into an, at times, unrecognizable fearsome force due to the savage effects of dementia is addressed in tender and often humorous fashion by Price. Upstream's rendition helps set the mood with Michael Heil's atmospheric scenic design, one which whimsically sketches the ladies' cottage on the back wall and features a 'beach' with pebbles on the floor surrounded by its nearby waters.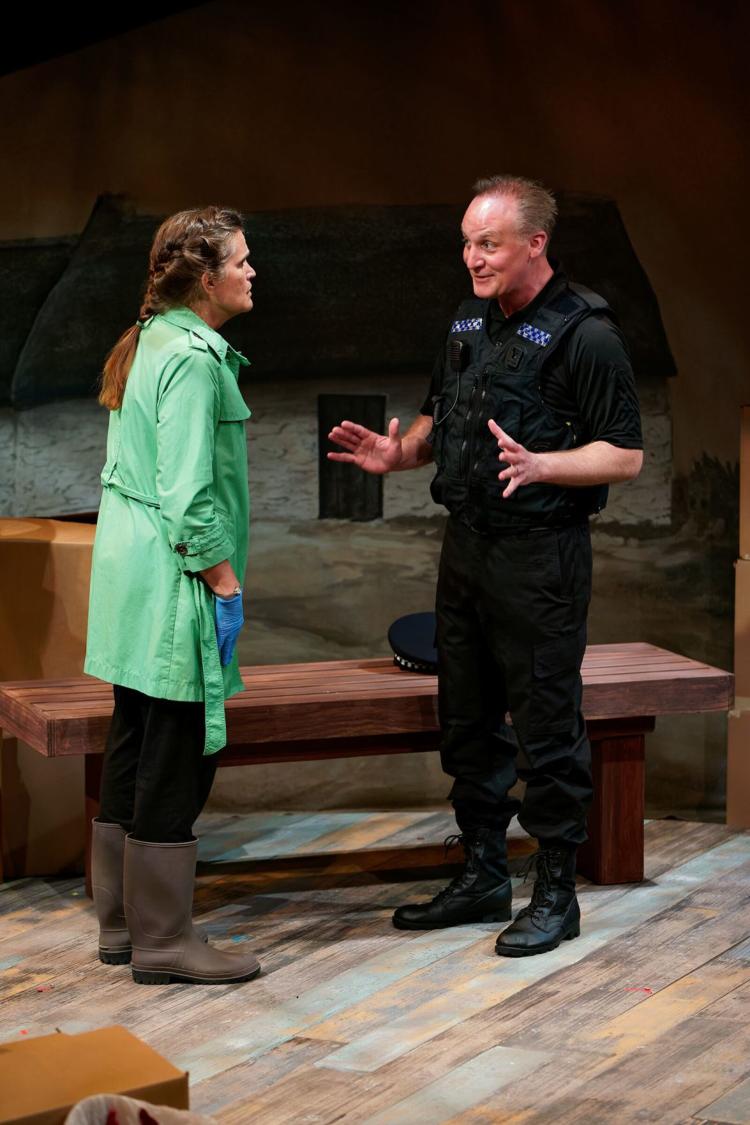 Steve Carmichael adds luster to the proceedings with his carefully crafted lighting design, which moves gracefully between daytime and nocturnal scenes, while Rachel Tibbetts' props such as an antique teapot help underscore the mood. Michele Friedman Siler's costumes accentuate Iola's perilous condition in contrast to the 'normal' dress of the others, and Lucy Garlich contributes the wig design utilized by Sally Edmundson as Anest.
Edmundson is a regular contributor to productions at Stages Repertory Theatre, where Kenn McLaughlin, director of this American premiere, serves as artistic director. She's one of the excellent quartet of performers whose interpretations of the show's four characters resonate with warmth, compassion and haunting realism throughout.
Edmundson's Anest is calm, cool and considerate when dealing not only with her alarmingly fading sister but also her uptight, frustrated daughter. Donna Weinsting does a masterful job walking the tightrope of Iola's erratic personality, as peacefully oblivious in reminding Menna that she's placed her niece's cell phone in a teapot as she is menacing when lost in her garbled thoughts, convinced her sister is stealing everything she has of value.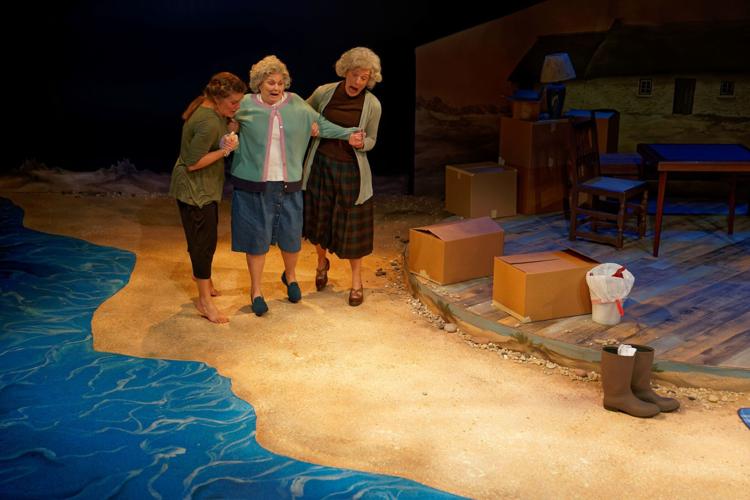 Amy Loui adroitly portrays the daughter/niece who is at once both a worried caregiver for her aunt in her declining condition and also the little girl who remembers happier times at the beach, before her own adulthood brought with it the requisite responsibilities. Completing the accomplished cast is Eric Dean White as the affable, dependable Gareth, who only reveals his own heartaches with a slip of the tongue in a vulnerable moment.
Composer Anthony Barilla's melancholic sound design richly accentuates the somber aspects of Price's incisive one-act work, which takes its title from a Dylan Thomas poem that is reprinted in the show's program.
Salt, Root and Roe is a touching, endearing and well-wrought piece which deals with a controversial subject with multi-layered, thoughtful and affecting consideration. It does Upstream's mission proud.
Play: Salt, Root and Roe
Group: Upstream Theater
Venue: Kranzberg Arts Center, 501 North Grand at Olive
Dates: May 2, 3, 4, 5, 9, 10, 11, 12
Tickets: $25-$35 (all tickets $10 on May 2 only); contact upstreamtheater@sbcglobal.net or 314-669-6382
Rating: A 4.5 on a scale of 1-to-5.