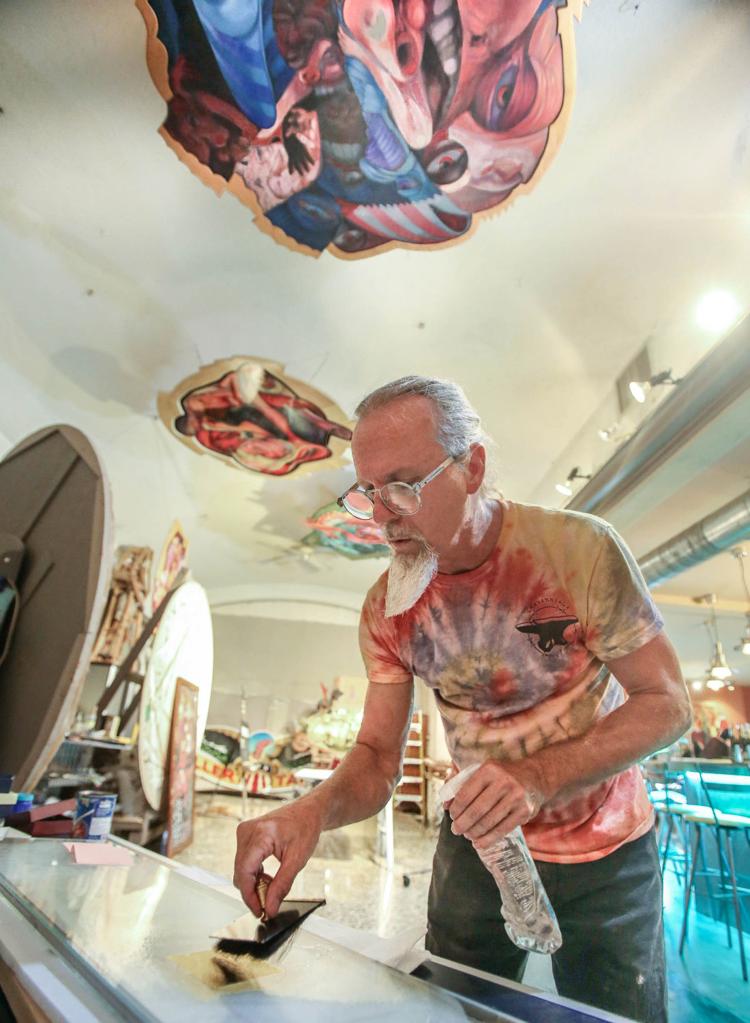 A one-man painterly triple threat, St. Louisan Phil Jarvis recently reflected on how the three main components of his work (fine art, murals and signage) interact, thereby providing insights into the life of an old-school "working artist."
The latter two components, as Jarvis ultimately reveals, underpin the bulk of his financial dealings as an artist, with signage in particular going strong. But his general calling – career, however accurate a phrase, seems inadequate in context – began in childhood with the fine arts in general and a much-ridiculed introduction in specific.
"After many paint-by-number kits as a kid, my parents bought me a real acrylic paint kit – and from there began my journey," he recalls. "I was always intrigued by the magic that happens with simply a brush, paint and canvas."
An art teacher with an eye for talent recommended that his parents enroll him in a summer "select program for area grade-school kids to get involved in the arts," and in high school, Jarvis took part in another summer painting program at Washington University in St. Louis.
"That was an eye-opening experience that exposed me to many forms of painting," Jarvis says, before providing a hilariously improbable addendum. "For my high-school summer job, I worked as a portrait artist at Six Flags."
His stint at the home of the Screamin' Eagle roller coaster taught him to paint quickly and efficiently, Jarvis says, continuing, "After high school, I received a substantial scholarship to the school of fine arts at Washington University and graduated with a Bachelor of Fine Arts.
"I continue to produce paintings to this day," he says. "This part of my artistic life is nonfinancial. I make very little money doing canvases; however, they are the most difficult and most challenging part of my endeavors."
His fine art, Jarvis says, constitutes "a rebellion" against restrictions of all sorts.
"Sometimes the painting begins with a rough sketch," he says, before describing a technique similar to that of Jackson Pollock, the controversial unofficial leader of American abstract expressionism. "Other times, it begins by just throwing, smearing or splattering paint and watching what happens. I put myself in a position of not knowing where the process will lead me. Along the way, I will see accidental spatial relationships and clarify them. The painting evolves organically to arrive at a place where I'm satisfied."
As various works whose images appear on his website suggest, that evolution often involves cervical and other distortions of the human figure reminiscent of the paintings and sculptures of Dutch abstractionist Piet Mondrian and Diego Rivera, leader of the Mexican muralism movement.
Also, disquietingly, certain of those works recall teratomas, anatomical tumors incorporating differentiated cells ranging from teeth to eyes – a visual tendency Jarvis explains with a reference to the card-based projective test created half a century ago by Swiss psychoanalyst Hermann Rorschach.
"The [visual] bases and the eyes and the disjointed figures just seem to appear," Jarvis says. "I like to compare it to a Rorschach ink blot, but instead of describing the illusion verbally, I paint it. As a result, the painting tends to be a psychological portrait of my life at the time. Many times, I don't know exactly why certain images appear; however, years later, when I look back at the painting, I can understand exactly where I was in life."
Less theoretically, Jarvis' fine art nowadays centers primarily on brushes, oils and canvases – yet even at that, he notes, "I do my best not to take any part of the process for granted, including the shape and orientation of the painting."
Several years ago, for instance, an interlocutor asked Jarvis about the shape (square or rectangular?) of his next painting, which prompted him to focus on something as fundamental as his canvases.
"The only explanation I could come up with was that's the only thing they sold at the art store, so from then on, I let the painting determine the shape of the canvas," Jarvis recalls, adding that he designed and constructed two easels, each an 8-foot circle mounted on a spinning axis, at his studio to help him to achieve this. "I stretch a canvas over the entire circle and begin to paint. As the painting progresses, the shape of the canvas and the frame become more apparent to me, and I go with it. I stretch the canvas over a plywood frame cut to match the shape I want, then build a hardwood frame in my woodshop."
That formal epiphany prompted further experimentation, Jarvis notes.
"After several of these irregular-shaped canvases, I asked myself, 'What else am I taking for granted in these paintings?'" he says. "I realized that all of my paintings had a top, bottom, left and right. Looking at ceiling murals in cathedrals and some of those that I had done, I could see that their orientation was irrelevant. So I began to paint on my spinning easels in a way that would confuse their orientation.
"By painting for a bit, then spinning the easel like a roulette wheel, then painting from wherever it stopped, the final painting could be viewed from any position on the rotation and not appear to be upside-down or askew."
That experimentation has given way to further inspiration and invention.
"Displaying these canvases was also a challenge," Jarvis continues. "With the help of a mechanically inclined friend, we installed a slow-geared motor attached to a large washing-machine belt that allowed the canvases to rotate slow enough to barely detect movement, but when viewed, would always be in a different position."
Such innovation derives from Jarvis' deep background in the fine arts. Among inspirations in that area, he first cites his father, a photographer, and adds that his Wash U studies extended his appreciation of representational artists like Dutch masters Jan van Eyck and Rembrandt Harmensz van Rijn. Jarvis likewise cites Spanish influences like 20th-century über-painter Pablo Picasso and perennial bad-boy Salvador Dalí.
Locally, he cites an influential Webster Groves artist who died less than four years ago at 91. "I also admired Ed Boccia," Jarvis says. "Ed was a professor and painter at Washington University. I admired his exploration, dedication and vision."
Underwriting his studies in art school all those years ago led Jarvis to a summer apprenticeship in sign painting at a Ferguson production shop, which reinforced his ability to paint quickly and efficiently. "At the shop, I could use my skills with painting, but at a different level," he relates. "I learned to paint long, straight or curved lines, hard edges and flowing letters."
While confessing to taking part in few art shows lately – choosing instead to concentrate on painting as such solely for his own satisfaction – Jarvis also confesses, "I do have some great mural projects coming up that will be on display for all to see."
Jarvis dubs murals a "natural fit" with his fine art and signage, adding that most murals' sheer scale makes them a challenge, "But I love the result."
Signage, though, remains his bigger commercial endeavor as an artist – perhaps not unexpectedly, after four decades.
The materials he uses (like 1 Shot lettering enamel paint) vary little if any from his earliest calligraphic endeavors, Jarvis says, and fundamental fonts like Helvetica remain just that – fundamental. "From there, all others are variations," he adds.
Lately, Jarvis also has pursued an interest in "more decorative forms of lettering," as well as gold-leaf lettering, "a beautiful, elegant form of window work," regarding which he's workshopped with a master of the form named David A. Smith in the seaside town of Torquay, England.
Calling the past five years in particular "amazing," Jarvis has been enjoying a flood of signage work at such venues as Adriana's, Frazer's, Indigo Massage & Wellness, Jefferson Underground and Kakao Chocolate, among others. One outré area in particular has been booming for him: painting and gilding the windows of tattoo parlors worldwide. Such work here at first led to invitations for other, similar commissions in Jacksonville, Florida, and Miami.
During the past three years, moreover, word-of-mouth referrals about his domestic signage have landed Jarvis commissions overseas in Lyon and Paris, France; Aachen, Germany; and Bologna, Marino, Milan, Orbetello, Rome and Verona, Italy.
Before noting that he's even now scheduling more domestic jaunts and another European visit, Jarvis relates, "I just returned from Bogotá, Colombia, where I painted four tattoo shops, one barbershop and two food trucks."
Jarvis also addresses the effect of the computer on his work. "When I started making signs, the computer couldn't yet compete," Jarvis says, "[but] little by little, the programs and hardware became more sophisticated."
By the time he departed the Ferguson production shop, computers had all but conquered signage. "Most sign painters retired; sign-painting schools were nonexistent; much of the artistic side of sign painting began to fade away," he says.
The silicon Satan, though, has failed to faze Jarvis himself.
"I use the computer these days to scan handmade drawings and send them to my clients," he notes. "I make revisions to the drawings, [produce] invoices and [prepare] taxes on the computer.
"And that's about it."
Phil Jarvis Paintings, philjarvispaintings.com
Be the first to know
Get local news delivered to your inbox!