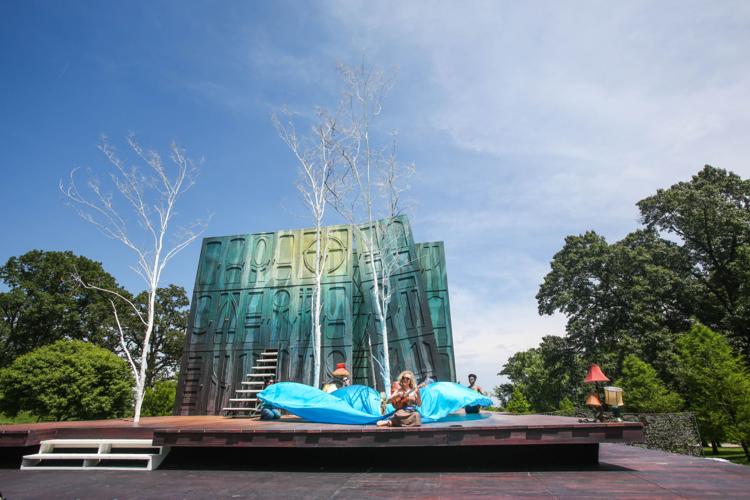 Robin Goodfellow is lurking – and smirking – amid the bowered bliss of Forest Park, and the glee that's sparking in Shakespeare Festival St. Louis troupers verges on (shall we say) puckish.
Now in its 16th season, that festival is currently staging A Midsummer Night's Dream, whose dramatis personae, as anyone with even a passing familiarity with English literature knows, includes a supernatural trickster variously designated as Robin Goodfellow, Hobgoblin – and, somehow most appositely, just plain Puck.
That production commenced a week ago. It will continue nightly at 8 p.m., except Tuesdays, until June 26 in the park's Shakespeare Glen, east of Art Hill.
The production not only memorializes the 400th anniversary of the demise of William Shakespeare – who, all things considered, isn't doing half-bad for a man four centuries dead – but also continues the burgeoning history of the festival itself, which to date "has attracted more than 670,000 people to its annual free performances," according to a press release.
"Midsummer is a play about the human need to love and be loved in return – as a newlywed, love is on my mind!" says Rick Dildine, the troupe's artistic and executive director, who's directing the production. Excluding a seven-month hiatus with Lenox, Massachusetts' Shakespeare & Company that began in September 2014, Dildine has headed the local troupe for the better part of the past decade.
The festival, not unpredictably, has a history with love. In 2002, its second season, the festival presented the present comedy, following a debut with Romeo and Juliet in 2003. And last year, it staged Anthony and Cleopatra.
"The play is one of the most-requested shows each year," Dildine continues about A Midsummer Night's Dream, "and for our first time repeating a title, I wanted to do something that our audiences really enjoy."
Scholarship dates A Midsummer Night's Dream from 1595 or thereabouts, in Shakespeare's "middle period," and speculates that its composition commemorated an aristocratic marriage of the time.
The play takes place in the ancient Greek city-state of Athens – the so-called cradle of Western Civilization – and, more significantly, a nearby wood similar to St. Louis' sylvan 1,293-acre gem, suddenly rendered scintillant and strange by a contingent of otherworldly night-trippers led by squabbling royals Oberon and Titania.
"We have a constant conversation about titles," Dildine notes about the choice of A Midsummer Night's Dream for the 2016 season instead of another work from the Bard of Avon's canonical 38 plays. "We are balancing a blend of genres for our audience and putting together brilliant creative teams to make the plays. The decision is always based on where we want to take our audience and what artists are available to help us tell a story."
After the aestheticizing, he says, comes the actualizing, which, aptly, lasts roughly as long as the gestation of a human infant.
"From a technical standpoint, each show takes about nine months to plan," Dildine relates. "It generally breaks out into thirds. The first three months are spent brainstorming and thinking up – and eliminating – ideas. The next three months, we are putting those ideas on paper and working to make sure the story holds up, and the final third is building.
"Set building begins in March; costume building begins in April. Construction starts in May in the park and takes about a month to fully realize the set, lights and sound. For every actor you see onstage, there [are] at least three other people behind the scenes."
Dildine briefly reflects on cultural shifts and innovations in Shakespearean productions over time, here and elsewhere, before remarking on salient features of this year's effort. "I'm a director [who] enjoys changing the rules in how an audience experiences a show," he says. "There are two stages, and we'll be using all live music played by the actors. And any chance I can, I'll use the park – we're in a park!"
Dildine's exuberance, self-evidently, knows no bounds, and three players in the present productioncertainly share it. First among them: festival veteran Stephen Pilkington.
Pilkington is portraying the lovably loutish Bottom, a weaver naive to how comprehensively his reach exceeds his grasp, whose head, infamously, Puck at one point transforms into that of an ass.
"I've always wanted to play Bottom, not just because he's hilarious but also because Bottom embodies all the best and worst traits of someone drawn to the spotlight," Pilkington confesses. "His bravado and need for constant adoration, perhaps masking a deep layer of insecurity, provide many layers for an actor to explore, not to mention a wealth of opportunity for comedy.
"I've been fortunate to see many productions of A Midsummer Night's Dream, and some truly wonderful men and women play Bottom. As with any of Shakespeare's better-known characters, his clowns especially, there is always the expectation of what a role could and should be, this year perhaps more than ever as we celebrate 400 years since his death. For me, it was important to put all of those expectations aside, forget everything I'd seen, forget his anniversary and start at the beginning, with a man who wanted more than anything to be onstage. This was the only way I was going to bring my version of Bottom to life, warts and all."
Intriguingly, two of Pilkington's fellow cast members – twins Austin Glen Jacobs and Ryan Alexander Jacobs – are teaming to portray the mercurial Puck, a role neither of them approached without considerable introspection.
"One of the major challenges with Puck is figuring out who and what he is," says Ryan Alexander Jacobs. "In many productions of Midsummer, he is portrayed as simply mischievous and fun-loving, forgetting that he has a much more powerful and dark side to him. Obviously, 'our' Puck is unique in that the skills of two very different actors are being put toward a single role. Preparing for Puck centered around studying the text and figuring out what is actually being said, and making sure that Austin and I were on the same page."
Austin Glen Jacobs thoughtfully echoes his brother.
"Puck is one of Shakespeare's most well-known and iconic characters – I was initially intimidated by the prospect of portraying him," he admits. "The first thing I did was throw out all preconceptions I had of him, in terms of previous performances I'd seen, who I thought he was, etc., and tried to get down to what's in the text. Everyone knows at least a snippet of his speeches, and many talented actors have played the role before – it's a lot of pressure. However, Rick Dildine has created something so original and innovative, not only with his take on the show, but specifically with this character.
"More than anything, I'm excited to explore and create something that, as far as we know, has never been done this way before. Hopefully it's something Will would have been excited by, too, 400 years later."
When asked to name his own favorite moment in Midsummer as the production's director, Dildine responds without hesitation: "The final few moments of the play, when peace is restored and Puck asks for the audience to clap. I'm an actor first, and I can understand that desire to want to entertain."
Ah, yet again – Puck. Puck – as deliriously and dangerously enchanting as the flicker of an open flame. "Lord, what fools these mortals be!" that trickster famously exclaims in Act III.
Still, in light of this year's A Midsummer Night's Dream, one can't help suspecting the cast and crew of Shakespeare Festival St. Louis would insist that mortal foolishness warrants no small measure of something like fond adoration.
Shakespeare Festival St. Louis, 5715 Elizabeth Ave., St. Louis, 314-531-9800, sfstl.com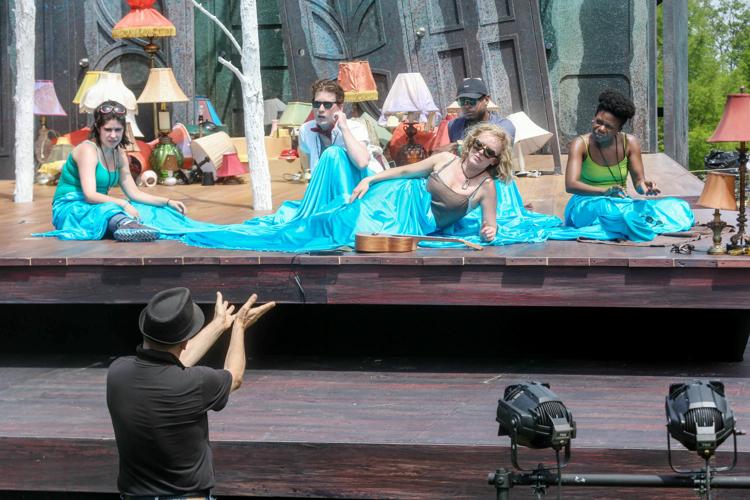 Love's Lager's Found
To commemorate both Shakespeare Festival St. Louis' Forest Park production of A Midsummer Night's Dream and the 400th anniversary of William Shakespeare's death, Saint Louis Brewery has crafted Schlafly 1616, an unfiltered lager.
Literary and zymurgic fussbudgets, of course, might voice one objection to 1616, which is being sold only on draft at the stage production and in September's Shakespeare in the Streets event in Maplewood. Specifically, lager began to flourish in the U.K. only late in the 19th century – well after the Bard of Avon (to quote Hamlet) "shuffled off this mortal coil."
Stephen Hale, Saint Louis Brewery's brewmaster, takes that potential objection in stride. "We wanted to create a beer to celebrate the Bard's 400th-anniversary celebration," Hale says. "If we would have re-created a style of beer extant during his lifetime, the closest would be a strong ale, either dark or very hoppy – not exactly what festgoers would be excited to consume on a hot summer's day in the park.
"We merged the historic elements of both Shakespeare's time and the brewing history of St. Louis, which favored lagers. For 1616, we wanted to create a beer for the occasion and focus the attention on the event itself with a great beer fit for the park. The unfiltered lager we call 1616 celebrates just that."
Hale also addresses how 1616 – with a 5.5 percent ABV – compares to existing Saint Louis Brewery products.
"Its golden color seems to beckon a day in the park," Hale notes. "It's on the lighter side, crisp, thirst-quenching, flavorful and perfect for a summer day, as are a number of our summer releases like Summer Lager and Yakima Wheat."
Vendors supporting the festival in addition to Saint Louis Brewery are Butler's Pantry, its VIP caterer, and the Saint Louis Zoo, the festival's nightly general concessionaire.
Andy White, the brewery's director of restaurants, advises how the commemorative lager might complement noshes from them or from elsewhere: "1616 is a very versatile beer that pairs with a wide variety of food. On a warm summer evening, I would pair this beer with a tangy chicken salad, fresh bread and soft cheeses, or grilled vegetables with fresh herbs."
So – bottoms up, everyone!