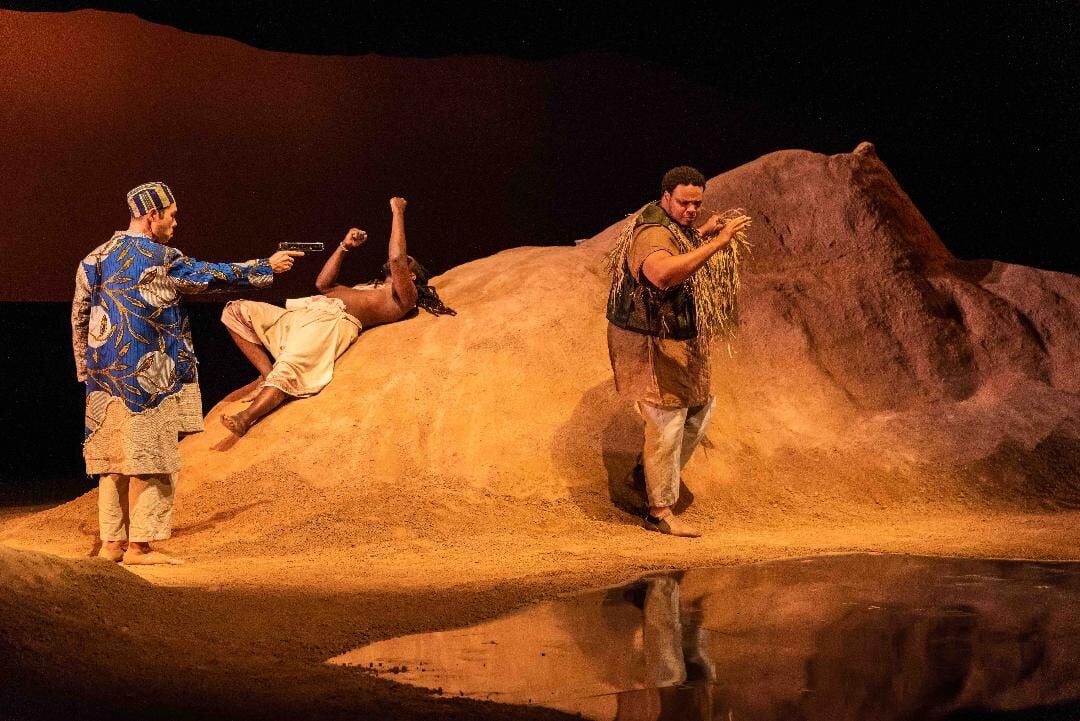 Play: Mlima's Tale
Company: Repertory Theatre of St. Louis
Venue: Berges Theatre at the Center of Creative Arts, 6880 Washington Ave.
Dates: Through July 11
Story: Mlima is a majestic elephant who lives on the savannah in Kenya. Known for his impressive tusks, he is considered the quintessential prize by poachers eager to slay him for those ivory protrusions. After his savage death at the hands of poachers, Mlima's spirit follows the trail made by all of those along the illegal chain from his killing to the invaluable ivory sculpture crafted by a renowned Chinese artist, which is then sold to a nouveau riche couple as the central feature and focus for their new home.
Highlights: The Rep returns to live theater with a fascinating and expertly woven rendition of Pulitzer Prize-winning playwright Lynn Nottage's affecting and informative story of modern-day poaching and the people who, in various ways, continue to support that illegal and destructive activity in Africa and elsewhere.
Other Info: With pandemic protocols in place, including mandatory wearing of masks, considerable social distancing and temperature taking at the entrance, The Rep has returned to live performances following more than 14 months of hiatus due to the COVID-19 pandemic.
For its first on-site production since March 2020, The Rep is performing in the newly constructed Berges Theatre on the Center of Creative Arts campus in University City. The spacious stage is utilized to expert effect by scenic designer You-Shin Chen, whose set is dominated by an imposing mound of sand, which doubles as Mlima's roaming territory.
The Rep's presentation is hauntingly illuminated by Jasmine Lesane's lighting design, which accentuates Mlima's solitary moments, bathing him in shards of pinpoint light. Helen Q. Huang contributes the costuming, which features colorful overlays for the various human characters and modest attire for Kambi Gathesha, who portrays Mlima.
Mlima's Tale, first produced in 2018, is tightly constructed, weaving Nottage's lean dialogue concisely throughout its one act and 75 minutes of performance time. Gathesha's graceful and elegant movements realize the intricate choreography created by Kirven Douthit-Boyd, summarizing both the majesty and anguish of the tortured elephant. It's especially striking when Mlima 'marks' each character who plays a role in his undignified death.
The other trio of performers divide their time portraying a number of characters, which results sometimes in initial confusion as to what character exactly is speaking, although the actors' nimble abilities to switch roles is admirable. Director Shariffa Chelimo Ali keeps the drama's pace brisk and reinforces the poignancy of Mlima's fate with quick and compelling brush strokes by the performers.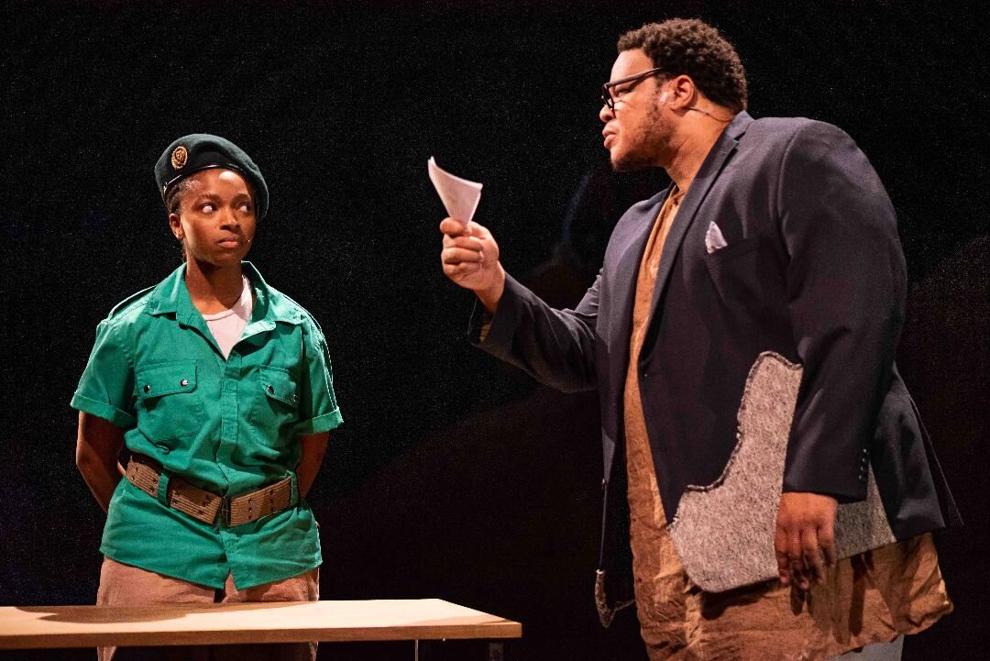 The dialect coaching by Julie Foh for Chinese and Vietnamese characters and by Barbara Rubin for Kenyan, Somalian and Tanzanian roles is studiously absorbed by each of the three supporting players as the action moves from the Kenyan savannah to the East African coast to the shipping lanes of Vietnam and onward to the Chinese mainland.
Ezioma Asonye, Will Mann and Joe Ngo all are impressive as they almost equally divide 27 roles as varied as a somewhat ethical Vietnamese ship captain, a materially obsessed wealthy Chinese couple, an accomplished artisan, a judgmental waiter, other elephants in Mlima's herd, brusque government officials on the watch for contraband and many others.
Nottage doesn't dwell on the inhumane aspects of Mlima's savage and cruel death in her dialogue, choosing instead to describe, if not excuse, the motives of the sundry humans who are involved in the poaching chain – some for money to survive, others simply to take advantage of the poor and weak, but all sharing in their relative indifference to the extinction of other species.
Throughout the presentation, the superb blend of sundry styles of African music by composer and sound designer Avi Amon provides a dazzling audio undercurrent, which includes a gunshot to kill Mlima, choral elements and appealing pieces of African- themed music, all of which make Amon's sound design a major character in the play.
Ali's keenly focused direction ensures that Mlima's Tale is as gray as the title character's skin, emphasizing all the more how tragic Mlima's Tale really is. Given The Rep's pandemic protocols, the ambiance in Berges Theatre seems subdued and antiseptic, but Nottage's writing and The Rep's realization of her probing work tell an engrossing story in fascinating and sobering fashion.
Tickets: $25 up to $99. Contact repstl.org or 314-968-4925.