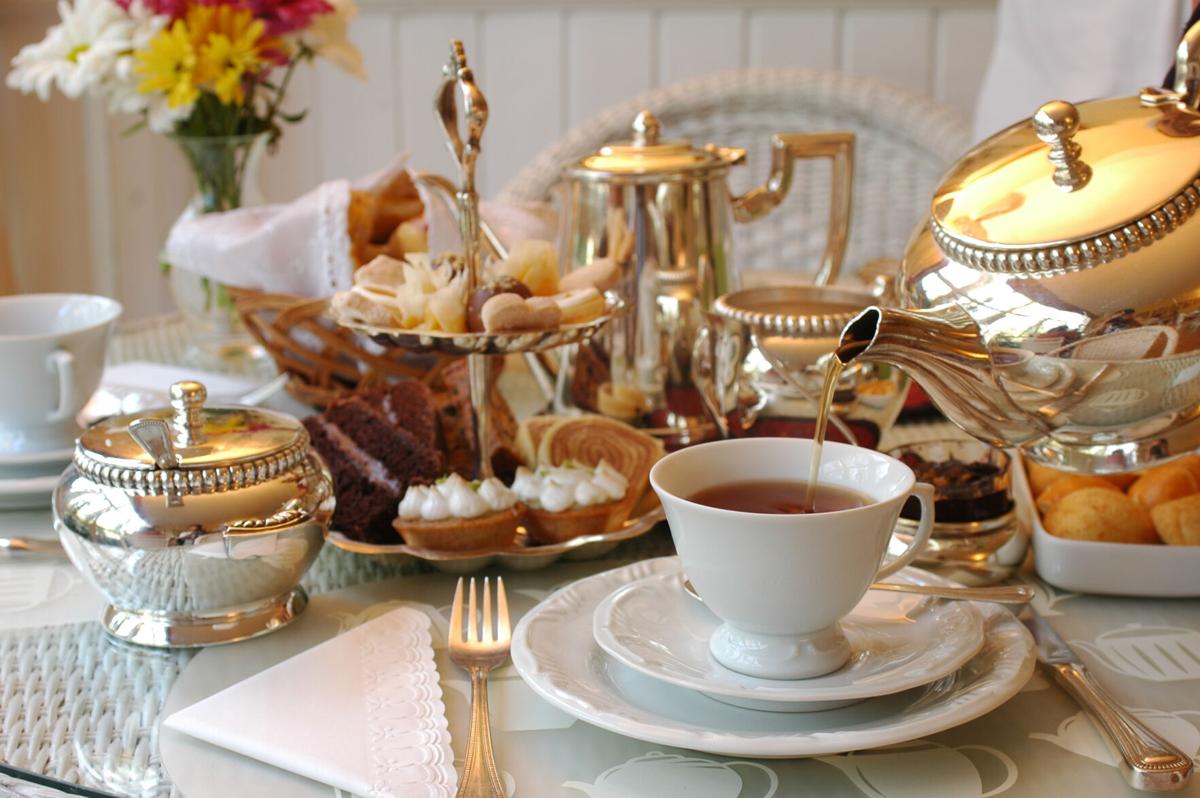 When life seems frantic, it's time to sit down for a good cuppa. An increasing number of metro area residents are finding that proper afternoon tea can be an oasis in an otherwise fast-paced and stressed-out lifestyle.
"The majority of people that frequent the tearoom tell me that they love coming into the tearoom, as it is a place of calm for them," says Jackie James, general manager of The London Tea Room, located in St. Louis' Tower Grove South neighborhood. "Tea isn't something that can be rushed. It's very satisfying to sit down with a pot of tea and let the cares of the world pass you by."
Indeed, tea has been a staple of British culture for centuries, and popular TV programs such as Downton Abbey, Bridgerton and The Crown seem to have popularized both the beverage and the ceremony around it. "Our most popular afternoon teas have been our Downton Abbey- and Jane Austen-themed teas," James adds.
What began in the Western world as a drink enjoyed by royalty slowly made its way into virtually all British households, particularly after Prime Minister William Pitt slashed the tea tax from 119 percent to 12.5 percent in 1783, making it much more affordable for the working class. A typical everyday tea break at home involves a simple cup of strong black tea with a splash of milk, served alongside a plain or chocolate-topped "biscuit" – a flat, round baked treat with a bit of crunch, similar to a typical American cookie but not overly sweet. However, a proper afternoon tea is an event to be savored with finger sandwiches and dainty cakes alongside a china cup and saucer.
At The London Tea Room, the authentic afternoon tea menu includes cucumber sandwiches, smoked salmon sandwiches and chicken salad sandwiches along with an array of small desserts. Scones, another teatime staple, are served with thick, spreadable Double Devon Cream and jam.
At Mary Ann's Tea Room in St. Louis' Central West End neighborhood, afternoon tea patrons can enjoy a chicken salad croissant, a French dip sandwich or quiche, as well as French onion soup and crab bisque. "Our menu started out much more traditional, but with time, we've blended tradition with St. Louis favorites, old and new," manager Ken Fowler says. "Our afternoon tea definitely looks different than those you'd find in most other places, but we love it, and our guests do, too."
Mary Ann's Tea Room is owned by Karen Halper, who purchased the building at 4732 McPherson Ave. in 2012. "Karen received a tour of the building and, upon seeing the greenhouse, was immediately reminded of her summers in England with her family," Fowler says. "With these memories in the forefront of her mind, Karen quickly envisioned turning the greenhouse into a tearoom – a space where women could meet their girlfriends for lunch, mothers and daughters could catch up after time apart, and fine gentlemen could treat their significant other to afternoon tea." The tearoom is named after Mary Ann Allison, the building's previous owner.
The origin story of The London Tea Room begins with James' parents, Alan and Pat Richardson, who moved their family from England to America in the late 1980s and were "very disappointed with the lack of good tea." The couple first ran a tearoom in conjunction with a furniture and antiques import business. Seven years ago, they moved the tearoom to its current location at 3128 Morganford Road. "We wanted to be in a neighborhood with historic buildings, as it reminded us more of the tea shops and cafés we loved while living in England," James says. "When we walked into the building we're currently in, we knew immediately that it was the place for us."
Both establishments made adjustments due to the pandemic, reducing capacity and offering carryout options. The London Tea Room also sells bulk teas, teapots, cups and tea-related giftware through its affiliated business, The London Tea Merchant.
Whether tucking in for lunch, celebrating life with a proper afternoon tea or just sipping a cup of your favorite blend, remember the supposed words of a philosopher named Bernard-Paul Heroux: "There is no trouble so great or grave that cannot be diminished by a nice cup of tea."
The London Tea Room, 3128 Morganford Road, St. Louis, 314-241-6556, thelondonteamerchant.com
Mary Ann's Tea Room, 4732 McPherson Ave., St. Louis, 314-361-5303, maryannstearoom.com