Play: King Lear
Company: St. Louis Shakespeare Festival
Venue: Shakespeare Glen, across from the Saint Louis Art Museum in Forest Park
Dates: Through June 27, except Mondays
Highlights: St. Louis Shakespeare Festival returns under the conditions of a pandemic protocol – with pods of up to six seats for audiences of up to 1,200, socially distanced and with masks required when strolling the festival grounds – to present an invigorating, triumphant interpretation of one of Shakespeare's greatest tragedies under the fresh, determined insight of director Carl Cofield.
Story: Aging King Lear has decided to retire and to hand over control of his kingdom to his daughters. He asks each of the three of them – eldest daughter Goneril, middle child Regan and youngest daughter Cordelia – how much they love him.
The two older daughters falsely profess their deep and abiding love for Lear, while Cordelia merely states that she loves him as a daughter should love a father and no more. Angered by Cordelia's answer and swayed by the flattery of his other two children, Lear divides his kingdom between Goneril and Regan and banishes Cordelia.
Lear's trusted friend, the Earl of Kent, expresses his misgivings about Lear's actions and for that he, too, is banished, although he returns later in disguise as a gentleman named Caius, who becomes Lear's servant. Another friend, the Earl of Gloucester, has his own family problems: He is impressed with the drive and ambition of his illegitimate son Edmund, who himself chafes at the preferential treatment given to Gloucester's legitimate heir, Edgar.
Edmund cons Gloucester into believing that Edgar wants to kill him and so Gloucester disinherits Edgar and declares him an outlaw. Edgar leaves and roams about as a madman known as Poor Tom.
As Goneril and Regan take over, they each cast Lear out of their own homes and disband his legion of 100 faithful knights. Lear, descending into madness at his daughters' cavalier treatment of their father, whom they hold in contempt, roams the countryside with his loyal albeit mocking Fool at his side.
Goneril and her husband, the Duke of Albany, joins forces with Regan and her husband, the Duke of Cornwall, to wage war against an invading French army led by their sister Cordelia and her husband, the King of France. When both Goneril and Regan lust after the scheming Edmund, their plans fall apart.
Other Info: Cofield, associate artistic director of the Classical Theatre of Harlem, sets his version of King Lear in northern Africa and features a cast of people of color.
Judging by the looks of Mika Eubanks' costume design, it's also apparently sometime in the 20th century (there's a reference to a "baseball cap" in the dialogue), even though France hasn't had a king since the late 18th century. Eubanks' costumes work best with the supporting players, such as the court soldiers, and also the colorful attire of The Fool, although Lear's makeup after his descent into insanity is arresting on its own.
Wilson Chin's set design is an imposing sight towering above the Shakespeare Glen and dominated in the opening portion by a gigantic, golden bird which serves as Lear's throne, as well as the design of a lion's head perched above. The lighting designed by John Wylie bathes the action in the bright illumination of Lear's rule early in the show, then switches focus to darker shades for the storm and Lear's increasing madness.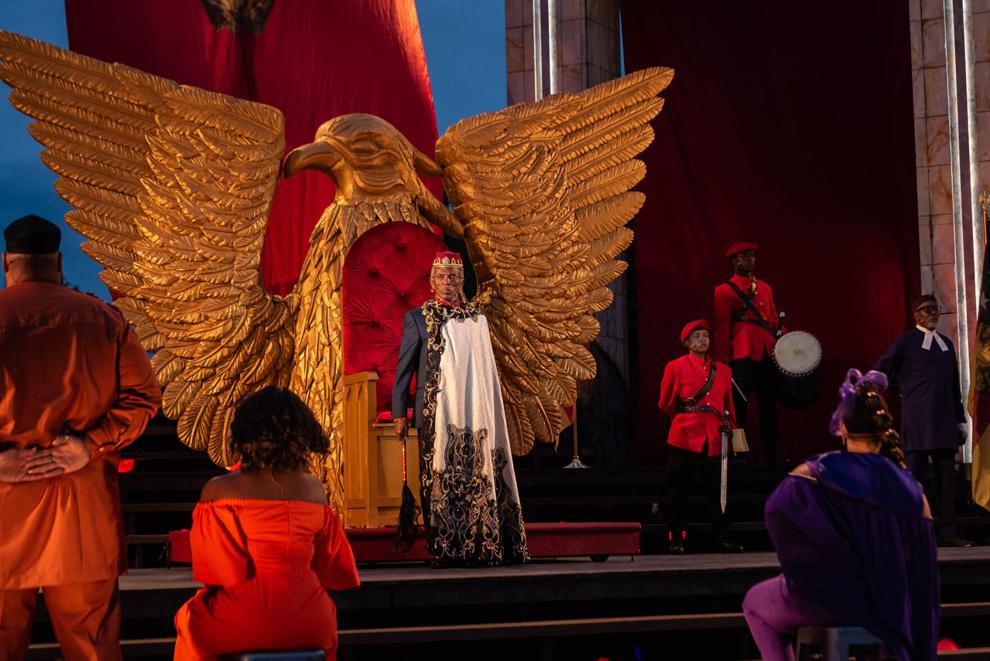 Cofield keeps this rendition moving along at an agreeable pace, starting one scene just as an earlier one concludes at the other side of the stage. He's complemented in his efforts with David R. Molina's infectious music and sound design, replacing "trumpet calls, lutes and those instruments more closer associated to Shakespeare with drums," says Cofield in a production book interview. "I dig being able to create our own dramaturgical soundscape."
Rick Sordelet's fight choreography comes to life in the battle between Edgar and Edmund, while Laura Skoska's utilitarian props serve their purpose in underscoring numerous scenes.
Madness, like beauty, is in the eye of the beholder. For some, Tony Award-winning actor Andre De Shields' portrayal of the title role resonates and crackles with fierce intensity and affecting anguish. Others might think he crosses the fine line between a precise portrait and over-the-top exaggeration. You be the judge.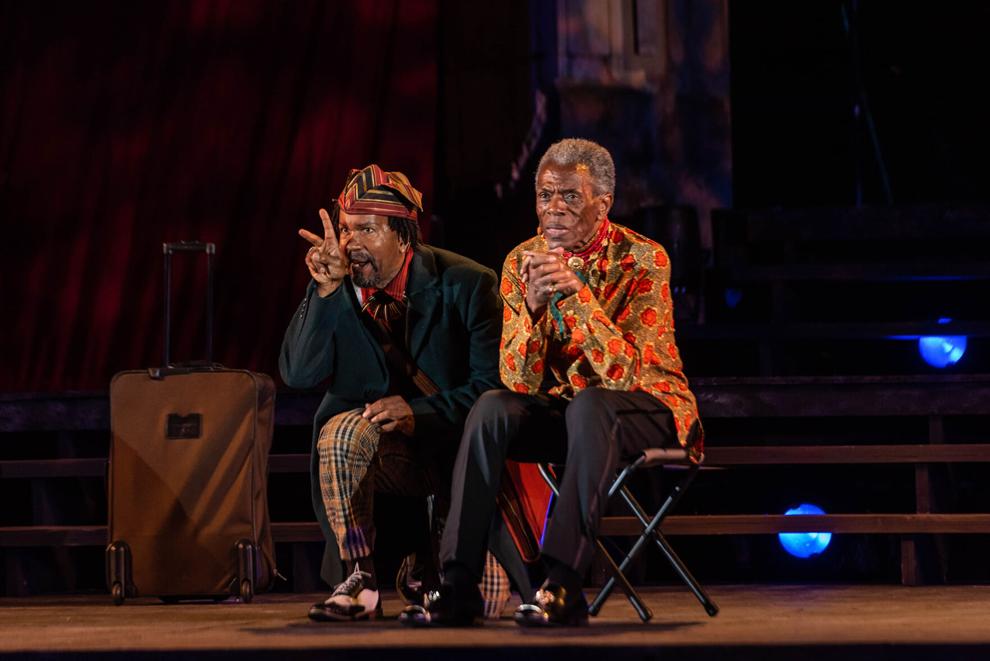 De Shields is ably joined by other actors in several excellent portrayals, especially J. Samuel Davis as Kent, Brian Anthony Wilson as Gloucester and Allen Gilmore as the Fool. Davis and Wilson each imbues his character with gravitas and considerable honor, with Davis delivering his final speech in epic, heroic style.
Gilmore and De Shields work beautifully together, the former stylishly conveying the wisdom of the Fool while De Shields capably displays Lear's wide range of emotions in the presence of his would-be confidante.
There are studied performances by Nicole King as the dutiful Cordelia, Rayme Cornell as the lusting, hypocritical Goneril and Jacqueline Thompson as the bloodthirsty, opportunistic Regan. Carl Overly, Jr. is splendid as the conniving Duke of Cornwall, and Jason J. Little shows both the initial shallowness and eventual redemption of the Duke of Albany.
Leland Fowler conveys both the intelligence as well as the drive for revenge which consumes Edmund, while Daniel Jose Molina is a limber and loquacious Edgar, donning his disguise both in garb and in voice, and Michael Tran shines in the role of Goneril's busybody steward Oswald.
Cofield also guides his supporting cast well in their roles, including Atum Jones as the drummer, Kentrell Jamison, Theorri London, Brian McKinley, Tyler White and Christina Yancy.
Tom Ridgely, St. Louis Shakespeare Festival producing artistic director, refers to King Lear in his program note as "Shakespeare's greatest tragedy." I'm not sure about that, but to paraphrase the St. Louis Cardinals' legendary pitcher Dizzy Dean, it's "amongst 'em." Cofield's meticulously directed presentation is worth the wait of a prolonged pandemic to witness.
Tickets: Free, but reservations are required for pandemic pod seating. Visit stlshakes.org.