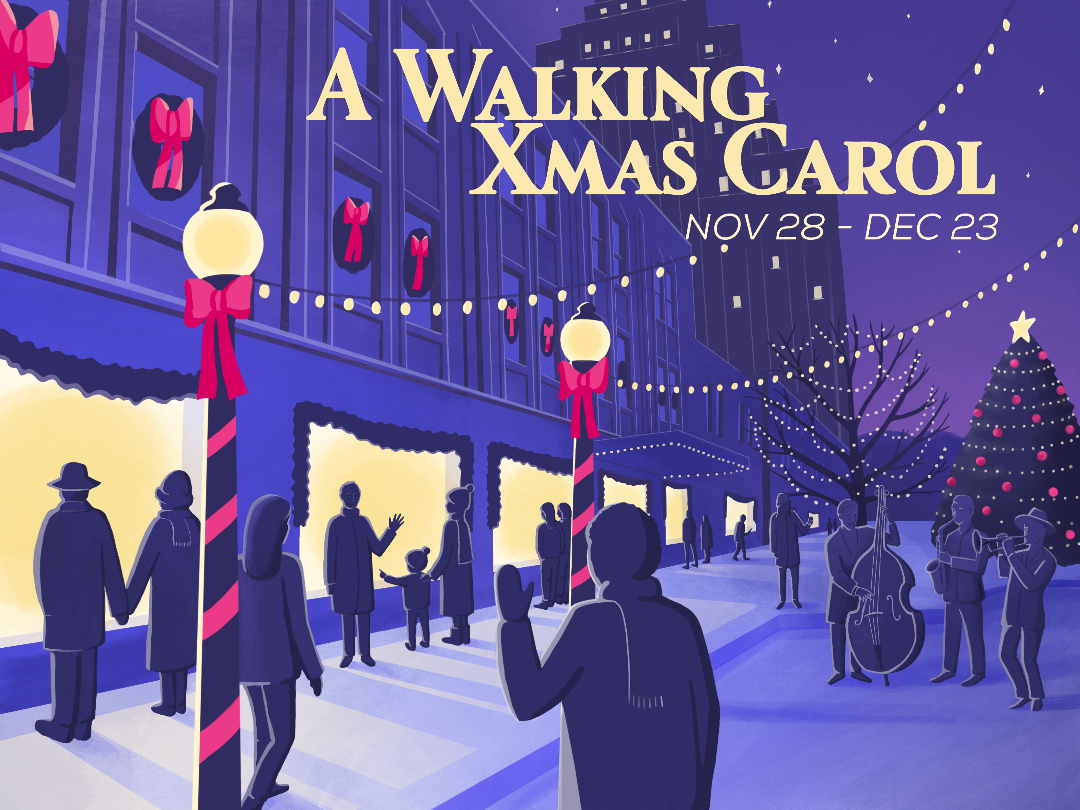 "Marley was dead, to begin with" – so commences one of the most cherished narratives in English literature, and that magisterial Victorian work will soon come to life, courtesy of the St. Louis Shakespeare Festival.
From Nov. 28 to Dec. 23, the area Bardic troupe will produce "A Walking Xmas Carol," a contemporary interpretation of "A Christmas Carol," starting at the intersection of Euclid Avenue and Maryland Plaza in St. Louis' Central West End neighborhood.
Of the free, self-guided public romp, the festival's website promises "a 20-stop, audio-musical and window-display reimagining of the classic tale by Charles Dickens. Local artists from PaintedBlack STL … will create large-scale window installations interpreting [Ebenezer] Scrooge's journey from a never-before-seen perspective, while the musical adaptation [by the] Q Brothers … will guide guests throughout the walk."
A map of the route and access to an audio guide will be coming shortly, the website promises. In line with municipal COVID-19 restrictions, it also requires that participants above the age of 9 wear face masks, that groups observe a 10-person limit (preferably from the same household) and that participants observe standard social distancing protocols and follow any posted health-related guidelines.
"We also ask that you not take part if you have had contact with a person that tested positive for COVID-19 in the past 14 days or had a fever or symptoms of COVID-19 in the past 14 days," the website states of the event, which it characterizes as "great for all ages and backgrounds."
Given the open-air nature of the event and the metro area's meteorological capriciousness, the website further urges participants to verify the weather forecast beforehand.
Dickens' classic among classics dates from 1843, and during its composition, that tale inspired something like divine madness in its teller.
"Once started on its course, his 'Christmas Carol' ran away with him," English children's belletrist Eleanor Farjeon notes in her introduction to the Oxford Illustrated Dickens edition of Christmas Books. "He wept at it, and laughed, and wept again; it so excited him that, in the small hours, 'when all sober folks had gone to bed,' he walked London's black streets for 15 and 20 miles, possessed by it."
Subsequently, from 1844 to 1848, Dickens wrote four other Yuletide novellas – "The Chimes," "The Cricket on the Hearth," "The Battle of Life" and "The Haunted Man" – with all five ultimately collected as Christmas Books in the Oxford edition. None of the other novellas, however, has enjoyed the lasting impact of the tale of Scrooge and the Cratchit family.
After that, from 1850 to 1857, Dickens – ever the slacker – wrote a mere 21 shorter seasonal tales, while producing the novels David Copperfield, Bleak House, Hard Times and Little Dorrit. Ranging from "A Christmas Tree" to "The Lazy Tour of Two Idle Apprentices," those shorter narratives fill 758 close-set pages of Oxford's Christmas Stories.
Critics of Dickens, of course, customarily deplore his sentimentalism. In a manner of speaking, though, he earned that sentimentalism while laboring as a 12-year-old for 10 hours daily, six days each week, at a shoe polish factory, around the time his father went to debtors prison in central London. Even at that, one can't help suspecting the screaming despair of the visitation from the Ghost of Christmas Yet To Come in Stave IV of "A Christmas Carol" would bring tears to the eyes of a granite statue.
Anyone with questions or concerns about "A Walking Xmas Carol" should email Allie Magee, the troupe's marketing and communications manager, at allie@stlshakes.org or phone 314-287-3348.
St. Louis Shakespeare Festival, 5715 Elizabeth Ave., St. Louis, 314-531-9800, stlshakes.org