Some said it couldn't be done: a gracefully curved steel structure soaring 630 feet above St. Louis' riverfront, framing the so-called Gateway to the West.
And yet, 55 years after the last section was placed at its zenith, the Gateway Arch still stands as the world's tallest arch and the tallest human-made monument as such in the Western Hemisphere.
"The Arch has a simple, sleek design, and yet, it is a huge feat in engineering," says Pam Sanfilippo, chief of museum services and interpretation at Gateway Arch National Park. "Most people see the Gateway Arch as a kind of treasure and a source of civic pride, beauty, engineering and architecture – it's really something St. Louis is proud of."
On Wednesday, Oct. 28, the icon marks its 55th birthday. Although the main event – to honor the landmark's builders – will take place virtually due to the COVID-19 pandemic, the expanded national park grounds, the re-imagined museum and the Arch itself, including tram rides to its top, remain open to the public following a brief closure amid that pandemic.
The journey to building the storied structure began in 1933, when St. Louis civic leader Luther Ely Smith conceived of constructing a memorial on the St. Louis riverfront that would both help revitalize the area and serve as a symbol of westward expansion. After a nationwide competition to select its design, Finnish American architect and industrial designer Eero Saarinen's stainless steel arch was chosen to celebrate that expansion. "The son of renowned architect Eliel Saarinen beat out his father in the competition," Sanfilippo notes.
A groundbreaking for the monument, dubbed the Gateway to the West, was held June 23, 1959, and excavation began in 1961. "It was a slow, methodical, thoughtful process to make sure everything was done safely and met the goals and ideals that the project began with back in the '30s," Sanfilippo explains.
The 142 steel pieces of the Arch were fabricated by the now-defunct Pittsburgh-Des Moines Steel Company and shipped to St. Louis on gondola cars by railroad. About 200 professionals – architects, engineers, crane operators and steelworkers – teamed to build the memorial, which was completed on Oct. 28, 1965. "Actuaries actually considered when this project was beginning, the insurance and risk assessment, that 13 would die – and no one died," Sanfilippo says, noting that safety had been made a top priority from the project's inception.
To transport visitors to the top of the Arch, a tram in its north leg was completed in 1967, and a second, south-leg tram was added the next year.
Each year, more than 2 million people typically visit the Arch memorial grounds, and about 75 percent of them ride the tram to the monument's top to lean against its slanted sides and peer out rectangular windows at St. Louis' skyline and beyond. "Since 1965, more than 140 million people have visited," Sanfilippo says. "It has brought a tremendous amount of tourism to St. Louis."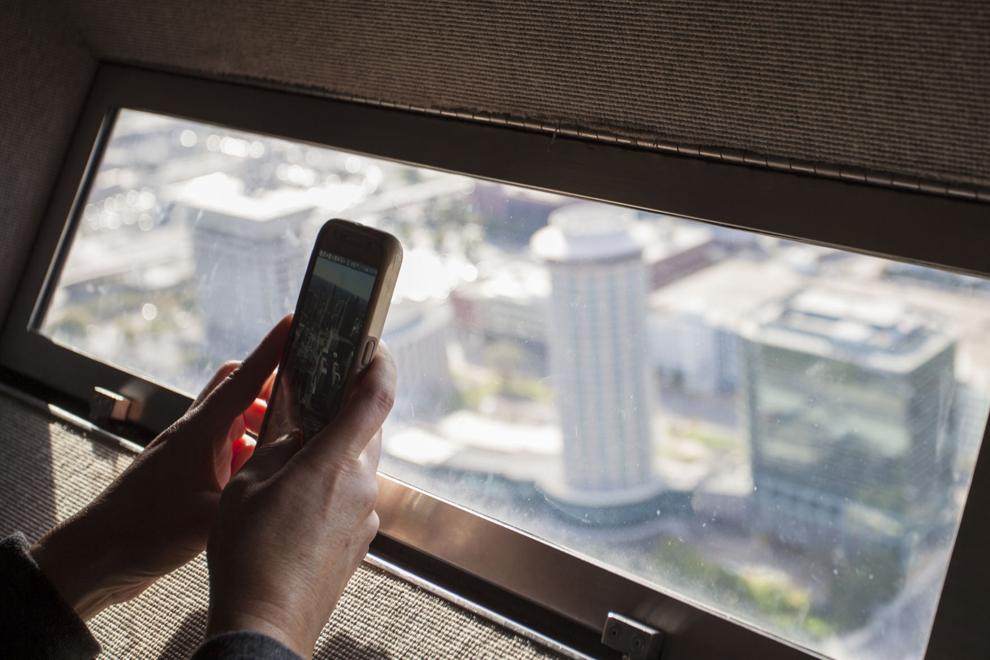 Since the monument and its grounds became a national park in 2018, its remodeled museum and surrounding pathways have continued to draw a significant number of area residents and tourists alike, even during the pandemic, Sanfilippo says. "People are taking advantage of over 5 miles of walking and biking paths," she says. "It's a great way for people to get out and social distance, relax and find some peace on the grounds."
And Sanfilippo describes the museum's exhibitions as "can't miss" attractions. "There are lots of interactive components to engage people," she says. "Many have said that the new exhibits tell the story of St. Louis and westward expansion from multiple perspectives – both the good and bad impacts it had. Visitors appreciate they can get those individual stories and make their own connections to the past."
For information on the Arch's 55th anniversary celebration and special events, interested parties can visit nps.gov/jeff or the monument's Facebook, Twitter and Instagram pages; they also can reserve entry tickets by visiting gatewayarch.com or by calling 877-982-1410.
Although trips to the top of the Arch require social distancing and face coverings, Sanfilippo says guest response has been favorable. "In the past, it would get crowded when it came to finding windows, but now each group is assigned to a particular set of windows," she says. "So now visitors feel they're getting a better, more unique experience."
Gateway Arch, 11 N. Fourth St., St. Louis, 877-982-1410, gatewayarch.com