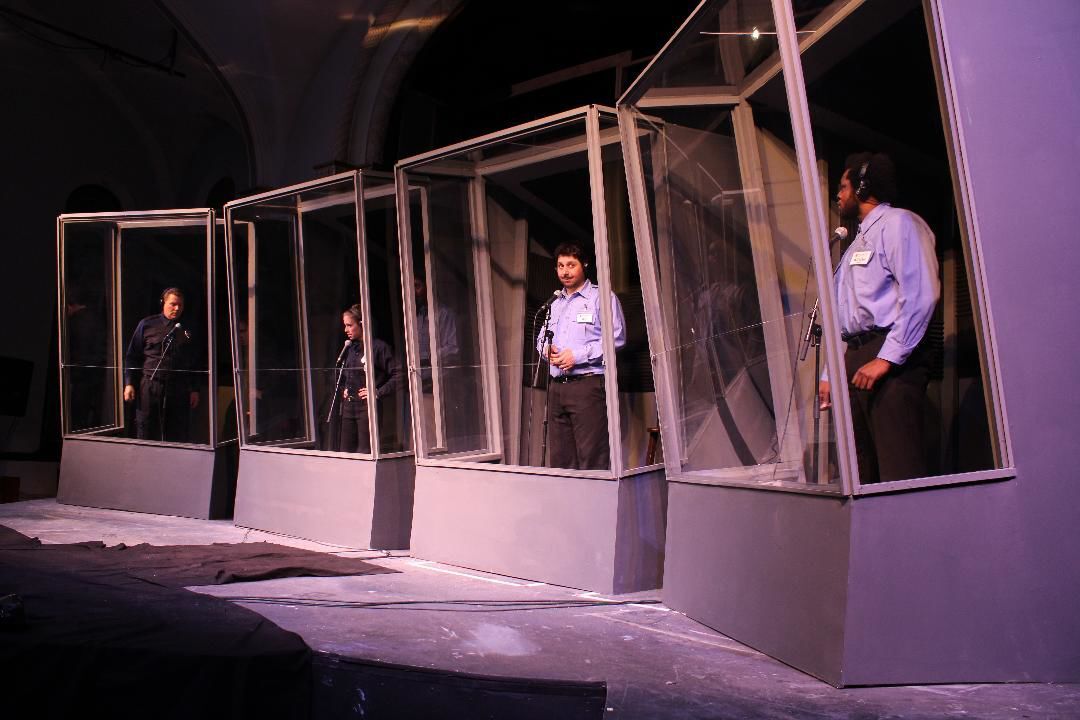 When the COVID-19 pandemic arrived in the metro area, it shut down "live" theatrical performances quickly and decisively. Luckily, although we're still in a holding pattern, a number of local companies are still offering enticing options for patrons.
The St. Louis Shakespeare Festival presented a streamcast performance of Cymbeline in late March, with the cast of its touring production doing their version of the play on a stage with the audience online rather than in theater seats. Likewise, ERA (Equally Represented Arts) staged a whimsical Zoom performance of Moscow!, in which a dozen or so players enacted their parts in their own homes in a clever take on Chekhov's Three Sisters.
Metro Theater Company in late July offered an original, 15-minute piece by local playwright John Wolbers titled Early Days: Stories of the Pandemic, which was streamcast on MTC's Facebook page, as well as that of the Missouri History Museum. In the poignant little story, three generations of a family (Nicholas Kryah, Jacqueline Thompson and Madeline Emke) meet via Zoom to celebrate the granddaughter's birthday as best they can.
In that brief period, Wolbers touched on a number of affecting moments impacting numerous families around town, such as the recent passing of the family's matriarch, whose wake and funeral essentially were virtual because of the pandemic. Still, the surviving family members use their Zoom get-together to reaffirm their love and bring happiness to one another, even in trying times. Artistic director Julia Flood brought out convincing performances by her fine trio of players.
Stray Dog Theatre artistic director Gary Bell partnered his troupe with Surfcode, utilizing its platform PlayPlay.tv, to enable the first 750 people who took advantage of making reservations to view the troupe's virtual production of Lobby Hero, which originally was part of its 2019-20 season before the pandemic forced the company to shut down its theater at Tower Grove Abbey.
Bell directed the absorbing presentation of Kenneth Lonergan's drama and its cast of four characters in a production recorded "live" on Stray Dog's stage, with each actor confined to an individual, custom-built "acting booth." Stray Dog's news release noted that rehearsals for the show "were held in compliance with both state and local ordinances, including temperature checks, required face coverings and social distancing."
Masks weren't used in the production, but the physical separation of the players enabled them to perform without endangering one another. Bell used the screen to present the characters individually or in clusters, depending on the scene being presented, thereby effectively breaking up the potential sameness of the presentation.
Although perhaps not as invigorating as a traditional performance before an in-house audience, Stray Dog's presentation of Lobby Hero showed how an enterprising troupe can deal with a crisis and still pull together a credibly crafted theatrical work.
With the presence of the novel coronavirus, the ninth annual St Lou Fringe Festival took place virtually this year. Current events served as inspiration for performances exploring topics such as Black Lives Matter, COVID-19 and trans rights, among others. Artistic director Matthew Kerns oversaw productions such as HERstory of HIStory, a performance poetry piece from Chicago slam poet Heather "Byrd" Roberts and Company. The festival also included an opera in progress, The Making of Flame & Shadow, about St. Louis native and Pulitzer Prize-winning poet Sara Teasdale.
The Tennessee Williams Festival St. Louis revived an art form popular in the mid-20th century – radio theater. Something Spoken: Tennessee Williams on the Air premiered on July 11 and will air every other Saturday through Sept. 26 on Classic 107.3 (classic1073.org) and TWSTL (twstl.org).
The Muny delighted more than 100,000 viewers this summer with its five-week "live" variety series, hosted by Muny artistic director and executive producer Mike Isaacson. The streamcast productions featured past Muny performers from around the nation contributing pieces via Zoom, as well as weekly "live" contributions from a weekly guest artist at The Muny's Culver Pavilion.
And St. Louis Shakespeare Festival, which wasn't able to go forward with its presentation of Much Ado About Nothing in Forest Park, instead is offering A Late Summer Night's Stroll, a free, outdoor, 90-minute walking experience through Sept. 6. In partnership with PaintedBlack STL, 14 works of art have been installed along marked paths in Forest Park. The program also includes performances by Opera Theatre Saint Louis, The Black Rep, Poor Monsters, Slightly Askew Theatre Ensemble, Jazz St. Louis, Big Muddy Dance Company and others. 
Stay up-to-date on what's happening
Receive the latest in local entertainment news in your inbox weekly!