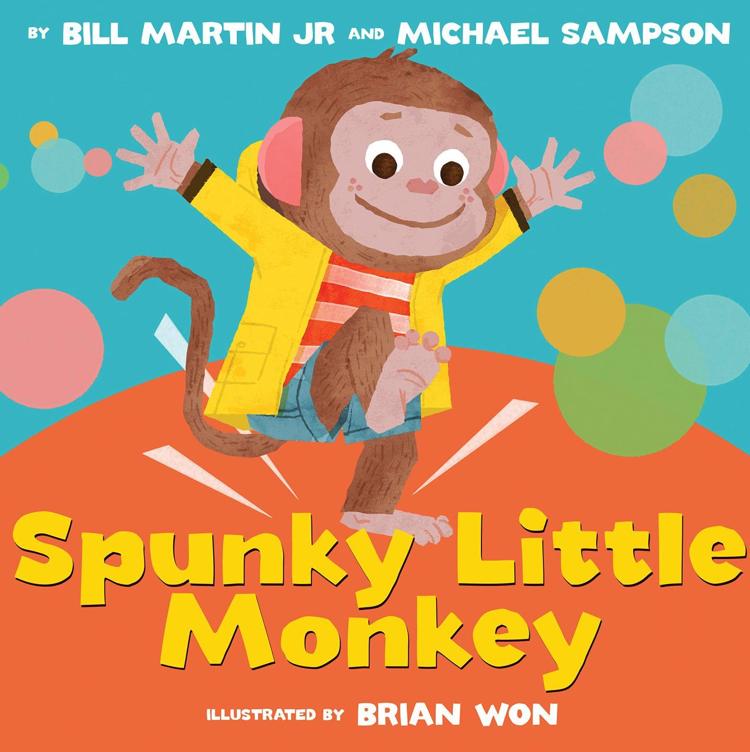 Do you recall taking part in playground clapping games? One of my favorites, "Down, Down Baby," called for everyone to stand in a circle and clap each other's hands in rhythm. Keeping giggly, excited children on track took coordination and timing, but everyone enjoyed doing the "roller coaster" motions with their hands and the "hot dog" swivel with their hips.
Now you can relive such fun with your own children with Spunky Little Monkey, a bright, engaging book from writers Bill Martin Jr. (of Brown Bear, Brown Bear, What Do You See?) and Michael Sampson and illustrator Brian Won.
Spunky Little Monkey begins the rhythmic fun in its opening pages with this chant: "Sleepy Little Monkey won't get out of bed. Momma called the doctor and the doctor said: 'Apple Juice, Orange Juice, Gooseberry Pies – Monkey needs some exercise!'" The following pages show Monkey popping out of bed as the alarm rings, jauntily dancing around his room as he nods his head ("Ding-Dong!"), claps his hands ("Clap! Clap!"), stomps his feet ("Stomp! Stomp!") and wiggles his hips ("Shake! Shake!"), while preparing for school.
Won illustrates this celebration in bold colors defining simple but effective shapes to create cohesive pictures, sure to charm children and adults alike. Reading aloud becomes even more interesting as a few illustrations appear in two-page vertical spreads, magnifying Monkey's excitement and joy in moving and grooving.
Spunky Little Monkey should make a great read to start your sleep-groggy child's day or to channel his or her boundless energy during seemingly endless winter days spent indoors. 
Join Ready Readers in sharing the magic of books with our community's most vulnerable preschoolers. Visit readyreaders.org to learn how you can make a difference. Kids Who Read Succeed!