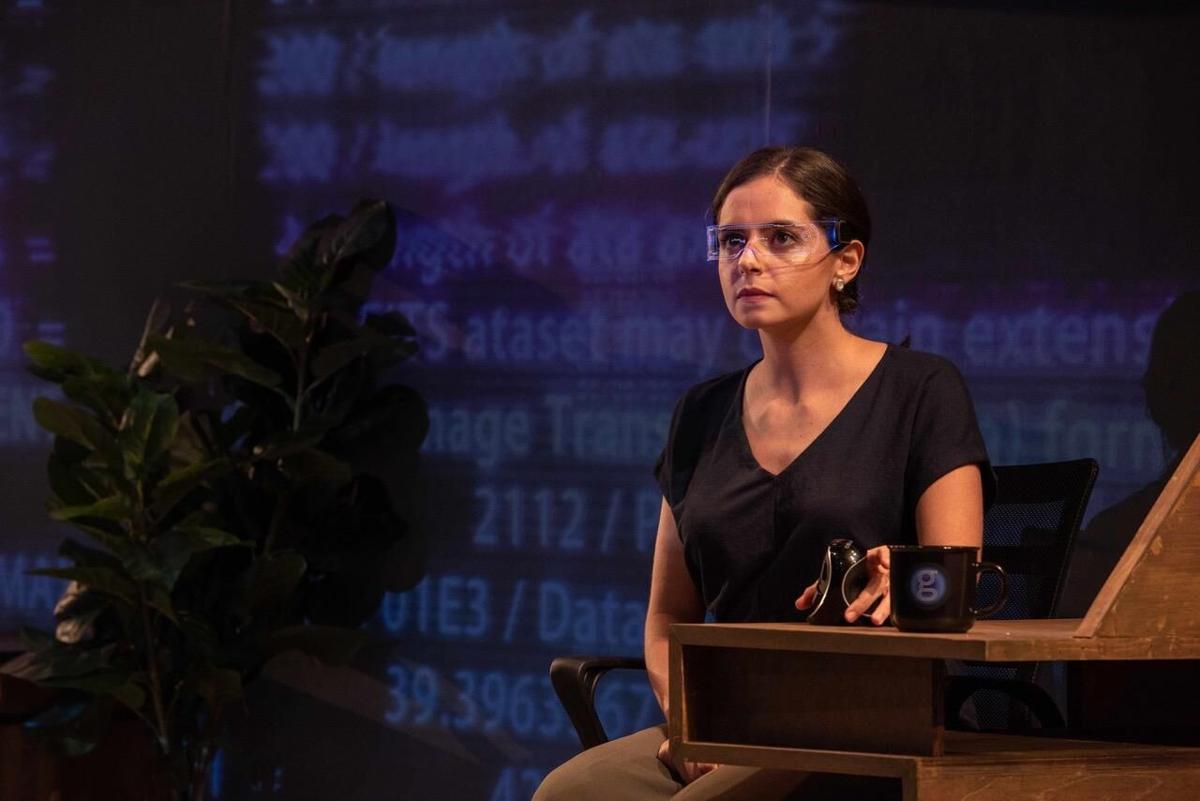 Play: The Gradient
Company: The Repertory Theatre of St. Louis
Venue: Berges Theatre at COCA, 6880 Washington Avenue
Dates: Through Oct. 24
Tickets: $25-$99; visit repstl.org or call 314-968-4925
Highlights: The Rep, under the guidance of Augustin Family artistic director Hana S. Sharif and the incisive direction of Rep associate artistic director Amelia Acosta Powell, delivers a dazzling world premiere of a nifty new play by Steph Del Rosso, an intriguing blend of comedy and unsettling science fiction.
Story: It's all about the algorithms at Tess' new place of employment, a company called The Gradient, which seeks to address problems of "toxic masculine behavior." In keeping with its inclusive policies, Tess' boss Natalia is quick to point out that not all of The Gradient's clients are necessarily male, even if the majority clearly are.
Tess is excited about her new opportunity because she believes there was too much backbiting, infighting and corporate shenanigans in places where she'd previously worked. So she's all in for interviewing sundry men sent to her cubicle for her analyses of their problems – based on the company's almighty algorithm designed to diagnose and treat male toxicity in their relationships with women.
As you might expect, the men sent to Tess for her questioning run the gamut from confused to reticent to angry – guys who are not accustomed to internalizing nor in having their actions questioned.
Tess' initial delight with the positive contributions of her new company soon begins to wear off as she sees signs of indifference by Natalia to certain questions raised by Tess. There is also evidence that Natalia may be more interested in the bottom line of The Gradient than in the ultimate reform of its clients.
When Tess is befriended by a colleague named Louis, he tells her how various departments within the company work for the common good and notes how the employees are big on socializing with each other at parties and whatnot, although dating each other is frowned upon.
While Tess maintains control in her interview settings with the men sent to her for questioning, a self-assured chap named Jackson provides some serious challenges. The amiable Jackson is big on learning more about Tess' personal life, despite her admonitions.
Still, Tess begins to doubt how much Jackson really is being rehabilitated and suspects that his answers to her queries have more to do with sidling up to Tess than any real contrition on his part. When Tess informs Natalia of her suspicions about Jackson, she's further surprised by Natalia's response.
What exactly is going on at The Gradient? Is it an organization whose adherence to strict scientific principles is ushering in legitimate progress that could benefit workplaces in America, as well as society in general? Or is it business as usual in a different guise? Is it a brave new world, or is it a place where the new boss is the same as the old boss?
Other Info: Del Rosso's one-act work is well constructed from its amusing start to its disturbing conclusion, showing how adept the playwright is at her craft. At the same time, director Powell pulls together the considerable talents of her five-player ensemble to breathe vibrant life into Del Rosso's probing plot and character development.
In her program notes, Sharif states her fascination with a workshop production of The Gradient in 2018, while Powell discusses Del Rosso's exploration of "tiny dents in the status quo." Indeed, The Gradient is an example of a particular genre of science fiction, which at first appears disarmingly normal and then slowly reveals a more sinister element at play.
Scenic designer Carolyn Mraz conveys the sleek, unsettlingly sterile look of the company in her mod scenic design that features a backdrop of floating geometric figures in Tess' office cubicle, an interview room adorned with a table and a couple of chairs and a kitchen area at stage right.
It's all subtly illuminated with Mextly Couzin's lighting, highlighted with a harrowing scene focused on Tess and complemented with the projection designs of Kaitlyn Pietras and Jason H. Thompson. Raquel Barreto's costumes emphasize Natalia's authority as well as her stylish tastes, with Tess adorned in more "subordinate" attire that subtly changes as she develops more confidence.
Sadah Espii Proctor's sound design is a pleasing track of instrumental soft rock and pop sounds to provide a cool vibe at the company to offset the occasional volcanic emotional eruptions by some of its visitors.
Stephanie Machado inhabits Tess' character with a well-etched portrayal of the protagonist with whom the audience can identify. As Natalia, Christina Acosta Robinson is cunningly adept at showing the boss' innate charm, as well as her more insidious inclinations to let Tess know who is clearly in charge.
Yousof Sultani delivers a fine performance as the ingratiating Jackson, showing the successful businessman's smooth way of getting what he wants regardless of the situation, and William DeMerritt is appealing as the good-natured but trepidatious Louis. Stephen Cefalu Jr. is a maelstrom of manic energy as a number of confused clients at The Gradient, quickly moving in and out of a series of amusing portrayals.
It wouldn't be surprising to see The Gradient move on to more productions elsewhere, given its well-written and timely context as well as its absorbing world premiere presentation.