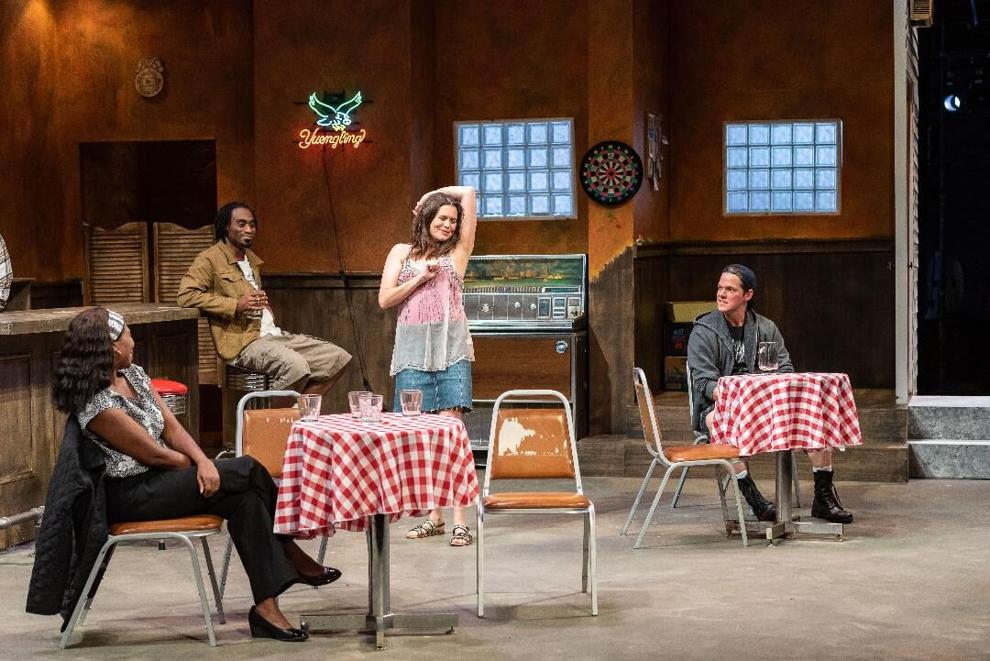 Play: Sweat
Company: The Black Rep
Venue: Edison Theatre, Washington University in St. Louis, 6445 Forsyth Blvd.
Dates: Sept. 16 through 19, 22 through 26
Tickets: $15-$50; call 314-534-3810 or visit theblackrep.org
Highlights: The Black Rep opens its 45th season and its first since the coronavirus pandemic shut down local theater in March 2020 with the local premiere of this Pulitzer Prize-winning drama by playwright Lynn Nottage.
Story: Reading, Pennsylvania, at the turn of the 21st century is an industrial city where many of its blue-collar citizens toil by day at a local factory. After work they stop by a local watering hole to socialize and celebrate birthdays and other festive occasions.
Cynthia, Jessie and Tracey all are regulars at the tavern, which is run by Stan the bartender (although he doesn't own the place) and cleaned by Oscar, an ambitious young man of Colombian descent who yearns to get a job in the factory, where pay even for beginners is better than he's making at the bar.
The factory is multi-generational, employing not only Cynthia and Tracey but their sons Chris and Jason, respectively, as well. It's also where Brucie, Chris' father, once worked before alcohol and drugs took over his life.
As tough as times have been, though, it appears they may be getting even worse. There are rumors that many jobs may be on the line and even that the company is considering closing the factory and moving its machines to Mexico, where labor is considerably cheaper than the union forces in Reading.
Tensions already are high, but they're accentuated when the company posts a management position and both Cynthia, who is black, and Tracey, who is white, both apply for it. After Cynthia is promoted to her new job, jealousy seeps into Tracey's thoughts and actions toward her longtime friend and reaches a boiling point when Tracey accuses Cynthia of withholding critical information about the company's plans from her friends.
Cynthia, Tracey, Jessie and their colleagues all have put considerable sweat equity into their efforts, which, despite their complaining, pay their bills and provide a foundation for their lives. Does Cynthia really know what the future is going to be for her friends and herself in Reading? Does she remain loyal to them or to the people who promoted her into management? Lives and livelihoods hang in the balance.
Other Info: Black Rep founder and producing director Ron Himes helms the Black Rep's production of Sweat. It shows evidence of rust in the performances of some of its players, which doubtless will improve with more presentations. As it is, the show receives a much-needed jolt when A.C. Smith arrives with his galvanizing performance as Brucie.
Smith's innate acting savvy moves this rendition of Sweat away from soap opera and into compelling theater with his depiction of the bristling, unstable Brucie. His performance also elevates that of Velma Austin as Cynthia, the "rock" of the tavern denizens who staunchly protects her vulnerable son Chris as well as looks to improve her own situation.
Amy Loui solidly conveys the unhappiness and envy of Cynthia's friend Tracey, while Kelly Howe is effective as their mutual friend Jessie. Brian McKinley delivers a fine performance as the good-natured Chris while Franklin Killian shows the menacing side of Tracey's trouble-making son Jason.
Blake Anthony Edwards is steady as the sympathetic bartender Stan, Gregory Almanza is convincing as the hard-working and aspirational Oscar, and Don McClendon is effective as police detective Evan.
Himes utilizes three areas of the Edison Theatre stage for the show's various scenes, which jump in time between 2000 and 2009. Most of the action takes place on the sprawling midsection of the stage, where scenic designer Tim Jones has fashioned a realistic set for a blue-collar bar, offset at stage right by the interrogation room and stage left for other scenes away from the tavern.
John D. Alexander's lighting design underscores the grittiness of the place as well as the characters' lives, as do Hali Liles' costume design and Meg Brinkley's properties design. Paul Steger's fight choreography packs a considerable punch in some hair-raising scenes in the show's climax, while Kareem Deanes' pervasive sound design provides both soothing background music in happier moments as well as discordant clamor in the play's uglier scenes.
The Black Rep historically has nurtured incisive and riveting productions of many of the greatest works by African American playwrights. Despite some sluggish moments, its presentation of Sweat continues the company's and founder Himes' well-earned reputation for theater at its pulsating finest.