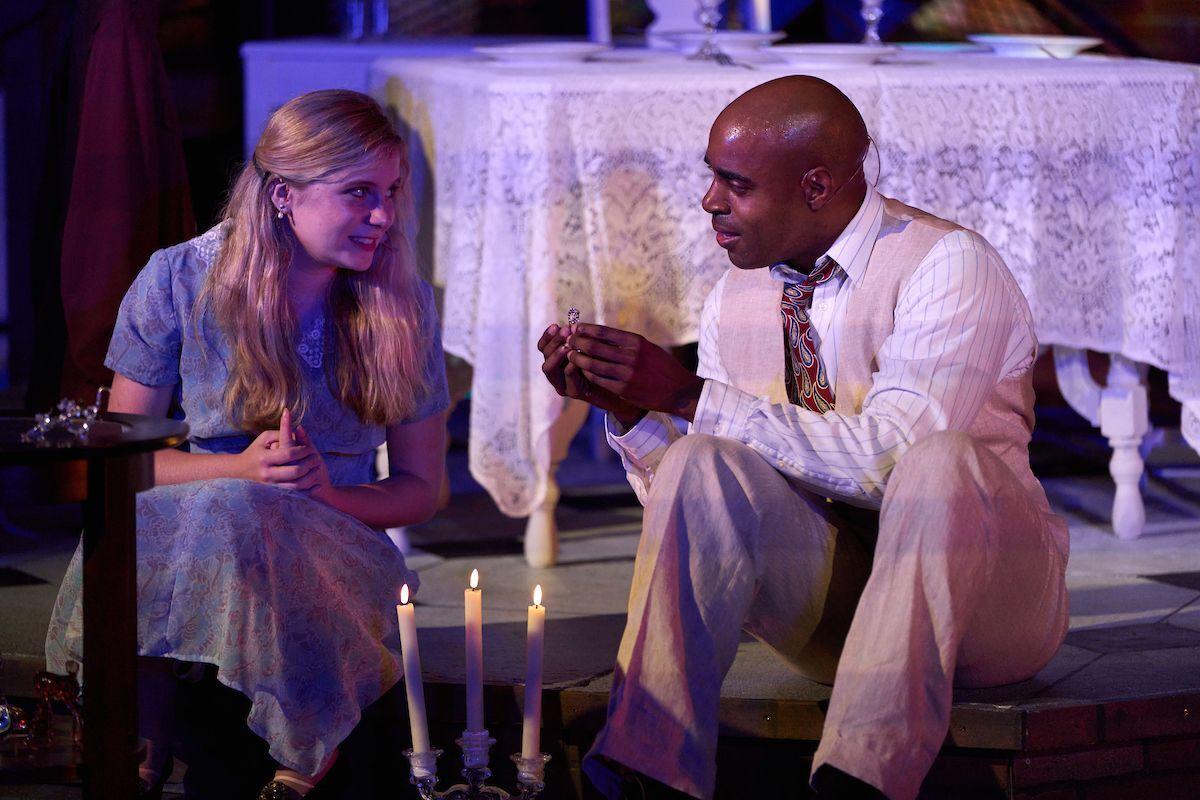 Play: The Glass Menagerie
Company: Tennessee Williams Festival St. Louis
Venue: The Tennessee at 4633 Westminster Place
Dates: Aug. 26 through 29
Tickets: $25-$45; call 314-534-1111 or visit metrotix.com
Highlights: The ninth annual Tennessee Williams Festival St. Louis treats its audiences to a touching performance of Williams' first big stage success on the back lot of the very apartment building in the Central West End neighborhood where Williams lived at the time of the play's setting.
Story: Tom Wingfield chafes at the condition of his life in the late 1930s. An aspiring poet, he spends much of his time working in a warehouse to support his mother Amanda and sister Laura, the latter a very shy young woman with a slight limp whose earlier battle with pleurosis has left her more emotionally than physically affected.
A photo of Tom's father, a telephone company employee "who fell in love with long distance" and abandoned his family 16 years earlier, is prominently displayed in the family's modest St. Louis apartment. Amanda, who lived a pampered existence in the Deep South in her youth, clings to her memories of those times while also pushing her daughter to marry a "gentleman caller," whoever he may be.
Tired of her incessant badgering that Tom find a man for his sister, Tom happily informs Amanda one night that Jim O'Connor, a friend of his from high school and now a fellow employee at the warehouse, has agreed to have dinner at the Wingfields' home the following evening. Amanda hopes' spiral out of control, while Laura panics at the thought of seeing the boy whom she admired from afar in school several years earlier.
While Amanda hurriedly prepares their home for a visitor, Tom secretly makes plans to join the Merchant Marines and escape his unhappy existence, which now consists of working in a warehouse by day and going to "the movies" at night to get away from Amanda and her oppressive and delusional personality.
Other Info: The Glass Menagerie is the linchpin in the Tennessee Williams Festival St. Louis 2021 production schedule.
Performed outdoors due to pandemic protocols, Dunsi Dai's expressive scenic design utilizes the back of the structure where Williams actually lived, a three-story apartment building softly illuminated against the night sky by Catherine Adams' lighting design. Dai's set is further highlighted with the presence of several hanging "windows" of the era, through or around which the audience sees the characters in their natural environment.
Kareem Deanes' sound design fills the set with the music of a nearby dance hall as well as several old-style tunes popular in the '30s, with original music created by Brian Hohlfeld and Oliver Kwapis.
Michele Siler's costumes warmly reflect each character – from Tom's Merchant Marine togs, to O'Connor's dapper suit, to Laura's simple dress and Amanda's everyday garb that's replaced with a garish remnant of her 'belle of the ball' past. Katie Orr adds several handsome touches with her props, including an old-style phone.
Director Brian Hohlfeld realizes the poetry of Williams' haunting and affecting piece, never more powerfully than when he has Bradley Tejeda as Tom ascend the fire-escape stairwell adhering to the back of the Williams edifice. Additionally, he moves his players judiciously across the lengthy stage area as they enter and exit various scenes.
Tejeda delivers an inspired performance as Tom, as do Elizabeth Teeter as Laura and Chauncy Thomas as the Gentleman Caller, each of them affecting in his or her own finely etched interpretation of their roles, both in cadence and in movement as well as the shaping of their dialogue.
Brenda Currin is fine as Amanda, especially when Amanda rails against the fates, although Currin seemed to stumble over her lines a number of times on opening night. It should be noted, however, that it was quite warm under those stage lights on still another humid St. Louis evening, and that may have played a factor.
The fifth character, the missing Mr. Wingfield, looms large in a framed photo which dominates the domicile next to an illusory door.
As Hohlfeld notes in the program, "There's no other city in the world where you could see this play in this venue ... the equivalent of going to Mass in St. Peter's Square in Rome." Viewing such an exquisite presentation of a true American classic such as The Glass Menagerie is a moment to be treasured.