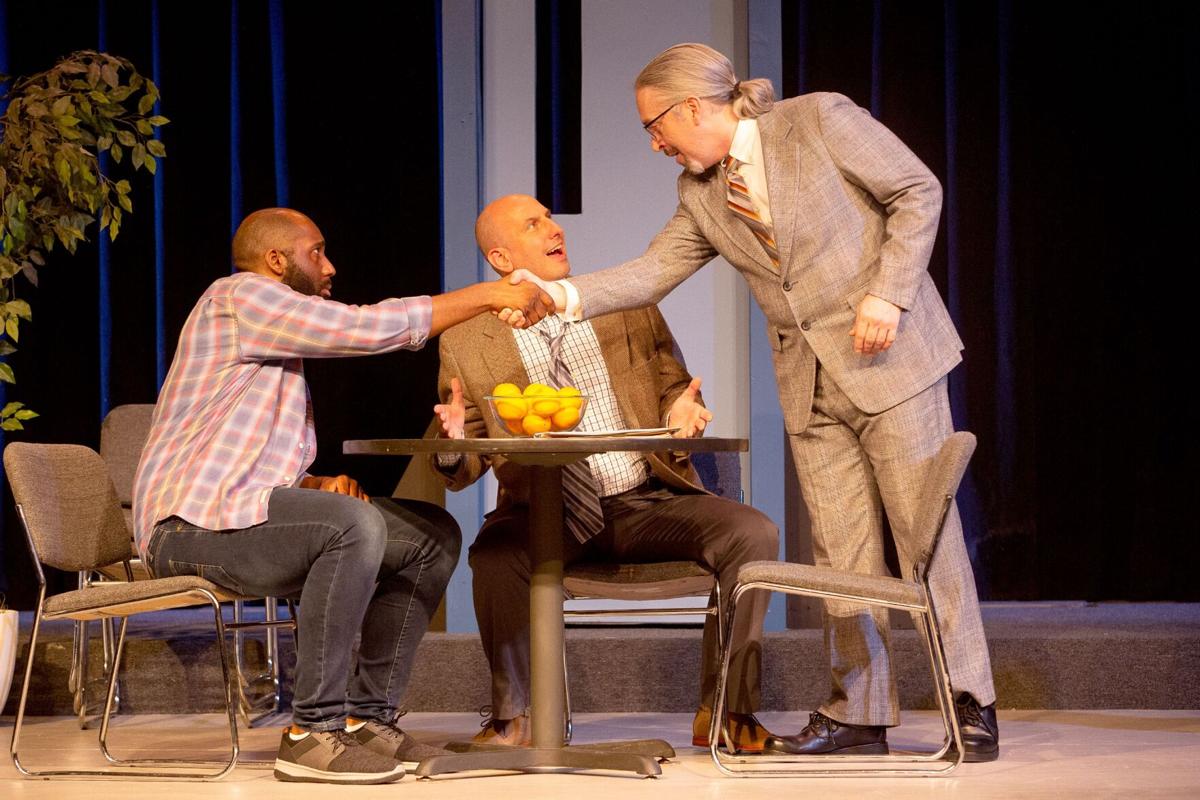 Play: Blue/Orange
Company: Stray Dog Theatre
Venue: Tower Grove Abbey, 2336 Tennessee Avenue
Dates: Oct. 14 through 17, 21 through 23
Tickets: $25; call 314-865-1995 or visit straydogtheatre.org
Highlights: Stray Dog Theatre performs inside the Tower Grove Abbey for the first time since February 2020 with a thought-provoking production of Joe Penhall's absorbing 2000 drama about the omnipresence of race in British society, even within the hallowed regions of science and academia.
Story: Bruce, a psychiatrist in his first year of practice at a National Health Service facility in England, has made his assessment of a patient named Christopher. The latter is a young Black man who claims to be the son of former Ugandan military dictator Idi Amin Dada. He says his mother was not a native of Uganda, however, and thus Amin is reluctant to acknowledge Christopher as his son, even though Amin has dozens of children by various women.
Christopher's required 30 days of confinement are coming to a conclusion, but Bruce has recommended that his patient be retained at the facility because of Bruce's diagnosis that Christopher suffers from schizophrenia and requires further treatment. This runs counter to the opinion of Bruce's superior, Robert, who advocates that Christopher rejoin society within 24 hours, both for Christopher's benefit and to free up space at the clinic.
Bruce and Robert debate Christopher's condition, sometimes while the latter is in their presence albeit oblivious to them. Robert states that Christopher, as a Black man, already suffers from undue prejudice in society and that Bruce's analysis of Christopher's condition only exacerbates the young man's plight.
Because Robert is his superior and is crucial to Bruce's further employment with the National Health Service, the younger man treads lightly at first in his disagreements with Robert, who himself is angling for a prestigious professorship. Further complicating matters are the often lucid comments made by Christopher, who at such moments sounds perfectly normal.
Is he, though? His proclamation about being the son of a famous dictator is suspicious in its own right. Additionally, he makes bizarre observations about a basket of oranges in the room, which Christopher says are actually blue in color, even if Robert and Bruce see them differently.
Tensions are mounting as Christopher's initial time in the clinic is drawing to a rapid close. Is he truly ready to re-enter society at large? Does he have a firm grasp on reality? And do Bruce and Robert have Christopher's welfare at the heart of their disagreement, or is he merely a pawn in a power struggle between two white professionals?
Other Info: Stray Dog maintains strict pandemic procedures, including masking by everyone (other than the cast) at all times and maintaining CDC recommendations for social distancing. With that in mind, it's welcome news that the Tower Grove Abbey is back in operation as the troupe's home base.
Associate artistic director Justin Been is intricately involved in the production as its director, scenic designer and sound designer. As usual, Been's musical selection provides a pinpoint underlining of the mood and timbre of the show, in this case a melancholy drama that also provides its share of soft laughs.
Been's set design focuses on a central performance area comprised of a table and a couple of chairs where the three characters may mingle, two at a time or as a trio, while Penhall's multi-layered plot unfolds. A door at the back of the area, leading to an exit at the back of stage right, serves as entrance and exit for characters when they're not involved in dialogue.
As director, Been maintains a rather sluggish pace, which tends to drag scenes on unnecessarily. There' plenty of rumination in Blue/Orange, but it takes too long for this production to build to the drama's intriguing crescendo – something that can easily be adjusted for later performances in its run.
Stray Dog's presentation is anchored with a resounding performance by William Humphrey as Christopher. Humphrey carefully shapes Christopher's character to the point where his seemingly preposterous claim to be a famous dictator's son has credence, while at the same time he can erupt into spasms of near violent and seriously disturbed behavior. Showing how Christopher uses Robert and Bruce to attack each other underscores Penhall's observation that the inmate is running the asylum.
Jason Meyers succeeds in depicting Bruce's own vulnerabilities while also showing the character's latent but steady insistence to stick to the guns of his analysis. As Meyers raises the ante in Bruce's attacks on his boss, the audience feels his long-term employment prospects eroding rapidly, eliciting sympathy for the reckless character.
Ben Ritchie nails the cynical nature of Robert, both in his steadily condescending response to Bruce's observations as well as his faux concern for Christopher. When Robert alludes to a French surrealist who once noted that "the world is as blue as an orange," he misses the alarming indications by Christopher about the bowl of fruit on the table. Robert is blinded and motivated by his own self-development, and Ritchie masterfully conveys the haughty indifference of the senior psychiatrist to any truth or reality that may get in his way.
Gary Bell's costume design cleanly delineates the hierarchy of Robert and Bruce in their natty and disheveled appearances, respectively, while Tyler Duenow's lighting keeps the spotlight on each player as each unspools his character.
Blue/Orange is subtle, sophisticated and cerebral, a fine combination unlocked by Been and his players in Stray Dog's beguiling rendition.