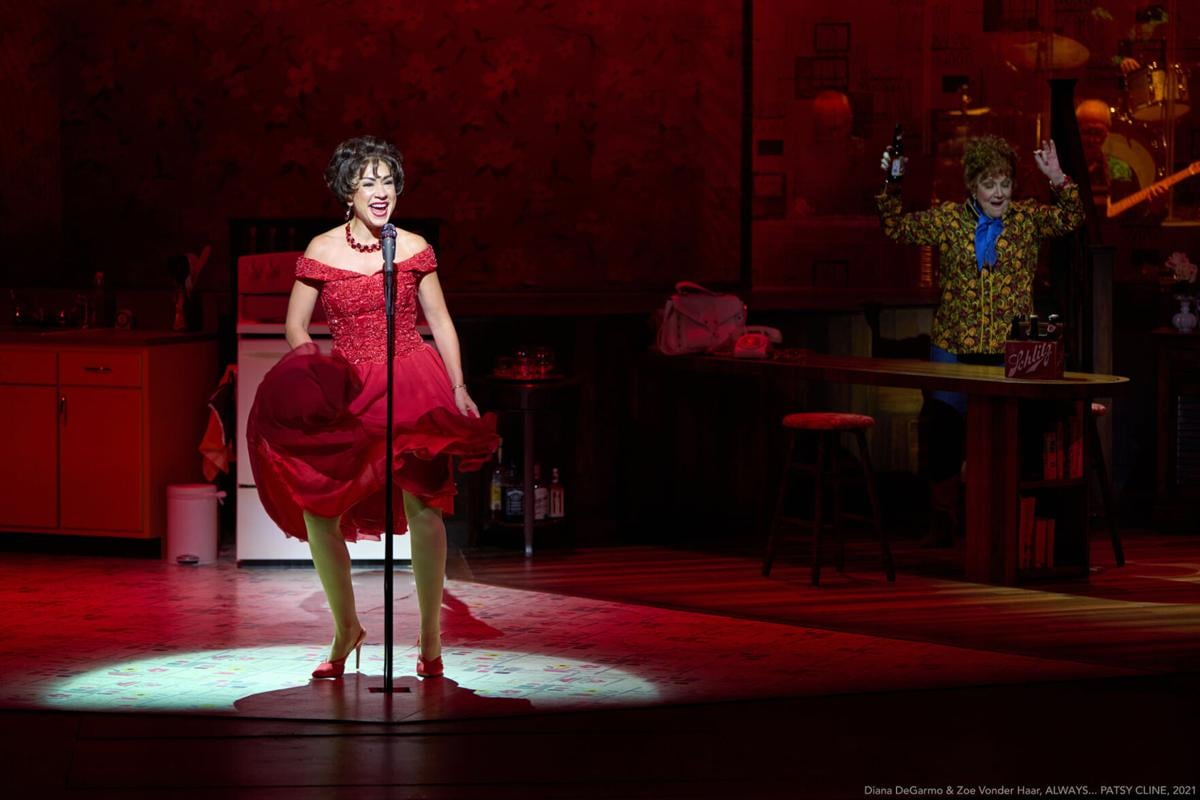 Musical: Always...Patsy Cline
Company: Stages St. Louis
Venue: Kirkwood Performing Arts Center, 210 E. Monroe Ave., Kirkwood
Dates: Through Sept. 5
Tickets: $55-80, plus student 'rush' prices at $10 (10 tickets available at every performance); call 314-821-2407 or visit stagesstlouis.org
Highlights: Stages St. Louis opens its 35th season at its spacious new home, the Kirkwood Performing Arts Center, with a rollicking reprise of Always...Patsy Cline, the biggest hit in the company's history.
Story: In 1957, Houston homemaker Louise Seger was fixing a meal for her two little kids when she heard the voice of a singer on the Arthur Godfrey Show that made her walk into the living room. She saw a young woman named Patsy Cline belting out tunes, which resonated deeply and immediately with Louise.
Thereafter, Louise would routinely call the morning DJ at local radio station and pester him to play a song by Patsy Cline. She did this regularly for years. One day in 1961 the DJ surprised Louise with the news that Patsy was coming to Houston the following week to perform at the Esquire Ballroom.
Now divorced, Louise corralled her boyfriend, her boss and her boss' wife to join her at a table next to the Esquire stage. Arriving two hours before anyone else, Louise was startled to see Patsy by herself, checking out the ballroom acoustics, the stage and other aspects of her show that night.
Louise introduced herself and struck up an immediate friendship with the amiable and surprisingly accessible Patsy. After chatting for a while, Patsy enlisted Louise's help as her "manager" for the evening, which was a hit with everyone, even Louise's boss.
Louise and Patsy exchanged phone numbers and addresses, but Louise figured that would be the last time she heard from Patsy. A couple of weeks later, though, she received a letter from Patsy, the first of what would be many correspondences and calls between the two women, both of whom had been through rocky marriages and divorce but dearly loved their children.
In 1963, Louise heard the tragic news that Patsy had died in a plane crash while headed to Kansas City for another performance. Patsy was gone, but her legacy and her unlikely friendship with Louise lasted through the years, just like the signature in her letters: Always, Patsy Cline.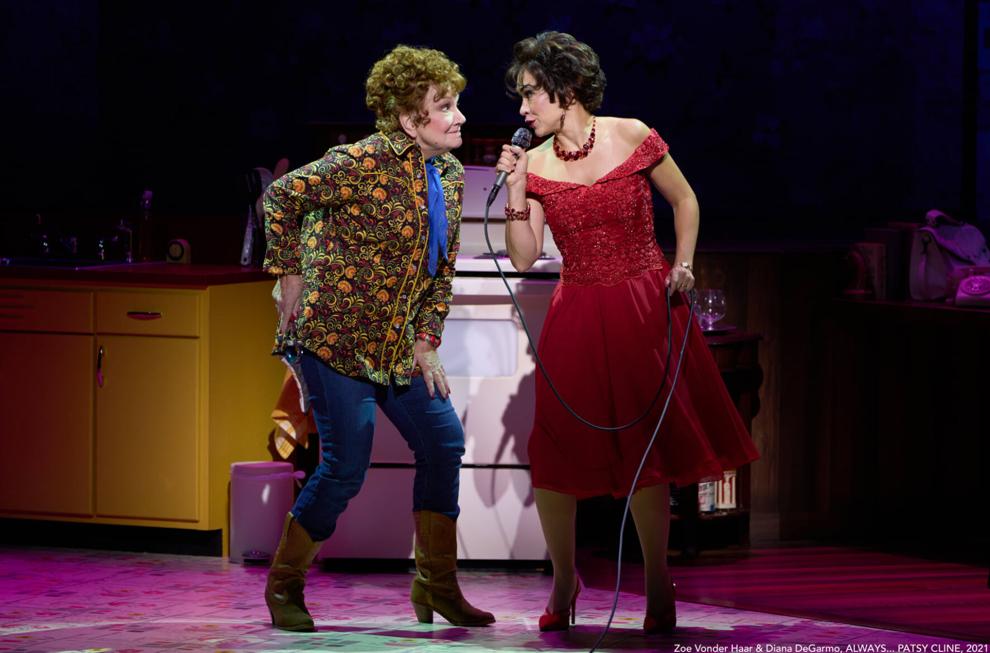 Other Info: Mosbacher Family executive producer Jack Lane welcomed audiences back to the first Stages show since the pandemic began in March 2020. Lane and artistic director Michael Hamilton, who is retiring after this season, founded Stages St. Louis in 1987 and now are the major tenant at the new Kirkwood Performing Arts Center, which seats 529 patrons in its Ross Family Theatre.
Created and originally directed by Ted Swindley, Always...Patsy Cline is performed by a cast of two and a six-piece band. Zoe Vonder Haar returns in her St. Louis Theater Circle Award-winning role as Louise, infusing the colorful character with an infectious spirit buoyed by her polished comic delivery of lines with her requisite flair and panache.
Vonder Haar this time around in Stages' third presentation of Always...Patsy Cline is joined on stage by the magnificent Diana DeGarmo, an American Idol TV star who has performed on Broadway and appeared as the narrator in a touring production of Joseph and the Amazing Technicolor Dreamcoat.
DeGarmo's powerful, persuasive voice belts out more than two dozen of Cline's greatest hits, warbling delightfully away on such tunes as "Crazy, I Fall to Pieces," "Walkin' After Midnight," "Blue Moon of Kentucky" and so many others.
DeGarmo rocks the house on fast numbers such as "Stupid Cupid," "Come on In (and Sit Right Down)" and "Shake, Rattle and Roll," but is equally moving on thoughtful ballads including "She's Got You," "Crazy" and "Seven Lonely Days." She can deliver soulful gospel numbers, too, as evidenced on "Just a Closer Walk" and "How Great Thou Art."
DeGarmo and Vonder Haar share the stage with an easygoing sympatico as diverse personalities, DeGarmo as the gentle, amiable Patsy and Vonder Haar as the engaging spitfire Louise, the down-home Texan who welcomes the friendliness of the quiet but immensely talented Virginian born Virginia Hensley.
Hamilton's direction takes full advantage of James Wolk's scenic design, which cleverly reveals the Grand Ole Opry stage behind the center portion for dramatic effect. The lively, entertaining band portraying The Bob Cats combo also is partially hidden at the back of stage left but highlighted frequently with Sean M. Savoie's rainbow of resplendent lighting. The entertaining band is comprised of conductor and pianist Jeremy Jacobs, Steve Hitsman on pedal steel guitar, Dave Black on electric guitar and acoustic guitar, fiddler and acoustic guitarist Kevin Buckley, Eric Grossman on bass and drummer Joe Meyer.
Hamilton's musical staging is put to great use by the lively DeGarmo and Vonder Haar, the former appearing in a dizzying number of flashy outfits courtesy of costume designer Brad Musgrove, while Vonder Haar makes do with the simple but stylish attire of Louise.
Always...Patsy Cline is a delight both in its repertoire of finger-snapping, foot-stomping tunes and in depicting the unlikely but affecting friendship between two women of the mid-20th century. It's no wonder Always...Patsy Cline is the biggest success in Stages' illustrious history. This latest rendition will doubtless enhance that achievement.