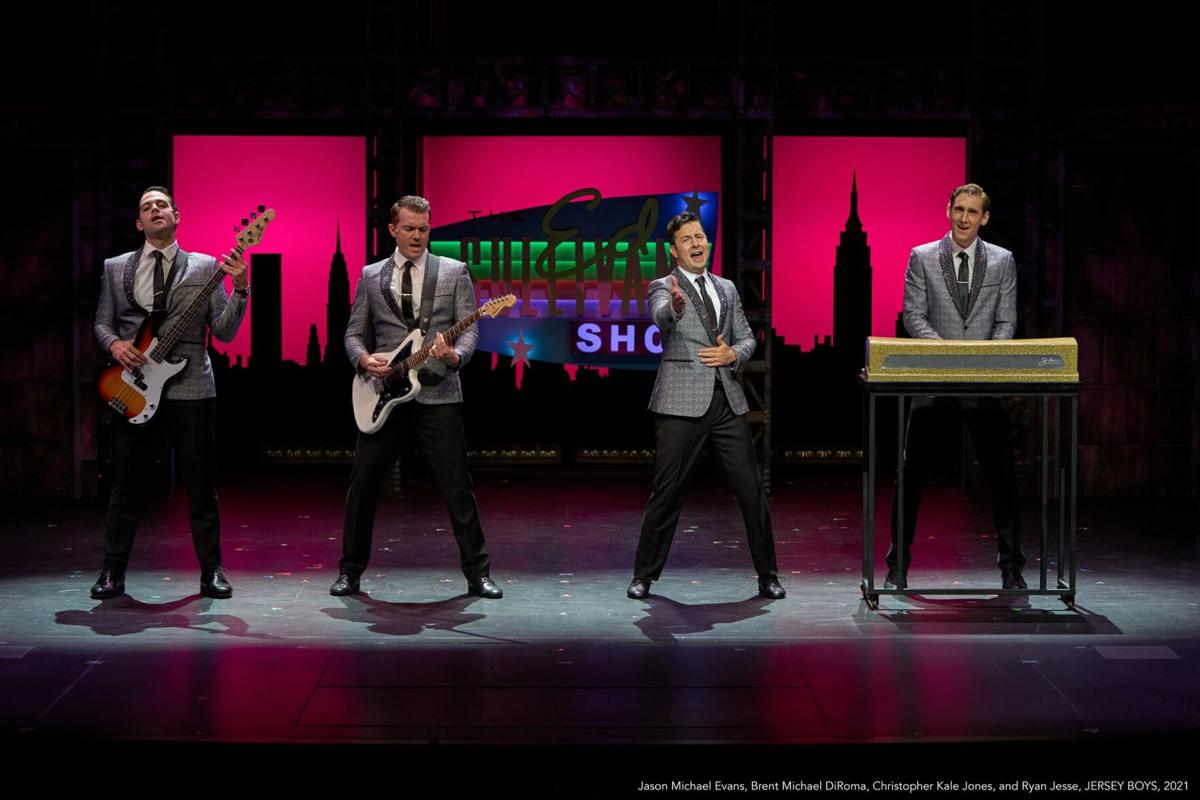 Musical: Jersey Boys
Company: Stages St. Louis
Venue: Kirkwood Performing Arts Center, 210 East Monroe Avenue
Dates: Through Oct. 24
Tickets: $55-80, plus student rush prices at $10 (10 tickets available at every performance); call 314-821-2407 or visit stagesstlouis.org
Highlights: Stages St. Louis closes its delayed 35th season with a joyous, beautifully performed and infectiously delightful version of the Broadway show that won the 2006 Tony Award for Best Musical.
Story: As a French rap group in 2000 sings its hit version of an old Four Seasons pop standard from decades before, band founder Tommy DeVito explains to the audience how the famous quartet from New Jersey rose from obscurity in the late '50s and early '60s to the stars they became.
Eventually, DeVito's "spring" version is supplemented with the summer, fall and winter recollections of Bob Gaudio, Nick Massi and Frankie Valli, respectively to provide insight into what became a wildly successful pop quartet.
DeVito, his brother Nicky and Massi originally performed as a middlin' trio when one or all of them weren't in prison. When Nick DeVito was away for one particular stretch, Tommy decided to add a 15-year-old kid named Frankie Castelluci to the group because of the kid's distinctive vocal abilities.
At the suggestion of a tough neighborhood girl named Mary Delgado, whom Frankie liked, he changed his name to Valli. Later, when a local youth named Joe Pesci ("Yeah, that Joe Pesci") told Tommy about a young singer-songwriter who would be a good addition to the group, Tommy interviewed Bob Gaudio. DeVito wanted to make the kid wait, but Frankie and Nick insisted that Gaudio immediately join the trio.
The new quartet was formed and, after a faulty electric sign at a local bowling alley inspired them to go by still another name, The Four Seasons were on their way. As we learn from their stories, their road to stardom was filled with plenty of unsavory moments, especially mingling with the underworld to settle Tommy's massive gambling debts.
These "Jersey boys" took on crime lords, narrow-minded recording executives and even each other as they hit and then rose on the charts with plenty of bumps along the way.
Other Info: Mosbacher Family executive producer Jack Lane and artistic director Michael Hamilton, who is retiring after this season, founded Stages St. Louis in 1987 and now are the major tenant at the luxurious, new Kirkwood Performing Arts Center.
The Ross Family Theatre and its spacious stage make for an excellent venue to present this engaging musical, which perhaps appeals most to people of a certain age (like me) who grew up listening to the rhythmically blended harmonies of The Four Seasons, evidenced in hits such as "Sherry," "Big Girls Don't Cry," "Walk Like a Man," "Rag Doll" and many others.
From Valli's soprano (and sometimes falsetto) to Massi's thundering bass, their voices meshed appealingly on a number of hits composed by Gaudio, with frequent lyric contributions by their producer Bob Crewe.
Jeremy Jacobs provides superb musical direction of his orchestra situated at the back of stage center, comprised of conductor/keyboardist Jacobs, keyboard players Cullen Curth and Zach Neumann, guitarists Dave Black and Jacob Stergos, Lea Gerdes and J.D. Tolman on reeds, trumpeter Kasimu Taylor, Eric Grossman on bass and drummer Joe Meyer.
James Wolk's scenic design consists of a wondrous center section bracketed to focus attention on the action, whether it's at a small bar, a recording company row of offices or a splashy big stage for concert performances. It's imaginatively illuminated with Sean M. Savoie's panoramic array of lights and serves as a suitable backdrop for a series of era outfits worn by the various players and designed by Brad Musgrove.
Hamilton's direction is pinpoint, smoothly moving the story by Marshall Brickman and Rick Elice along at a pleasing pace, capturing the humor as well as the pathos without getting mawkish. His production is considerably enhanced with Dana Lewis' lively choreography, especially the deceptively simple-looking moves of the quartet, as their footwork match their voices in splendid harmony.
A number of the players have performed in Jersey Boys before, led by Christopher Kale Jones (Valli), who was the original Frankie Valli in the first national tour of Jersey Boys.
Ryan Jesse is terrific as Gaudio, the easygoing but shrewd composer who built a decades-long business relationship with Valli on a single handshake agreement. Jason Michael Evans is convincing as Massi, the quiet "Ringo" of the group whose outburst at a tense meeting with mob boss Gyp de Carlo is one of the show's comic highlights.
And Brent Michael Diroma may be the best Tommy DeVito I've seen, fully realizing the street-tough DeVito's bravado and vulgarity.
There's terrific supporting work by local veterans Steve Isom as the scary but sentimental DeCarlo and John Flack as numbers man Norman Waxman, who warns DeVito of the troubles he'll encounter if he doesn't make good on his debts. Isom and Flack also essay a number of other parts with conviction.
Edward Juvier is entertaining as producer Crewe, as well as small-time hood Nicky Devito. Jenna Coker Jones plays tough-talking Mary Delgado, Valli's first wife; Sarah Ellis is Lorraine, the journalist who becomes Valli's girlfriend; and Donna Louden is Valli's troubled daughter Francine. The talented ensemble also includes Dereis Lambert, Nic Thompson, Brady Miller, Trevor James Berger, Ryan Jesse, Erik Keiser and Dena DiGiacinto.
Jersey Boys ran on Broadway for 12 years and more than 4,600 performances, closing in 2017. While The Muny mounted a fine production a few years back and the touring show was a big success at The Fabulous Fox Theatre, this effervescent Stages version brings its audience up close and personal with the men and music of The Four Seasons. Oh, what a night it is.